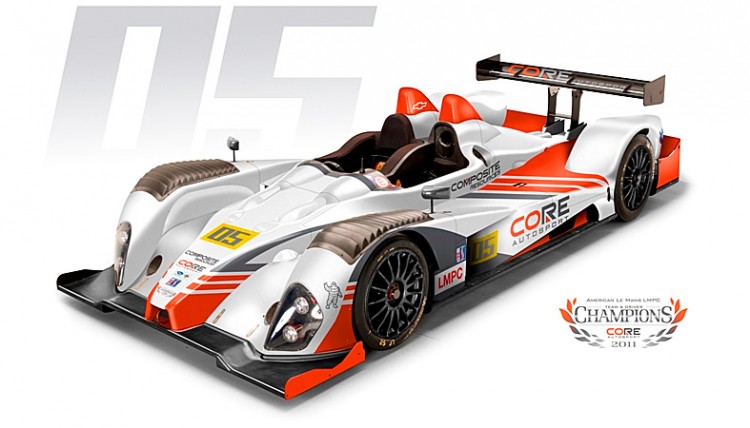 2011 American Le Mans Series LMPC team-championship winners Core Autosport has announced its new driver line-up and new livery for the 2012 season.
Core won the 2011 LMPC team title by a single point over Genoa Racing, and two Core drivers, Gunnar Jeannette and Ricardo Gonzalves, tied for the driver's title with Genoa's Eric Lux. This capped a stellar season first season for Core.
Core will be back in 2012 with two cars, some different drivers, a new engineer, and a different color scheme. All changes aside, the team fully expects to continue its winning way.
The team will debut its new livery and line-up at the ALMS Winter Test at Sebring International Raceway Feb. 8–9, preparing for the 2012 Sebring 12 Hours on March 17.
"The ALMS Winter Test is perfectly timed to get our team ready for the biggest race of the year, the 12 Hours," team manager Brady Morgan said on the Core website.
"Last year Core Autosport was a new team and Sebring seemed like a Goliath to our David, but we were able to score a double podium finish.
"With two 2011 championships under our belt and new driver lineups in both cars, the Core Autosport team will have a bit of a learning curve, but that's why this test is so crucial.
"We will have a month to continue to refine our procedures, processes and work on the cars to make sure that we're as prepared as possible to take the top spot on the podium."
New Drivers in Both Cars

23-year-old Colin Braun will team up with David Martinez and team owner Jon Bennet in the No. 05 Core Oreca FLM09.
Braun started his professional career at age 16, driving for Team 16 in the 2005 Rolex 24 at Daytona. He moved up to the Krohn Racing Daytona Prototype in 2006 and got his first win—the youngest Rolex winner ever. That year he also became the youngest driver ever to win a podium spot in the Le Mans 24 Hours, with a second-in-GT-class finish.
Braun moved to stock cars in 2008, driving in the ARCA and NASCAR Truck series. In 2010, he graduated to the NASCAR's Nationwide Series. He drove a few races with Robertson Racing's ALMS GT team in 2011. Braun finished 11th in the DP class at the 2012 Rolex 24 driving for Krohn again.
The young American driver will take his first laps in an LMPC car at the ALMS Sebring Winter Test.
"I'm really excited to get the season started off with Core Autosport," Braun told the team website.
"Jon and I have gone karting a few times, but I'm really excited to be hitting the track in the LMPC car. Since I joined the team I think we've done everything possible to be as prepared as we can for the test."
Jon Bennet is equally eager to get back to racing. "This has been a long off-season and I am ready to get back behind the wheel of the No. 05 machine. I have been doing everything I can to keep myself in shape physically and mentally over the past few months, but nothing compares to getting back behind the wheel of the No. 05 car.
"Sebring holds a special place in my heart as our team's first podium finish, and I really love the track. It will be great to get back out there, especially with my new co-driver Colin."
David Martinez has been racing karts and formula cars since the age of seven. Now 30, this Mexican driver brings his experience in A1 GP, IndyCar, Indy Lights, and Rolex Daytona Prototypes to Core's ALMS team. He also worked with Core Autosport team manger Brady Morgan in Formula Atlantic, so he should fit right in at Core.
"I'm very excited about this opportunity. The LMPC category has gotten very popular in Mexico after all the success that Mexican drivers have had there. What better way to try it out for the first time than with Core Autosport, the championship-winning team," he said on the team website.
IMSA Lights stars the Downs brothers will drive the Core's No. 06 car. This trio of brothers—Antonio, 35, Lucas, 33, and Matt, 43—won the L1-class team title in 2011, with four wins and 11 podiums out of 14 races. Their performance earned them a step up the ladder to LMPC in ALMS.
Core Autosport has also hired a new chief engineer, Gary Davies. Davies worked with team manager Brady Morgan on Europe's F3 series, and has experience in F1, A1GP, and F3000. He brings a lot of top-rank experience to the top ALMS LMPC squad.