Police on Monday dispersed a crowd of vandals who tried to tear down a statue of former U.S. President Andrew Jackson near the White House.
The protesters climbed onto the statue and tied ropes and cords around it before trying to pull the statue away from its base, videos posted to social media showed.
Vandals also doused the marble pedestal with yellow paint.
Police officers moved in with pepper spray to help move vandals and the surrounding crowd away from the statue and disperse them out of Lafayette Square, according to video footage captured at the scene.
Two people were arrested by U.S. Park Police during the attempt to topple the statue, Alexandra Picavet, a National Park Service spokeswoman, told The Epoch Times.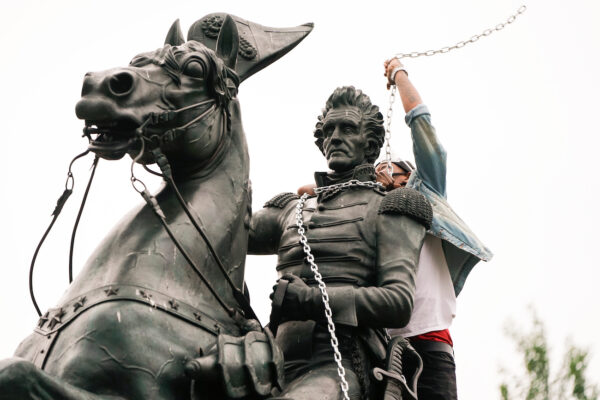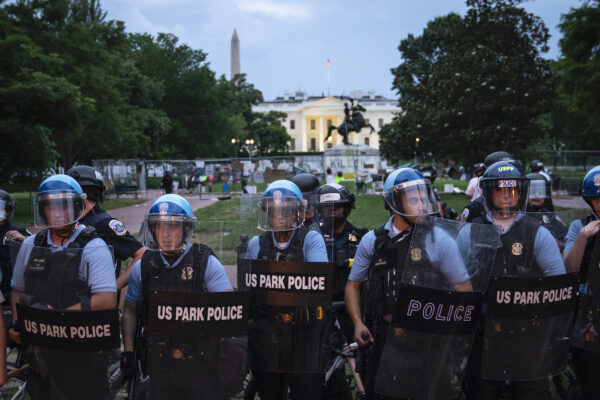 The incident took place around 8 p.m. Most of the crowd stayed in the Black Lives Matter Plaza after being pushed out of Lafayette Square.
The statue was erected in 1852 on a white marble base and depicts Jackson, the seventh President of the United States, on a rearing horse. It remains mounted on its pedestal.
On the same night, a group of demonstrators reportedly tried to form a "Black House Autonomous Zone," or "BHAZ" near the White House, in what appears to be an imitation of the self-proclaimed "Capitol Hill Autonomous Zone," or CHAZ in Seattle—which has since been renamed to "Capitol Hill Occupied Protest," or CHOP.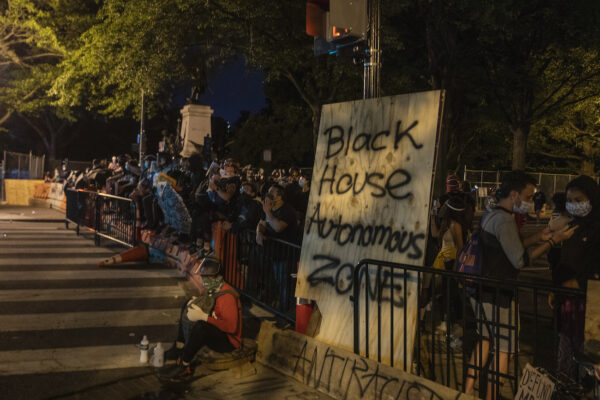 A video posted by The Daily Caller shows St. John's Episcopal Church vandalized with spray paint with the acronym "BHAZ."
Police later secured a perimeter in front of the church.
Late Monday night, President Donald Trump announced on Twitter that "numerous people" have been arrested "for the disgraceful vandalism, in Lafayette Park, of the magnificent Statue of Andrew Jackson, in addition to the exterior defacing of St. John's Church across the street."
Trump also warned that those who behave in violation of the Veteran's Memorial Preservation Act can face 10 years in prison.
Interior Secretary David Bernhardt, who was at the scene Monday night, issued a statement on Twitter praising law enforcement and denouncing the attempted act of desecration by "anarchists."
"I just left Lafayette Square where another so called 'peaceful protest' led to destruction tonight," he wrote. "Let me be clear: we will not bow to anarchists. Law and order will prevail, and justice will be served."
Zachary Stieber and Reuters contributed to this report.