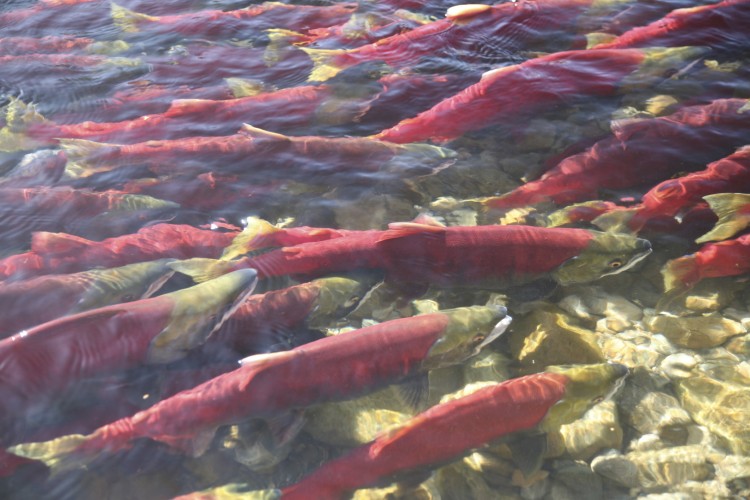 The scientist who leaked documents outlining the government's proposed modifications to the Fisheries Act slammed Fisheries Minister Keith Ashfield on Monday, saying he is using a "red herring" to boost his argument in favour of the controversial changes.
In mid-March, former federal fisheries biologist Otto Langer sparked an outcry when he leaked plans by the Harper government to remove habitat protection provisions from Section 35 of the Fisheries Act.
The proposed new wording drops any mention of protecting fish habitat in favour of prohibiting activity that would cause an "adverse effect" on "fish of economic, cultural or ecological value."
Langer accused the government of planning to sneak the changes through Parliament in the upcoming omnibus budget bill and bypassing all public and environmental consultation in order to accelerate mining and oil development near ecologically sensitive water bodies.
NDP fisheries critic Fin Donnelly and Liberal MP Joyce Murray blasted Ashfield during several recent question periods, demanding transparency and accountability on the issue.
Ashfield replied by implying that the current Fisheries Act is onerous and excessive, citing an instance when a country jamboree in Saskatchewan was flooded and drainage delayed because the flood water included some fish.
"There is ample evidence that the policies that we have in place now are inhibiting the everyday activities of Canadian landowners," Ashfield said during question period on March 14.
"We have a responsibility to Canada and the Canadian public to ensure that we protect our habitat, but at the same time they have to be reasonable policies that do not infringe on the everyday way of life of Canadians."
In a letter published Monday on the Common Sense Canadian website, Langer condemned Ashfield's comments, refuting his claims in detail and calling them a "red herring."
"One would be a fool to believe that it is just about some fish stranded in a country jamboree campground or in a farmer's field by a natural flood event—i.e. it's a red herring!" wrote Langer.
"It is obvious that [Ashfield's] plans to neuter the habitat law in the Fisheries Act is definitely not in the public interest and will ensure the continued erosion of Canada's wild fishery resources that have been in decline for many years."
Langer, who worked for both the Department of Fisheries and Environment Canada for over 30 years on habitat and water quality protection issues, added that ambiguous wording in the proposed changes would make enforcement of the act nearly impossible.
"The lack of mention of 'habitat' in the proposed draft law and the number of subjective and ambiguous words inserted into this major amendment will make any enforcement of this new law very difficult," he wrote.
"For instance, what is a fish of economic, cultural or ecological value? If it has no economic value, can it now be needlessly destroyed?"
Widespread Criticism
The possible amendments to the act have sparked widespread criticism from scientists, environmentalists, conservationists, and politicians alike, who say it's part of a broader plan by the Harper government to pave the way for Enbridge's proposed Northern Gateway oil sands pipeline to the B.C. coast, which would cross hundreds of rivers and streams.
Last week, 625 Canadian scientists, including many senior ecologists and aquatic scientists, sent a letter to Harper warning of the potential impact if the changes are implemented, and urged the government to "abandon the initiative."
"The weakening of habitat protections in section 35 of the Fisheries Act will negatively impact water quality and fisheries across the country, and could undermine Canada's attempt to maintain international credibility in the environment," reads the letter.
"Habitat destruction is the most common reason for species decline. All ecologists and fisheries scientists around the world agree on these fundamental points, and the Fisheries Act has been essential to protecting fish habitats and the fisheries they support in Canada."
Former Conservative fisheries ministers Tom Siddon and John Fraser also criticized the move.
Siddon, who introduced the act in 1986 while in Brian Mulroney's cabinet, has called on Harper to resist pressure from the private sector and says there's "no justifiable excuse" for changing habitat protection provisions.
Recently, Natural Resources Minister Joe Oliver has appeared in several cities speaking on the need to speed up Canada's regulatory processes so that resource extraction and distribution to demanding international markets is not slowed down.
"Regulatory modernization is a key priority for our government," said Oliver in a prepared statement. "We need a regulatory system that works and provides a competitive advantage for Canada."
Oliver and Ashfield have both remained elusive on what changes will actually be taking place and refuse to comment on whether the upcoming budget will include any accelerated approval processes.
"The government is reviewing fish and fish habitat protection policies to ensure they do not go beyond their intended conservation goals," Ashfield said in a release.
"The government has been clear that the existing policies do not reflect the priorities of Canadians."