Continued Suppression of Yilishen Ant Farmers
March 13, 2008 12:00 am Last Updated: March 13, 2008 12:00 am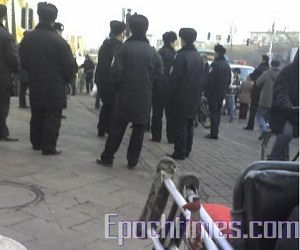 To prevent ant farmers from entering Beijing City during the National Congress sessions, Liaoning Province police strengthened the monitoring and control of so-called key targets that are appealing for redress in the province.
According to an ant farmer who is being monitored, the police have arrested them many times and detained them for various periods of time. Any ant farmers who passed by the headquarters of the "Yilishen Group" 1 would be taken away and their personal information taken down regardless of whether they were ant farmers or not.
Very Tight Police Controls
According to an ant farmer, on March 11, a dozen ant farmers including several from Anshan gathered at the headquarters of the "Yilishen Group" in Shenyang to inquire about the situation. Two elderly ant farmers were arrested for merely walking on the sidewalk in front of the headquarters. They were sent to the local Changbai police station and were only released when one of them, a sixty year old farmer, had a heart attack.
An ant farmer who was dragged into a police car told the reporter that after she left, she rushed to the Dafuyuan supermarket where ant farmers often met. She found a dozen plain clothes policemen blocking the entrance to the supermarket waiting to arrest them. A dozen ant farmers who went to the supermarket in groups were sent to Shashan Stadium in several police cars and had their personal information taken down before they were released.
According to an ant farmer who was arrested, while the police were taking their personal information, it was discovered that two of them were supermarket customers arrested by mistake. They were indignant about being wrongfully arrested, but the police told them rudely and unreasonably that they would rather make wrong arrests than leave out anyone.
An ant farmer complained to the reporter that recently the Liaoning police conducted unexpected raids and arrested farmers during the night, forcing them to spend the night at the local police station. At the same time, ant farmers who had been to Beijing and those who intended to go to Beijing were tightly monitored and besieged around the clock.
A female Shenyang ant farmer said that for several days three unknown men positioned themselves at her front door around the clock. They followed her wherever she went and stopped her from riding in a car. When she reported to the police station, she was told that they were sent by the police.
Farmers Emailed IOC in Switzerland
A man who claimed to be Mr. Xing, working in the Yilishen Tianxi Group's liquidation department, he personally went to speak to Liu Jing – a Shenyang ant farmer who arranged for an English-speaking media company to interview ant farmers in late January.
Liu Jing told the reporter that the main focus of the meeting was: Xing wanted to know who had emailed the article "Who's Coming to Our Rescue?—A Letter from Bankrupt Liaoning Ant Farmers" to the International Olympics Committee overseas. Obviously he wanted to know about any ant farmers' actions that would jeopardize the Beijing Olympics.
Recently some Shenyang ant farmers have lost contact with the outside world. Ant farmers who had contact with them speculated that they were arrested. Many ant farmers' telephones have been bugged. In the early morning of March 11, though uninvited, the police visited many ant farmers' houses, warning them not to create trouble.
Ant farmers said that the Liaoning provincial government had continuously released information that only 20 percent to 30 percent of their investment will be returned, ignoring the tragic plight of ant farmers whose families have been broken up because of the stress of the Yilishen incident.
Fushun ant farmers also received calls from the police station asking if it was acceptable if they received 30 percent of their investment back from the government. These farmers felt that the government was deceiving them and other investors.
(1) Tens of thousands of farmers were encouraged to start farming ants for various extracted products. The farmers were also encouraged to invest their life's savings into the Yilishen Group with promises of high returns on the ant products. The company later declared a $2 billion bankruptcy.