Sea turtles have been around for millions of years so they know how to adapt to changing environments like moving land and shifting shorelines. The system of survival they've developed has been working for them, but sea level rise, beachfront real estate, and man-made walls are encroaching on their habitat, making it harder for them to nest and for their hatchlings to survive.
In Florida, the nonprofit Sea Turtle Conservancy (STC) is particularly concerned about three species of sea turtles that regularly nest in Florida: loggerheads, green turtles, and leatherbacks, all of which are listed as endangered or threatened in the Endangered Species Act of 1973. Although the turtles are now increasing in number as a result of conservation efforts, the conservancy is concerned that their recovery may be short lived.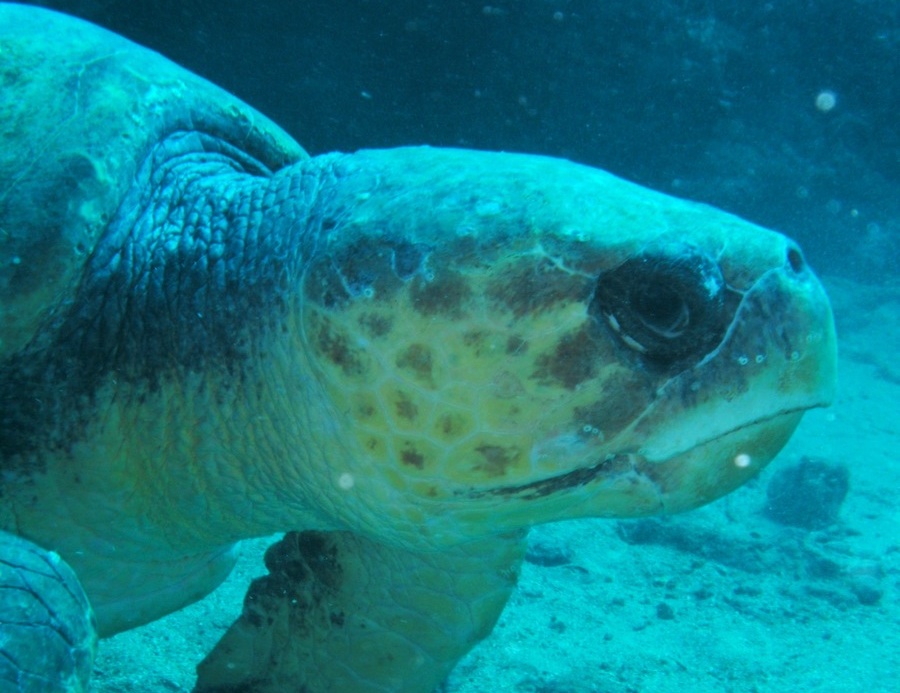 STC has been tracking the survival of these ancient ocean dwellers for 50 years, and is working on a documentary to alert the public about coastal management issues such as sea level rise and increased frequency of severe coastal storms along the Atlantic Coast, which is contributing to the destruction of sea turtle habitats.
But executive director of STC David Godfrey said these coastal issues are compounded by increased building of beachfront homes and the seawalls being put up to protect the homes from flooding.
With the threats of climate change affecting Florida's coasts, Godfrey wonders why governments and municipalities would encourage more development.
Disrupted Habitats
Not much is known about sea turtles because they are generally loners that remain underwater. But through decades of study, the STC does know that this solitary reptile is a creature of habit. During nesting, which normally occurs once or twice a year depending on the species, most females return to the same beach and often within a few hundred yards of where they last nested.
The loggerhead sea turtles, for example, nest by the thousands on some beaches, but you scarcely see them on identical looking beaches at different locations. The STC attributes this nesting distribution to conditions that existed centuries ago such as temperature, beach profiles, and lack of predation that made them preferable.

Sea turtles crawl to a dry part of the beach where they dig holes called egg cavities in which they lay 80 to 100 eggs. The eggs are covered up with packed sand and left to incubate for 60 days. Hatched turtles face numerous obstacles as soon as they climb out of the sand, from hungry birds and dehydration on land, to hungry fish and plastic garbage in the water—resulting in only 1 in 1,000 reaching adulthood.
But, the STC said climate change is yet another problem for sea turtles, which is eliminating their nesting habitats. "We've been trying to raise awareness about these issues and stay engaged on these coastal management sort of issues for a while," Godfrey said.
As it is, rising sea levels wash away beach sand making it more difficult for turtles to find dry land to nest on, but increased development along the Atlantic Coast is yet another issue to contend with. 
Sea Level Rise
Bio-climatologist Laurence Kalkstein said he doesn't know if humans are really causing climate change, but agrees that weather conditions along the coasts of Florida are becoming more severe and increased development is not helping.
Kalkstein, a professor at the University of Miami and a researcher at the Synoptic Climatology Lab, said it is inevitable that tropical storms and hurricanes will occur and they will be more damaging. "What is going to happen is if a hurricane today hits, … if it's the same magnitude hurricane of 50 years ago, the water level will be higher and more damaging today," he said.  

In a 2010 report, the Florida Department of Environmental Protection said short-lived storm surges reach higher and penetrate farther inland as sea levels rise. And even without storms, sea level changes are continuously affecting all of Florida's shorelines wetted by tides. According to the report, there is no scientific evidence showing that sea level will stabilize. 
"Sea level is rising and is likely to rise faster as each decade passes, continuing for a considerable period of time," it states.
Increased erosion, algae blooms, and depletion of oxygen are all byproducts of overdevelopment.
Kalkstein said that's why seawalls are built adjacent to homes along the coast, but added that increasing density of development is not a positive thing because coasts were never meant to be inhabited like they are now. Increased erosion, algae blooms, and depletion of oxygen are all byproducts of overdevelopment.
"Think of people fertilizing their lawns, golf courses, all these things that are along the coast, all of those things go into the water," he said.
Development
Despite the high risks of flooding and an altered landscape, property owners can still enjoy the benefits of living by the roaring ocean and white sandy beaches because the threats are mitigated: new sand is pumped onto the beaches annually, seawalls are built, and there is flood insurance.

"We keep pumping sand from offshore or trucking it onto the beach and dumping it on there to create dry beach because it's commercially advantageous to do so," said Godfrey. The Environmental Protection Agency (EPA) states in a 2002 report that the state spends $30 million per year on beach replenishment.
Moreover, he said annual beach renourishment and the state and federal flood insurance are actually incentives to keep building.
The National Flood Insurance Program makes the purchase, of government subsidized flood insurance mandatory for people who live in flood-prone areas.
"People are actually able to build in incredibly risky places at taxpayer expense," Godfrey said, "and thus encroach even further on sea turtle habitat at a time when the vulnerability of that development is increasing because of climate change."
Florida state law seems to frown upon coastal building prohibiting construction within 50 feet of the "line of mean high water," which is where the land is subject to unpredictable weather conditions. The state's Coastal Construction Control Line Program sets stringent standards for siting of property and design criteria.
Yet, property owners are still able to get permits from the EPA for seaward construction of homes and seawalls.
"If you look at many beaches in Florida, it's just a wall," said Godfrey.
The property survives, but the beach is lost.
Kalkstein said where he lives, in Marco Island, Florida, it has been mandatory for coastal homeowners to have seawalls since 1964. "If there's no seawall, slowly but surely land would erode away and eventually get to the house and damage it," he said.
The EPA reported that most owners of property along bay shores in many states protect their homes with wooden walls or piles of rock. "The property survives, but the beach is lost," reports the EPA.
So why do they still build? For some cities, it's a Catch-22 situation.
In Miami Beach, which is highly vulnerable to flooding, Mayor Philip Levine welcomes the additional property tax collected from high-value beach front property to help fill the city's coffers to pay for, ironically, a $300-million storm water project, according to a Washington Post article.
The city plans to pump out up to 14,000 gallons of seawater per minute with 80 new storm pumps, pushing the water back into Biscayne Bay.
So it seems beach properties will always be in high demand, which is good for property values, but bad for sea turtles that are ultimately blocked from their nesting habitat.