Eradicating the use of forced labor from the U.S. supply chain will require diligent law enforcement and rigorous due diligence by importers, but may ultimately rest on public awareness of the problem and action by investors, experts say.
"The vast majority of U.S. companies want to have compliance in this area. I think they are repulsed by the notion that there might be slave labor in their supply chains," said Robert Silvers, undersecretary for strategy, policy, and plans at the Department of Homeland Security (DHS).
However, compliance with U.S. laws prohibiting the importation of goods produced by forced labor can be difficult. The supply chain is increasingly complex as raw materials from various sources may be commingled, and some governments, notably the Chinese Communist Party, are uncooperative, Silvers said during a March 17 forum at Hudson Institute in Washington.
The DHS has published new compliance guidelines and a list of banned entities, and has created an online dashboard to help U.S. companies comply with the recently enacted Uyghur Forced Labor Protection Act (UFLPA), which prohibits the importation of goods produced by the forced labor of Uyghur Muslims and other ethnic minorities in the Xinjiang region of China.
"The goal here is to eradicate forced labor. We're never going to be able to do that if there are markets that are open to products made with forced labor," Silvers said.
An even stronger weapon in the fight may be public opinion.
"Consumers have shown an interest over time in buying products that are consistent with their values," Silvers said.
"I think most Americans don't think about where the T-shirt they're wearing comes from. That's not because they're bad people. It's an awareness issue."
Americans would be horrified to learn that their clothing, electronic devices, or produce were made by people living in "slave conditions," Silvers said.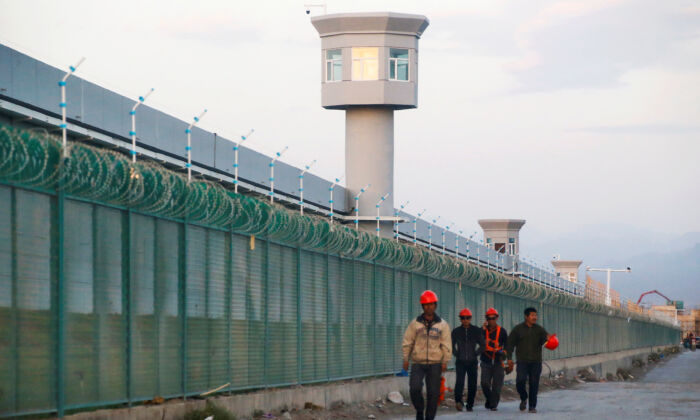 While the DHS focuses on preventing goods tainted by forced labor from entering the country, Silvers sees raising consumer awareness as a complementary effort.
"If consumers are aware, that incentivizes businesses to care—and to do more robust due diligence," he said.
Consumers have already had a significant effect on corporate behavior, according to Nury Turkel, a senior fellow at Hudson Institute and a survivor of a forced labor camp in Xinjiang.
"The consumer has already spoken up," he said, referring to the boycott of the Beijing Winter Olympics by television viewers in 2022.
"American and Canadian people responded. As a result, NBC viewership dropped nearly 50 percent. That's a huge response," he said.
"When the consumer speaks out, corporate boardrooms hear and adjust."
Silvers said investors can alter a company's behavior as well.
"There are investors out there that make a point of only investing in companies that have credible and strong due diligence programs around forced labor," he said.
"That's not what we do [at DHS], but that's another complementary, growing movement in the broader ecosystem, in which our societies as a whole can move toward a place where we do not tolerate the prevalence of forced labor in our supply chains."