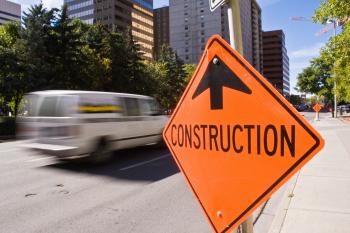 NEW YORK—Construction, and more specifically, public works, are expected to help revive the flagging economy in the next few years, say industry experts. The economic stimulus bill, signed on Feb. 17, combined with a re-focus on infrastructure, will push transportation projects to the top of the pile, followed by buildings construction. Smaller projects in energy, water, environment and technology can expect a smaller slice of the construction stimulus.
"The stimulus bill will certainly be shaping construction this year," said Robert Murray, vice president of economic affairs at McGraw-Hill Construction. As a result, the public works sector will be the "saving grace of construction" in 2009 and 2010, Murray said. Murray spoke at the McGraw-Hill "Managing Construction's Financial Crisis" Conference in New York Feb. 24-25.
The conference focused on navigating the current market, new visions pertaining to construction, and preparing for a changing future.



Stimulus
The Federal economic stimulus package will pump more than $136 billion into the construction industry. The figure represents a 130-percent increase in federal construction spending compared to fiscal year 2008, said Stephen Sandherr, CEO of Associated General Contractors of America (AGC). The assistance comes as the unemployment rate in the industry hit 18.3 percent in January, with job losses totaling more than 747,000 in the last year.
The stimulus package is "nowhere near a panacea for the construction industry," Sandherr said, but having both political parties talking about the importance of infrastructure is promising.
"There is a real emphasis on getting this money out fast," said chief economist for the Association of General Contractors of America (AGC) Ken Simonson. States must obligate half of their total stimulus package within 120-180 days and the remainder within one year.
Tough Years for Commercial Building
Commercial building has been hit hard by the credit crunch. Large projects nationwide such as Atlantic Yards in New York, the Chicago Spire, and the Echelon Resort in Las Vegas have been put on hold.
Construction of stores and large shopping centers is declining and another large decline can be expected this year as retail is the most overbuilt category, Murray said.
"I can't remember seeing this before … This is going to be a tough year for commercial building, there's no doubt about it." He doesn't expect the commercial industry to rebound until 2011 to 2012.
His advice to developers is to find niches that are still showing decent activity and look even harder for projects that are still going ahead.
For many companies it will mean re-tooling and keeping a tight ship. Companies should look at staffing with multi-skilled employees and do more in-house, advised Ira Levy, Northeast Region chief executive of AECOM. Sub-contractors will likely suffer as companies broaden their skills but he remains optimistic.
Expect Material Costs to Rise
Material costs could be shooting up again by 2010, driven by demand and transportation costs, said economist Simonson.
"By 2010, if economies like China and other developing nations get going again, they're going to add to that demand of materials that we need here for construction" and anytime there's a surge in shipping costs, or fuel surcharges, "you feel it on the construction site," Simonson said.
The Lure of the MTA
Of all the projects currently in the works, the MTA's capital construction plans are to provide the greatest opportunity.
The $15.5.billion subway plan for New York will benefit from the stimulus plan and will be the "single biggest source of construction jobs," said Dr. Michael Horodniceanu, president of MTA Capital Construction.
"We are anxious, along with the rest of the industry, to get the details of the stimulus package," he said, adding that the Transit Center downtown will probably be a prominent recipient of stimulus money to propel project completion.
He said retaining a focus on quality is as important as ever. "I would like to push the issue of quality, because quality will always win out."
Dr. Horodniceanu, who has worked in both the private and public sectors, advised private companies to be proactive in getting public contracts. He said private-public partnerships were not currently working very well in the U.S. and would need to be built on to compete on the world market.