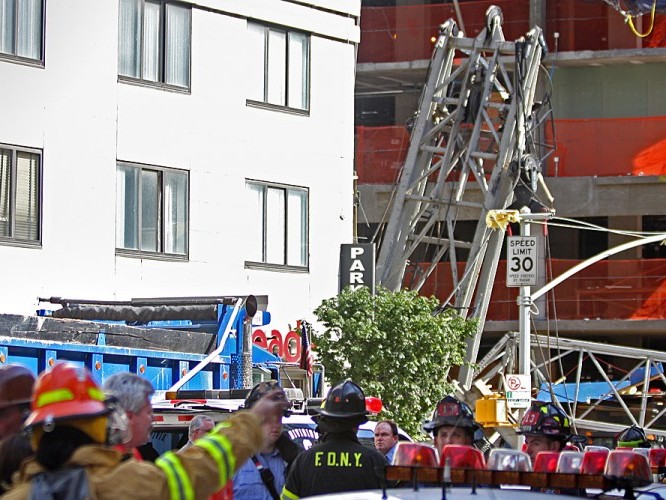 NEW YORK—James Lomma, owner of New York Cranes and JF Lomma, Inc., sat emotionless as the judge announced he was acquitted of manslaughter and all other charges against him for his role in the deadly 2008 collapse of a 200-foot crane on 91st Street in Manhattan, according to AP.
The prosecution alleged Lomma cut corners by buying a cheaper replacement turntable for the crane from a Chinese company, RTR. No engineer was hired to inspect the repairs on the crane and the Department of Building was not brought to the site for approval either, according to the indictment.
Lomma's defense successfully shifted the blame to the lack of oversight in the construction industry, according to the New York Times.
The verdict, handed down by Justice Daniel P. Conviser of State Supreme Court in Manhattan, was not well received by the victim's family. Xjevahire Sinanaj, a cousin of Ramadan Kurtaj who was killed in the accident, told reporters outside of the courtroom the verdict was "a knife to our family's heart," according to the Wall Street Journal.
"It's a license to kill," Maria Leo, mother of crane operator Donald C. Leo, who also died in the accident, told the New York Times. She added that construction managers "don't have to care about the construction workers."
Manhattan District Attorney Cyrus R. Vance Jr. said in a statement, "Although we are disappointed with the judge's verdict, each case we have brought in this area has put increased scrutiny on the construction industry as a whole, and has had a cascading effect on safety practices."