Work Starts on Amtrak Tunnel Section Under Hudson Yards
September 23, 2013 9:27 pm Last Updated: September 24, 2013 12:57 pm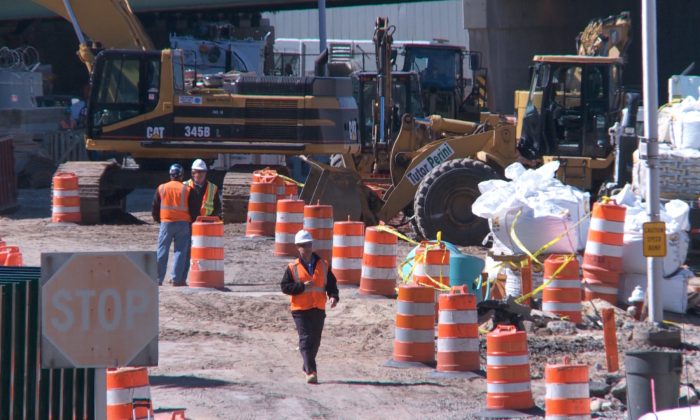 NEW YORK—Rail operators received a stark reminder about the impact of the world's changing climate when four out of six of New York City's underwater train tunnels flooded during Hurricane Sandy.
Service on the Amtrak's Northeast Corridor lines and New Jersey Transit were shut down for five days as workers pumped millions of gallons of storm-water out of the tunnels.
To prevent the impact of future floods, officials committed $185 million in Department of Transportation Hurricane Sandy Relief funding for a flood-proof tunnel between 10th and 11th avenues under the Hudson Yards Development.
Work on the project already started a month ago, according to Tony Coscia, chairman of the board at Amtrak.
"The work that's going on here is so important it certainly wasn't going to wait for a press conference and it wasn't going to wait for a sunny day," Coscia said.
Work on the new 800-foot tunnel, sometimes referred to as a "casing," or a "box", is expected to be complete by October 2015. It will accommodate two tracks of Amtrak's Gateway project, which is estimated to be complete by 2025 and bring much-needed additional rail service to Penn Station.
Coscia highlighted the cooperation from the two developers, Related Properties and Oxford Properties Group, which are constructing the Hudson Yards Development above the new tunnel. Long Island Rail Road, which owns facilities affected by the construction of the tunnel, has also been cooperative.
The current rail tunnels under the Hudson River were built over a century ago. The tunnels often create a bottleneck as they are the only commuter rail crossings between New York and New Jersey.
CLARIFICATION: An earlier version of the headline to this article referred to the 800-foot tunnel segment as simply a tunnel, which could be construed to mean an entire, completed new tunnel. The headline has been revised to refer to the new tunnel a segment of a possible future tunnel. Also, an earlier version of this article text referred to the 800-foot tunnel as a "new tunnel" which could mislead readers to think that it is a complete tunnel. The reference was corrected to "800-foot tunnel, sometimes referred to as a "casing," or a box."