WASHINGTON—With the midterm elections just a month away, conservative women from around the country gathered in Washington to declare that Democrats have "unwittingly unlocked the mama bear" as they voiced their support for President Donald Trump.
Dozens of conservative women leaders and activists from various states came together at the Women for America First summit that took place Oct. 4 to 7 at the Trump International Hotel in Washington.
Speaking at the event, White House press secretary Sarah Sanders said she was proud to be part of a movement started by Trump a few years ago.
"And we are seeing the culmination of that," she said.
One of the themes at the summit was the confirmation of Justice Brett Kavanaugh to the Supreme Court after weeks of controversy.
"Hopefully, just in a few minutes, we will see one of the more impactful things that he [Trump] will ever do, which is to completely reshape the judiciary," said Sanders, who spoke less than an hour before the vote on cloture.

The Senate voted 51–49 on Oct. 5 to schedule a vote on Kavanaugh's nomination to the Supreme Court, clearing a key procedural hurdle. The following day, the Senate voted 50–48 to confirm Kavanaugh.
Sanders received a standing ovation from the audience.
In her brief remarks, she joked that she rarely received such a warm welcome and that having three kids taught her to be patient with reporters for repeatedly asking the same questions.
Other speakers at the event included Lara Trump, daughter-in-law of the president; Ronna McDaniel, Republican National Committee chairwoman; Sebastian Gorka, author of "Why We Fight"; and other influential conservatives.
"Conservative women are not going to sit back and let the left and the media define what women stand for in 2018," Amy Kremer, chair of Women for Trump and host of the summit, said in a press release.
"We will not be ignored. We are fighting back and that is exactly what this summit is about."

'Actions Speak Louder than Words'
It is a false narrative that a majority of college-educated women disapprove of Trump, according to Fox News commentator and author Gina Loudon, who was one of the panelists at the summit.
"If you look at the last election, we had the quintessential woman running for president against him, and she couldn't conjure much more than 50 percent of the vote," she told The Epoch Times.
"You can talk about equality all day long, but until you have a policy that actually makes that equality happen—like making women's unemployment the lowest in our history—your words mean nothing to me."
According to Loudon, more women are now focusing on Trump's policies rather than his tweets or words.

"Actions speak louder than words," she added.
"His policy has actually helped the lives of women. I think women are going to continue to support him in numbers higher than ever before."
'Kavanaugh Debacle Was the Last Straw'
Many conservative women who attended the event feel they are being silenced by the left and the media.
Political commentator and author Deanne Lorraine, from Los Angeles, is one of them. She believes there is a "systematic organized suppression" in the country.
"Right now, our voices are being completely drowned out by liberal feminist women who believe that they are the majority," she said. "They want to ignore our voices and pretend that we're not even there. And they have the loudest microphone."
Conservative women have a vision for America and that's consistent with Trump's vision for America, she said.
"We're tired of being called racist or sexist because we don't agree with them."
According to Lorraine, the Kavanaugh debacle was the "last straw that broke the camel's back."
"It was something that really energized and infuriated women who support Trump and Kavanaugh. It infuriated us to the point where we are so ready to go out guns blazing and say 'enough is enough,'" she said.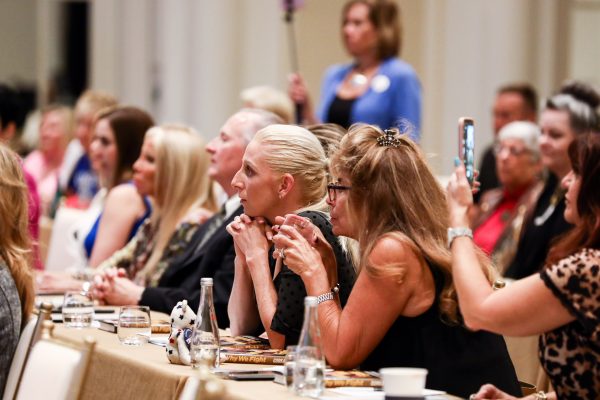 Another Trump supporter, Tudor Dixon from Muskegon, Michigan, called the conservative women the "silent majority."
"Right now, we're so oppressed just for supporting our president and just for having views that are pro-country," she said.
Conservative women aren't always willing to come out, she said, but now they've been empowered by people such as Brandon Straka, the founder of the #WalkAway movement that encourages Democrats to walk away from their party, or the American video bloggers and political activists Diamond and Silk.
She said women are encouraged by these activists who give a voice to them and say "yes, it is good to be pro-country, pro-President Trump and to have values."
'Referendum on Trump'
Mary Grace, another Trump supporter, said that she expects a bigger turnout of conservative women in the upcoming midterms than in the 2016 election.
"I believe that this midterm election will be a referendum on Trump," she said.
Grace thinks the Kavanaugh case will help Republicans, as it has energized female conservative voters.
"After the Kavanaugh hearing and the debacle, I think that we're going to see even more educated women coming out in favor of the Republican Party and of this president," she said.
"Because they're thinking, if this can happen to him, it can happen to my husband, my brother, my uncle, my father, my son."
Grace believes the Democrats have "unwittingly unlocked the mama bear."
"And once you do that, you're done because women are the biggest influencers in our society."

'Socialist Agenda'
Gordana Schifanelli, an attorney from Annapolis, Maryland, said she came to the event because she supports the Republican Party's agenda.
"[The] socialist agenda is something that I'm very much against because I grew up in a socialist country and I know what socialism can do to families, to people, and to the economy."
Schifanelli, originally from the former Yugoslavia, said more and more women are becoming aware of what the left is trying to do, such as forcing abnormal social behaviors and standardizing them as a norm.
Minerva Terrill, a retired registered nurse from Plano, Texas, is concerned about the country's future because of the "infiltration of the socialistic mindset."
"Personally, I lived in Venezuela for three months, four years ago, and I saw the horrible feeling of what socialism does to people. It was depressing and I swear I couldn't wait to get back to our beautiful country," she said.
"So if people think that socialism is the way to go in this country, I strongly advise them to take a trip to Venezuela."
She criticized the news media for their anti-conservative bias.
"It is a big problem," she said. "The media is not giving out proper, correct, honest information."