U.S. gas prices have been climbing for the past 11 consecutive days in a row, amid the worse energy supply crisis in decades, according to the American Automobile Association (AAA).
The drivers association said that the current stretch of record high prices is unprecedented.
The national average for a gallon of gas hit $4.59 on May 20, a slight increase from the previous day's record, as the average for a gallon of regular increased by 10 cents since the week began on May 16.
May 20's record was 16 cents higher than the week before, a nearly 50 cents higher from April, and $1.55 more compared to the same time in 2021.
All 50 states had a national retail price over $4 a gallon on May 19, according to AAA, with Oklahoma offering the cheapest gas at $4.03 a gallon and California offering the most expensive gas with an average of $6.06.
Total domestic gasoline stocks decreased by 4.8 million bbl to 220.2 million bbl last week, according to recent data from the Energy Information Administration (EIA).
Meanwhile, gasoline demand increased from 8.7 million b/d to 9 million b/d. as tighter supply and increased demand have pushed pump prices higher, according to AAA.
AAA said that the current supply and demand dynamic, "combined with volatile crude prices, will likely continue to keep upward pressure on pump prices."
Drivers should expect elevated prices throughout the summer, especially if the war in Ukraine rages on, said Andrew Gross, the national spokesman for AAA to Fox News, who noted that "demand is up."
"Typically this time of year we are in a little bit of a lull. There is often a demand lull between spring break and Memorial Day and we had a little bit of it about two weeks ago, but then last week, … there was actually an increase, which is very unusual.  I don't think I've ever seen that," said Gross.
"You have this increased demand as well as these really elevated oil prices," he added, pointing out that "the price of oil has been stuck in this weird range of $100 a barrel to $110 a barrel."
"It meets resistance when it hits $110 and then it drops back down, but then it meets resistance to drop below $100 and so it's in this uncomfortably high area," Gross continued.
Gross said that AAA is only expecting prices to get worse with Memorial Day weekend and the summer peak driving season right around the corner.
AAA predicts 39.2 million people will be traveling 50 miles or more from home over the holiday weekend, an increase of 8.3 percent from 2021, but still below 2019 pre-pandemic levels when 42.8 million people traveled by road.
He also noted that Memorial Day weekend will not deter millions of Americans from driving despite higher gas prices.
"Driving habits haven't seemed to change so that's something to keep your eye on over the next few weeks and months," said Gross, but he does believe that the higher cost of gas will likely price some travelers out.
"With these higher prices, at what point will people decide I'm going to stay home or I'm going to ride a bike."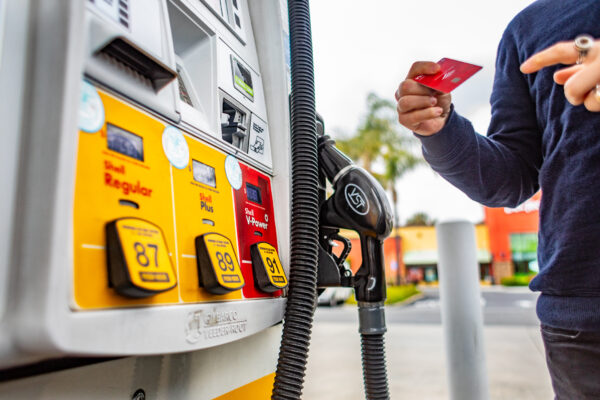 Record gas prices have worsened as the European Union deliberates on stronger oil sanctions on Russia after its invasion of Ukraine.
Both record-high inflation and gas prices are putting a dent in travelers' plans worldwide.
Gross pointed to the Ukraine crisis and the sanctions as "the prime generator for all these upward prices because the war has just injected all this weird volatility into the market."
"There's going to be a lot less Russian oil coming into the global market" due to the conflict and stressed that Russian oil "is hard to replace" as the country is a major producer of oil, he said.
President Joe Biden has blamed Russian President Vladimir Putin for the record-high gas prices and has vowed to do everything he can to assist Americans from "pain at the pump."
The White House announced last week that the EPA will allow the sale of E15 gasoline across the country this summer and moved to release a million barrels of oil per day from the Strategic Petroleum Reserve for the next six months.
Oil prices had reached a high of above $130 per barrel in March due to concerns about the disruption of supplies from Russia.
Brent futures for July fell 59 cents to $111.45 a barrel on the morning of May 20, while benchmark U.S. crude for June fell 56 cents to $111.65.
Prices fell May 20 after investors were concerned that slower global economic growth and more aggressive central bank interest rate policies may cause a recession, which would impact the recovery in fuel demand.
Crude demand and prices would likely decline if a recession occurs.
Crude prices meanwhile decreased, even though the latest EIA report showed that current domestic oil supply decreased by 3.4 million bbl to 420.8 million bbl, which is approximately 13.4 percent lower than during the second week of May 2021.
Authorities in China announced on May 19, that Shanghai will reopen four of its 20 subway lines and dozens of bus lines this weekend as the region slowly eases its "zero-COVID" lockdown, which has been in effect for more than six weeks.
"A lot of the downward pressure recently in the oil market was due to COVID and all these fears in China about China locking down because any kind of economic slowdown in China really effects oil because China is really the world's largest consumer of oil," said Gross.
"So if they start consuming less, that's more oil for everybody else," he concluded.