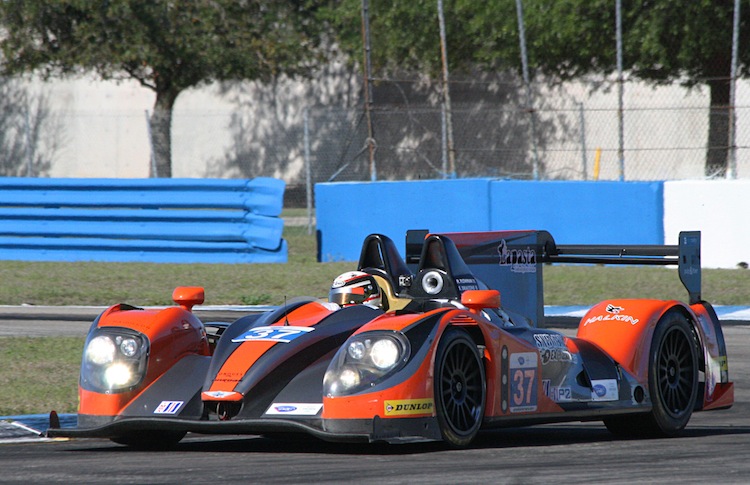 American Le Mans Series team Conquest Endurance has a new engine supplier for its LMP2 Morgan; starting with this weekend's race at Long Beach, the team will be powered by Nissan.
Nissan's 4.5-liter V8 is considered the class of the field in European endurance racing with wins in the 2011 Le Mans 24 Hours and the LMP2 Championship in the Intercontinental Le Mans series. Conquest's Nissan motor will be the first in the North American series.
"Nissan has proven to be the leader in sports car racing and we are very happy to have their engine powering our LMP2 car. This partnership solidifies our package in the ALMS and gives us the right tools to go out and win races," team owner Eric Bachelart said in press statement. "I'd like to thank Nissan North America for their support and we look forward to a successful partnership."
"Nissan North America is excited to be working with Conquest Racing and Eric Bachelart again," said Ron Stukenberg, senior manager of Motorsports for Nissan North America. "Conquest Racing's consistently strong efforts in the IndyCar series speak for themselves and we anticipate that their LMP2 team will be successful in the American Le Mans Series as well."
One of the team's drivers, Martin Plowman, got a chance to test the new engine at the 1.8-mile Putnam Park Road Course near the team's headquarters in Indianapolis. His co-driver David Heinemeier Hansson will get his first taste of Nissan power at the Long Beach grand Prix circuit during practice this Friday.
The Tequila Patrón American Le Mans Series at Long Beach is part of a tremendous race weekend, which includes the IndyCar's Toyota grand Prix of Long Beach. ALMS takes the green flag at 7:30 p.m. EDT Saturday, April 14, and IndyCar at 3:30 p.m. Sunday April 15.
Tickets are available through the Long Beach Grand Prix website.
The ALMS will be televised on ESPN2 and the IndyCar race on the NBC Sports Network.