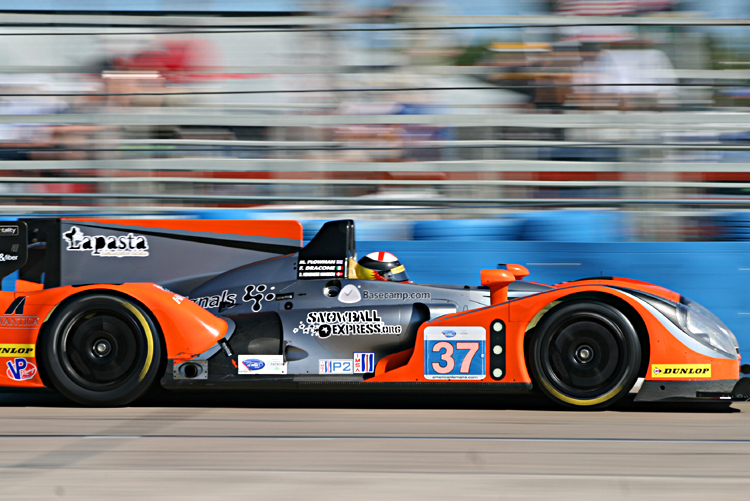 Conquest Endurance is ready to test its new Nissan engine in the American Le Mans Series at Long Beach event this weekend, ready to overcome the threat of rain and the challenge of driving a new car around a new course.
Conquest racing recently installed a Nissan V8 in its Morgan P2 chassis; driver Martin Plowman, who did a tiny bit of testing with the new engine, has driven at Long Beach, but never in a high-downforce sports car.
"I love Long Beach. It is easily one of my favorite tracks on the calendar and it suits my driving style well, I have been fast there both years that I raced in Indy Lights. It will take some adjustment driving a bigger car around there, but I can't wait to see it again," he said in a team press release.
"This weekend we will debut our new Nissan powerplant. It ran very well at the test and we were able to make the necessary modifications and improve the car, I think that it will suit the track very well.
"The forecast for the weekend looks like we are in for rain too. I haven't driven in the rain for nearly two years but I love wet-weather driving, it will just add to the fun!"
Plowman's co-driver, David Heinemeier Hansson, has never lapped long Beach. With only a single two-hour practice session before qualifying, Heinemeier Hansson will rely on help from his co-driver and from team owner Eric Bachelart, who has been to Long Beach many times with his IndyCar and Indy Lights teams.
"Long Beach is going to be my very first street race. I've been doing my homework with videos and the simulator, though I'm sure nothing can substitute from actually being on the real track," Heinemeier Hansson said." It's going to be quite a challenge with only one practice session, but thankfully my teammate Martin is well-versed there, so I'm sure we'll be in great shape with setup for the race."
The American Le mans Series race on Saturday is not Eric Bachelart's only commitment on the West Coast this weekend. Conquest Racing will also be campaigning its IndyCar and Indy Lights cars at Long Beach this weekend; IndyCar's Toyota Grand Prix of Long Beach will run Sunday, making this an action-packed weekend for race fans of all varieties.
Tickets for the weekend are still available through the Long Beach Grand Prix website.
The American Le Mans Series will qualify Friday afternoon and race Saturday. Qualifying will be streamed live on ESPN3 at 8 p.m. EDT Friday and the race will be live on ESPN2 and ESPN3 starting 7:30 p.m. EDT Saturday.
The IndyCar Toyota Grand Prix of Long Beach starts at 3:30 p.m. EDT Sunday on the NBC Sports Network.