UFC legend Conor McGregor called for a rematch with current lightweight champion Khabib Nurmagomedov in Moscow after the Dagestani fighter clinched a win at UFC 242 by submitting Dustin Poirier via rear-naked choke.
After UFC president Dana White in a post-fight media scrum on Saturday, Sept. 7, opened the way for the Irishman to make a return to the octagon, McGregor took to social media to call out the victor.
"Book my rematch for Moscow," McGregor wrote on Twitter.
Book my rematch for Moscow.

— Conor McGregor (@TheNotoriousMMA) September 7, 2019
White confirmed that Tony Ferguson is next in line to face Nurmagomedov, but if that fight falls through, McGregor could square off against the man who beat him in a 2018 grudge match marked by pre-contest bad blood and a post-fight brawl.
"Tony Ferguson gets the next shot, and obviously, if for whatever reason Tony can't take the fight or doesn't want to fight at that time, then we would figure out what's next," White said, the Daily Mail reported. "But yeah, Conor would make a lot of sense."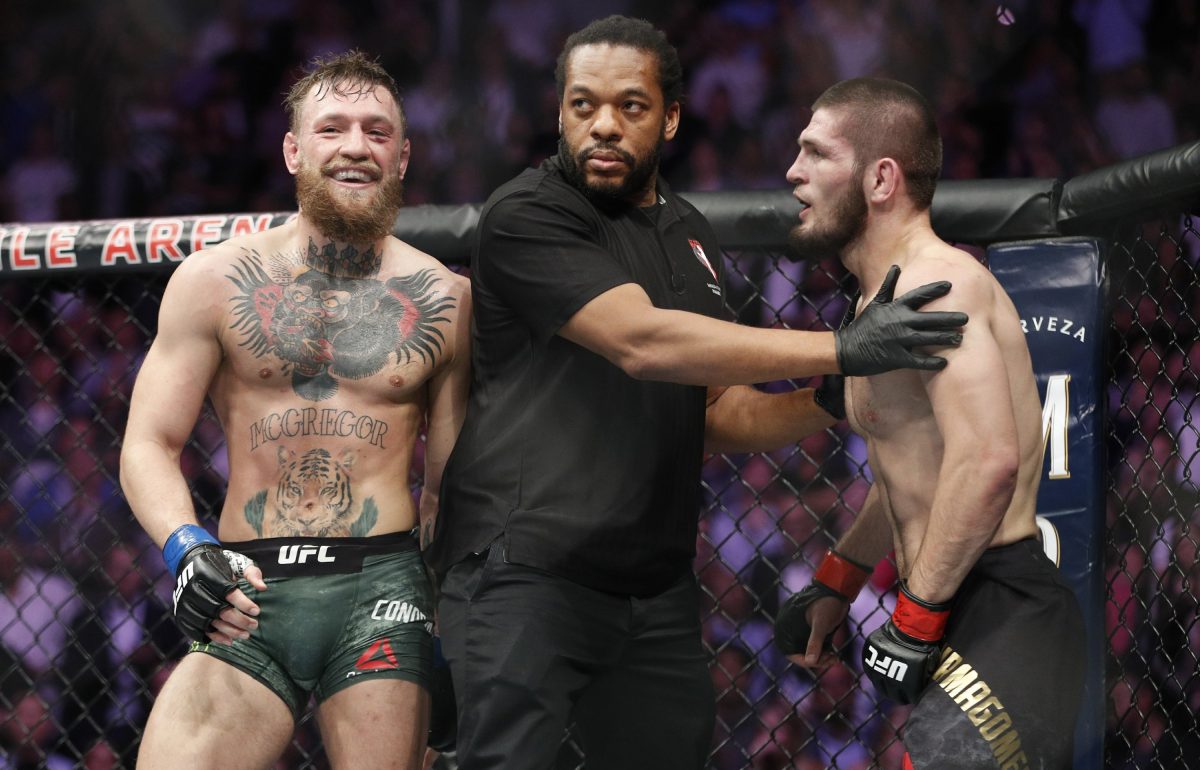 "Conor McGregor wants that fight really badly, and I'm sure the fans would want to see it. So we'll see how this whole thing plays out," White added.
Nurmagomedov struck a more opaque note regarding his future fight plans. When asked after Saturday's third-round win in Abu Dhabi about whether he felt a fight against Ferguson was in the cards, Nurmagomedov said he wants to catch his breath and consider his options.
"You did drop the name Tony Ferguson here during fight week," UFC commentator Jon Anik asked Nurmagomedov in the ring. "Can you tell us about your third title defense."
"Last two years was very busy for me," Nurmagomedov replied. "You know, I want a little bit to relax. I have too much pressure on my shoulders. Give me a little bit of time, maybe a couple of days. I have to rest."
Reporters then pressed the champion during the post-fight presser about the prospect of facing Ferguson, but Nurmagomedov refused to be pinned down with an answer.
"What's interesting in this sport, even if you're 28-0, 12-0 in the UFC, you're one of the biggest stars, you smash everybody, people are going to talk about 'You have to fight with him, you have to fight with him, you have to fight with him, we have to fight with him.' Give me just respect. Put me on the number one pound-for-pound fight next week because I think I deserve this because I dominate with all my opponents. I'm undefeated, you know. I think I deserve some respect."
Khabib added, "my next opponent is a very good steak, with a burger—double cheese."
During the presser, Nurmagomedov showed respect for Poirier, calling their contest a "great match."
"Dustin Poirier is one of the best in the world. He's not just champion of a state, or champion of a country, he's one of the best in the world. Of course, I expect it's going to be a tough match, he's going to be a tough opponent. It was a great match, I think."
Speaking to Anik in the ring, the Dagestani fighter took a swipe at McGregor and the culture of trash-talk that has arguably marred the sport.
Referring to the mutual respect between has and Poirier's camps, and the persistently bad blood between him and McGregor, Nurmagomedov said: "Why we have so much respect between us before the fight than my last fight? You know with this [expletive] guy, I had a lot of crazy stuff. But I want to forget everything. We show really what is this MMA. MMA, number one thing is respect."