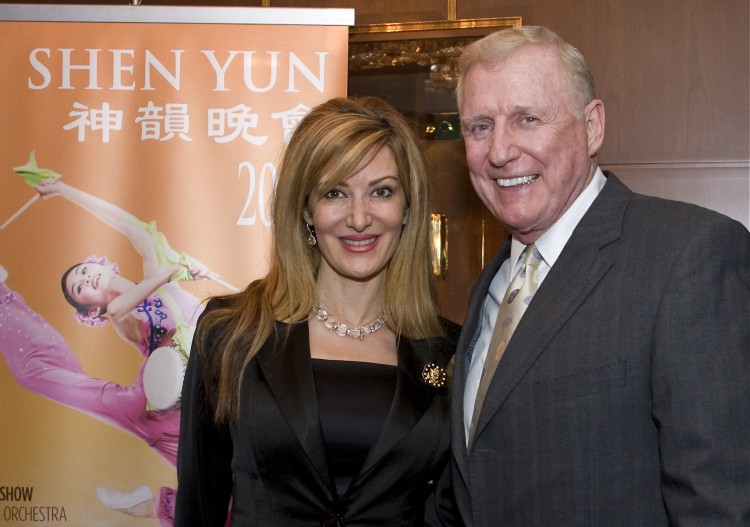 WASHINGTON—Congressman Dan Burton and his wife were among the appreciative theatergoers who filled the foyer of the Kennedy Center Opera House after seeing Shen Yun Performing Arts on Wednesday March 28.
"I think it's one of the most beautiful shows I have ever seen," said Rep. Burton.
Dan Burton is currently serving his fifteenth term as a United States Representative from Indiana's Fifth Congressional District. He is also Chairman of the House Foreign Affairs Subcommittee on Europe and Eurasia.
The congressman said that he and his wife had seen Shen Yun last year at the Indianapolis Clowes Hall. "But this is a little different tonight from the one we saw before," he observed. Every year, Shen Yun comes up with an entirely new and all-original program.
Rep. Burton said he was moved by the spiritual aspects of the performance: "The people coming down from heaven and helping the people who need the help, it was very wonderful."
He said "it was so important that there be freedom and justice. And it came across in one particular part of the show that let me know about the repression that takes place sometimes in China. It should not take place there."
New York-based Shen Yun's mission is to revive 5,000 years of divinely inspired traditional Chinese culture through story-based dance, music, and vocal solos. The 60-plus-year rule of the Chinese Communist Party and the Cultural Revolution have almost totally destroyed this traditional culture, says the company's website.
Rep. Burton appreciated the importance of Shen Yun's mission: "I think by regaining the Chinese culture, you show that freedom and democracy, and human rights can persevere and win. I think it's great."
While acknowledging that China was trying to grow into a world power, Rep. Burton emphasized that "as long as they repress their people, I don't think they'll ever be able to grow as big and as strong as they could if they had freedom, democracy, and human rights.
"I think that the Chinese culture comes across so well [in the performance]. And it makes me want to go and see it in mainland China, and I'm hoping one day, they'll be freedom everywhere so we can see it there."
"This kind of show brings the spirit of freedom to people, and hope. And I think hope and freedom are so important," Congressman Burton concluded.
Shen Yun Performing Arts, based in New York, tours the world on a mission to revive traditional Chinese culture. Shen Yun Performing Arts Touring Company will perform at The Kennedy Center Opera House, Washington, D.C., through April 1.
For more information visit ShenYunPerformingArts.org