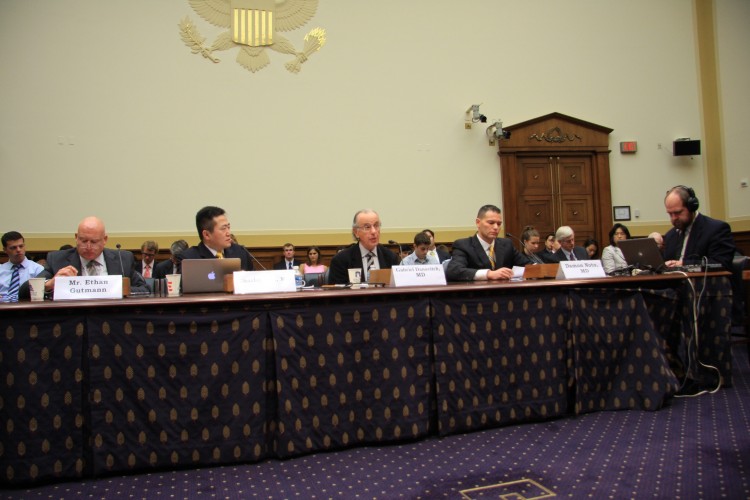 WASHINGTON—One congressman said the term "crimes against humanity" seemed inadequate for the atrocities just described. Another said it was the "most monstrous crime" he could conceive of.  
They had just heard testimony at a congressional hearing Wednesday telling how the Chinese Communist Party has since the turn of the century killed tens of thousands of prisoners of conscience for their organs. Most victims were practitioners of Falun Gong, a Chinese spiritual discipline. 
In many cases their organs were taken from their bodies while they were still alive, killing them. And while evidence began emerging in 2006, governments around the world have done little about it.
Each witness on Sept. 12 contributed his own piece of insight in illuminating this story.
Ethan Gutmann, an investigative journalist, referred to the body of witness testimony, much of which he has wrangled, from former surgeons and nurses who have direct knowledge of organ harvesting from prisoners of conscience. 
He has also interviewed imprisoned Falun Gong practitioners who have been tested for their blood type, which is needed for their organs to be harvested. He lamented the lack of interest in the West in the evidence that he and others have worked to accumulate, and urged the committee to invite the witnesses to be cross-examined.
Dr. Gabriel Danovitch, a professor of medicine at UCLA, noted the efforts that international medical organizations have made to change abusive Chinese organ sourcing practices. In answer to a question, he noted that at least one of his patients has, against his exhortation, gone to China to receive a "kidney on demand." Danovitch contributed a chapter to the recent publication State Organs, which is about this topic.
Dr. Damon Noto, the spokesman with the medical society Doctors Against Forced Organ Harvesting, presented a careful historical analysis of the beginnings of organ harvesting by the CCP, and ran through a narrative that led to the ultimate conclusion that the Party has harvested the organs of up to 60,000 Falun Gong prisoners of conscience. 
The CCP's military apparatus began with death row prisoners in the 1990s and after 1999 moved on to the newly persecuted Falun Gong population. There was an "exponential increase in transplantations" from 2000 onward, Noto said. 
Charles Lee, a spokesman for the Global Service Center for Quitting the Chinese Communist Party, an organization that facilitates renunciations of the Party, said that the CCP has a long history of killing, and that organ harvesting is part of the pattern.
That the hearing was held itself reflects an advancement in the prominence of the cause. A number of the researchers involved in documenting the crimes that were the subject of the hearing have been laboring in solitude for years, receiving scant journalistic attention and even less recognition by governments, who find it important to maintain good relations with the Chinese Communist Party (CCP).
One man present on the day, David Kilgour, a former Canadian parliamentarian, knows this well. In 2006 he co-authored with David Matas the groundbreaking report, which was revised, updated, and published as a book in 2009: "Bloody Harvest: Report into Allegations of Organ Harvesting of Falun Gong Practitioners in China." 
Since then he and Matas, a distinguished human rights lawyer, have traveled around the world telling public officials, human rights researchers, journalists, and anyone else who will listen, about the findings of their research. But generally the topic is not well known.
The timing of this hearing, about a month before the expected opening of the CCP's largest political conclave when a new batch of leaders will be ushered in, Kilgour thinks is significant. 
"The fact is that organ pillaging is an issue that's tied, like an albatross, around the necks of the hard-liners in the leadership," Kilgour said. It has played out in recent political infighting, according to analysts.
"This is all part of a continuum," Kilgour said of the hearing, wherein the organ harvesting crimes by the CCP will finally meet with a reckoning and become a matter of historical record.
"It's becoming an accepted fact now, you can feel it," said Ethan Gutmann. Gutmann has penned a number of long-form investigative articles exploring organ harvesting from prisoners of conscience in China. "They talk about it like it's not just something that ought to be investigated. It's an accepted fact," he said.
The hearing was organized and co-chaired by two members of the House Committee on Foreign Affairs: Rep. Dana Rohrabacher (R-Calif.), chairman of the Subcommittee on Oversight and Investigations, and Rep. Chris Smith (R-N.J.), chairman of the Africa, Global Health and Human Rights Subcommittee.
Michael Posner, assistant secretary of state for democracy, human rights, and labor from the State Department, was invited to give testimony, but did not attend.
Rep. Smith said the possibility of the crimes discussed by witnesses "pushes us into a horrific beyond, a beyond that challenges our language, making 'barbaric' too calm a word. If this is true, even the powerful, fraught legal term 'crimes against humanity' seems inadequate, leached of horror."
Representative Karen Bass (D-Calif.), described the matter as "really deeply troubling."
Rep. Rohrabacher, who was the main chair of the panel, was outspoken.
"What we're talking about is a monstrous crime. … To rip open the body of someone who is simply involved in a religious or personal or political idea that is a contrary to the wishes of the ruling elite, and not a physical threat to the regime, this is about the most monstrous crime that I can conceive of," he said in extemporaneous remarks toward the end.
At one point he addressed the journalists present and asked whether Radio Free Asia and Voice of America had reported on the topic. After he gained the impression that they had not, he said: "Shame on our journalist community. … Shame."
"This hearing goes to the heart of what America is all about," Rep. Rohrabacher said. "If we don't care about things like this, what kind of country and people would we become?"
The Epoch Times publishes in 35 countries and in 19 languages. Subscribe to our e-newsletter.