Congress Considers Authorizing Attack on Syria
September 3, 2013 8:00 am Last Updated: September 3, 2013 12:43 am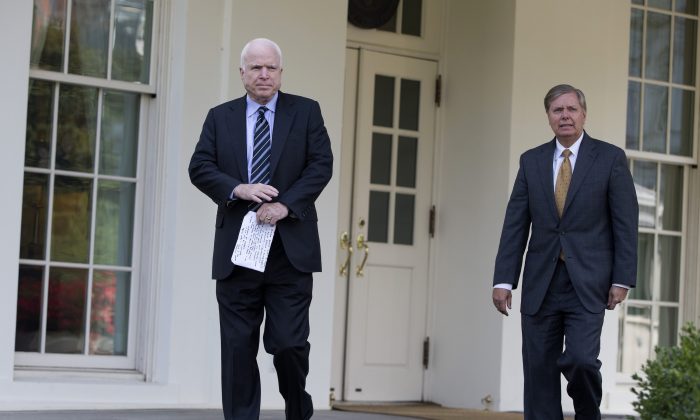 As legislators began meeting behind closed doors Sept. 2, Congress will consider how to respond to Syrian President Bashar Assad's use of chemical weapons, in a series of classified conclaves.
President Barack Obama chose to seek congressional approval before bombing Syria, though he said it was legal for him to authorize the bombing. 
Secretary of State John Kerry was among those pressing for the most aggressive response. The former Mass. senator had been pushing for stronger action against Syria even before being tapped to lead the State Department. He has advocated sending more and better assistance to the opposition and has backed robust, though limited, military action to punish the regime. 
Kerry wants to force Assad to change course on a conflict that has left more than 100,000 people dead. 
But not everyone thinks American military action against the Assad regime would be justified. According to an open letter to the president from lawyer and activist Ralph Nader, "The framers of our Constitution—whatever their other differences—were unanimous in writing Article 1, Section 8, so that no president could go to war on his own. To do so, as you have already done in the past, would be a major impeachable offense."
Both liberal and conservative Americans are hesitant. Bombing Syria could increase the already horrific suffering of Syrian civilians while pulling America into a prolonged conflict. Some lawmakers have said that Obama's plan to carry out precision strikes against Syria and then pull out of the conflict is unrealistic.
Inaction could embolden other nations to use chemical weapons, though doing so was banned in the 1925 Geneva Protocol. 
"The U.S. and its allies have to do two things. On the one hand, they have to punish Assad for using chemical weapons," Barry Strauss, a military history expert and professor of history at Cornell University, said in a statement. "On the other hand, they have to prevent Syria from falling into the hands of an even worse regime than the current government."
"Striking a balance is never easy in military and diplomatic affairs, and half-measures are sometimes worse than none," Strauss continued. "I hope the administration finds the right approach."
America has not been at peace since invading Afghanistan in 2001. Clouding the issue is the memory that the United States invaded Iraq on false allegations that Saddam Hussein had weapons of mass destruction.
Americans have signed petitions and held demonstrations to oppose the idea of bombing Syria.
A pair of Republican foreign policy hawks said Obama must make a strong case for attacking Bashar Assad's Syria if he wants to win congressional backing for the operation.
Sen. John McCain (R-Ariz.) told reporters at the White House that Obama's intervention now will be more difficult because Assad "is moving his forces around." Both McCain and Sen. Lindsey Graham (R-S.C.) questioned the wisdom of the administration publicly signaling in advance its intention to strike. McCain and Lindsey, who often speak with the same voice on foreign affairs, talked in the White House driveway Monday, Sept. 2, after a private meeting with Obama.
McCain said he believes lawmakers awaiting a critical vote on Syria "must be assured that this is different from the past two years of neglect" on the part of the administration.
Sen. Dick Durbin (D-Ill.) canceled a Tuesday luncheon appearance before Chicago's business and political elite to head to Washington and begin preparing for congressional debate on possible action in Syria. Durbin, the No. 2 Senate Democrat, was among the 15 members of Congress briefed last week in a call on the situation.
Obama is trying to rally support among Americans and congressmen.
The Associated Press contributed to this report.