Hong Kong leader Carrie Lam has said she has much in power in the city thanks to backing from Beijing, reiterating her support to local police to curb the "violent" protests in her weekly press conference on Oct. 29.
Last week, the Financial Times citing anonymous insiders reported that Xi Jinping was considering replacing Lam with an "interim official" by March next year who would then lead the city government until the next election in 2022.
However, Lam was quick to brush aside the report in her remarks, saying she wouldn't be commenting on the speculation. She added that a spokesperson for China's Ministry of Foreign Affairs had already made a statement.
On Oct. 24, spokesperson Hua Chunying said that the FT article was a "political rumor with ulterior motives."
Lam said that Beijing "remains confident" in her, her political team, and the Hong Kong police to "end violence and return Hong Kong to normal as soon as possible."
She elaborated that Beijing has not changed its position on her and her government since the beginning of the protests in June.
Lam avoided answering a reporter's question about whether she had in place any more political tools or emergency measures to restore order to Hong Kong by saying she was committed to her dialogue with local communities.
Lam had on Oct. 4 invoked a colonial-era emergency law to implement a ban on facial masks at public gatherings. The anti-mask law, which has angered protesters and become another reason for taking to the streets, is currently being challenged in Hong Kong's courts.
Lam then went on to hint that she would not meet any more protester demands, claiming that it was not be a solution for her government to "resort to measures to appease the violent rioters."
Mass demonstrations in Hong Kong started in early June against a controversial extradition bill that many feared would erode the city's judicial independence, leaving Hongkongers vulnerable to be transferred to Beijing and trialed in China's communist party-controlled courts that do not uphold the rule of law.
While the bill was formally withdrawn on Oct. 23—almost 4 months after the first mass protest—hundreds of thousands of local residents have continued to call for respect for the autonomy of Hong Kong, greater democracy, as well as an independent inquiry into instances of violence against protesters and journalists.
A Political Maneuver?
Lam was also asked about the progress her government has made in sending murder suspect Chan Tong-kai to Taiwan where he wanted by authorities for allegedly murdering his then-pregnant girlfriend, Poon Hiu-wing, in 2018.
Chan, a Hong Kong resident, returned to Hong Kong before Taiwanese police could apprehend him.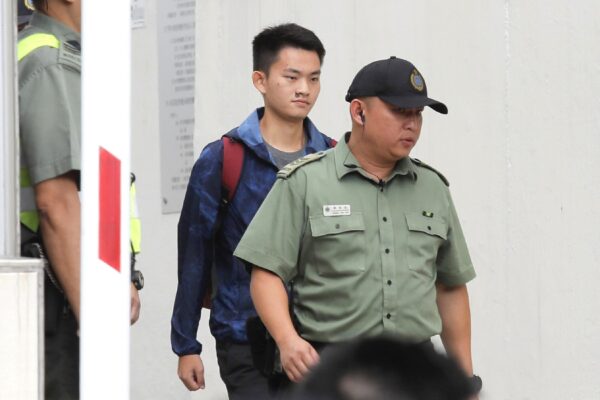 The Hong Kong government has been accused of using Chan's case to demonstrate a need for an extradition bill, saying that the absence of such bill was the reason that Chan wasn't sent back to Taiwan to face charges.
On Oct. 18, the Hong Kong government announced that Chan, who was incarcerated at the time, had written a letter to Lam, expressing his wish to surrender to the Taiwanese authorities. Chan was released on Oct. 23 but has not made good on his promise to return to Taiwan.
Hong Kong and Taiwan are now locked in a spat over how to handle Chan's transfer to the island. Taiwanese officials have said that Chan's "willingness" to surrender was a "political maneuver" by the Hong Kong government.
During the press conference, Lam accused Taiwan of releasing "confusing messages" that had complicated Chan's transfer.
"Right now, Chan and his family are probably trying to clarify some of these messages, before he could make up his mind on the timing to go back to Taiwan. And those clarifications are necessary in order to ensure a fair trial," Lam added.
Lam said that Chan was worried about his safety and her government had put in place an "appropriate arrangement," without providing details.
It is not clear what is causing Chan to feel insecure about his safety.