Confederate monuments were taken down in Florida and North Carolina on Monday, Aug. 14, and government leaders around the country are announcing plans to take them down in their communities as a national debate rages over whether they represent history or hate.
A rally by white nationalists protesting plans to remove a statue of General Robert E. Lee, commander of the pro-slavery Confederate army in the U.S. Civil War, sparked clashes with counter protesters in Charlottesville, Virginia on Saturday. A woman was killed and 19 people were injured when a car plowed into a crowd of counter-protesters.
In a related protest in Durham, North Carolina, on Monday, a group of youth brought down the statue of a confederate soldier.
The statue was erected in 1924 as a dedication to the city and it had "The Confederate States of America" engraved on the front of it. The statue was an archetype of a confederate soldier.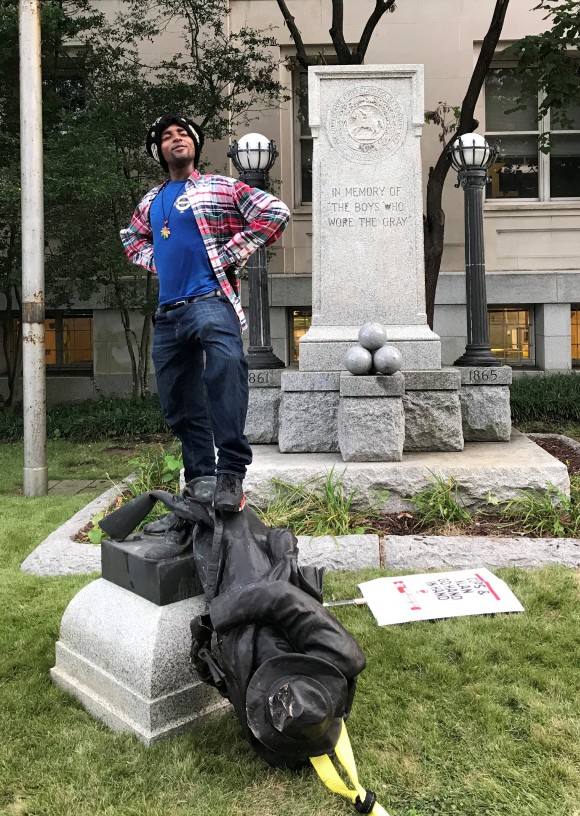 One of the protesters climbed up a ladder and hooked a rope around the soldier's chest while protesters below shouted chants such as "We we are the revolution."
As soon as the rope was firmly around the statue, protesters on the ground gave it a tug and the bronze statue tumbled to the ground, crumpling as it fell.
Protesters spat on it and kicked it while Durham city police looked on, videotaping the event.
Later that night, North Carolina Governor Roy Cooper tweeted that while racism and violence are unacceptable, "there is a better way to remove these monuments."
A Durham City police spokesperson said later in a statement to a local CBS affiliate that because the incident occurred on county property, no arrests were made by city police officers.
However on Tuesday, Durham County Sheriff Michael Andrews, said he planned to bring criminal charges against the protesters, and that they are working to identify those who tore the statue down.
"I am grateful the events that unfolded Monday evening did not result in serious injury or the loss of life, but the planned demonstration should serve as a sobering example of the price we all pay when civil disobedience is no longer civil," he said in a statement.
He hinted that the county and city would be discussing how to accommodate people's right to protest with the government's need for safety, saying he had asked city and county leaders to "establish guidelines and safe spaces for protesters to prevent demonstrations from becoming disruptive."
In a much less dramatic affair, a confederate monument was also removed in Gainesville, Florida the same day.
Workers quietly removed the statue of a confederate soldier in the city's downtown, attended only by a representative from a local chapter of the United Daughters of the Confederacy, a handful of onlookers, and police who were parked down the street in case there were protesters, Gainesville.com reports.
The county commissioner told the paper that the commission had been wanting to remove the statue locally known as "Old Joe" for a while, but couldn't find a group to take it.
Finally, the United Daughters of the Confederacy, the organization that gave it to the city 113 years ago, agreed last month to take it back.
Gainesville.com reports that it is now located in a private cemetery outside of the city.
Also in Florida on Monday, the council president of the City of Jacksonville announced that she planned to introduce legislation to move all the city's confederate monuments, memorials, and markers to museums and educational institutions.
City Council President Anna Lopez Brosche said she had asked two city departments to do an inventory of them to "know the full landscape of such a task" before she would introduce any legislation.
The city's mayor, Lenny Curry, said that it wasn't a priority for him, but that he would evaluate the legislation when it crossed his desk, a local CBS affiliate reported.
The mayors of Baltimore and Lexington, Kentucky, also said on Monday they would push ahead with plans to remove Confederate statues.
Baltimore Mayor Catherine Pugh pledged move forward in removing several statutes, including those of Lee and Stonewall Jackson. She stopped short of endorsing calls by some city council members for the monuments to be destroyed.
Memphis officials said the city would take legal action to get state approval to remove a Confederate statue there. The city council voted to remove it in 2015, but the effort was blocked by the state historical commission, local media reported.
In Lexington, Kentucky, Mayor Jim Gray said he had heard opposition to his plans to take down Confederate monuments, but that he had also received offers to pay for the statutes to be relocated as early as this fall.
Reuters Contributed to this report. 
By NTD.tv