A kidnapped 8-year-old Texas girl for whom an Amber Alert was issued has been found, a Fort Worth Police Department spokesperson said.
"As you can see, there's a smile on my face," said police spokesman officer Buddy Calzada during a press conference early Sunday, May 19. "I'm here to report that Salem has been found safe."
Earlier, Fort Worth police announced on Twitter that the child, who was abducted on Saturday evening, had been recovered and that a suspect was in custody.
#UPDATE Salem has been found SAFE!!!! Suspect is in custody. https://t.co/uzcybMUNCh

— Fort Worth Police (@fortworthpd) May 19, 2019
The spokesperson told reporters assembled outside the hotel where the girl was found that two local church members found the alleged kidnapper's vehicle and alerted the police.
Calzada said the two tipsters had searched the area looking for the suspect's vehicle based on surveillance photos released by the police.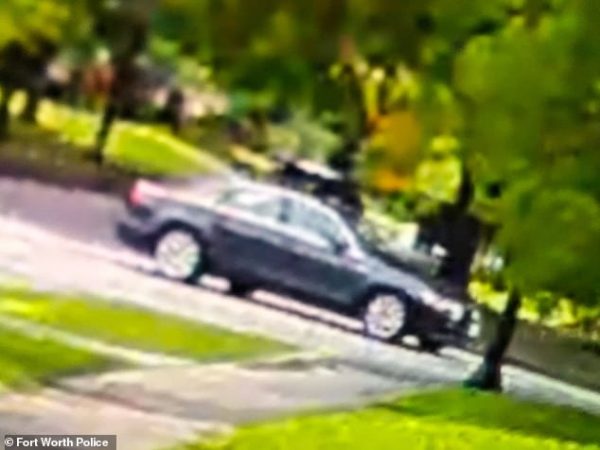 The spokesperson said many members of the public came forward to help.
"We literally told them, just take the pictures we put out and go help us find this vehicle, go help us find Salem, and that's exactly what happened."
"Two church-members of a local church here went out, saw the vehicle, called it in, called Fort Worth police."
He said police arrived on the scene, "breached one of the doors here" and located the missing girl.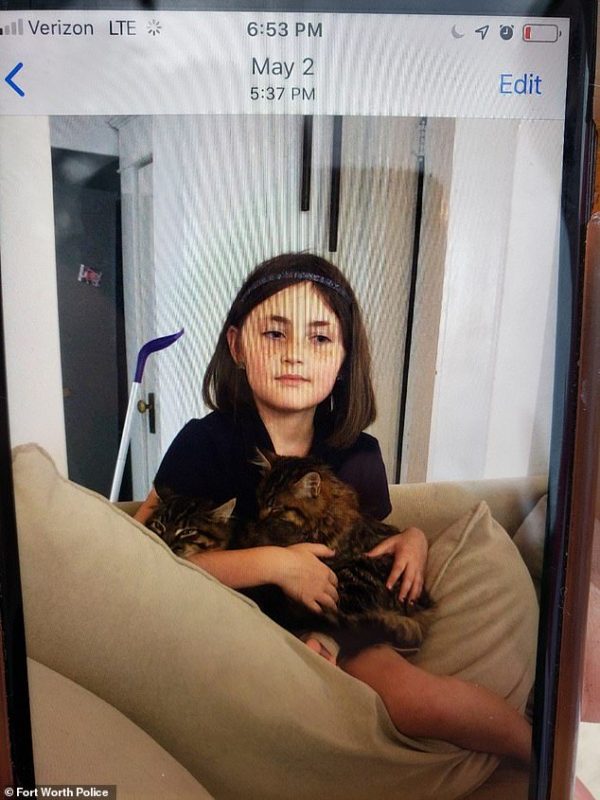 The suspect has been identified as a 51-year-old black male and not a relative of the family. No information was provided on the man's criminal history.
The Amber Alert issued earlier by police described the kidnapper as an "unknown light-skinned black male of skinny build, balding and no facial hair."
He faces potential charges of aggravated kidnapping.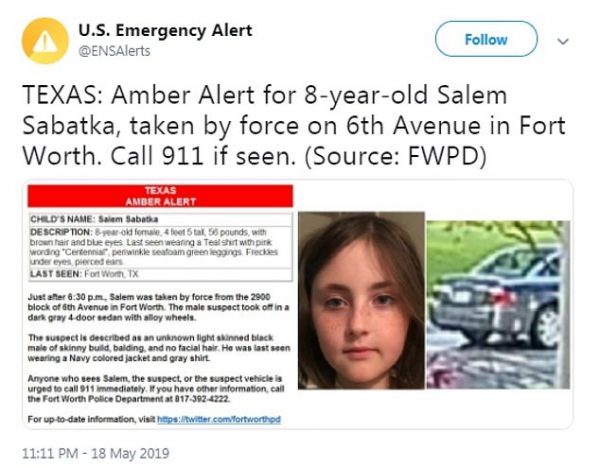 The spokesman thanked the public for help.
"This comes from the heart of the Fort Worth Police Department," he said. "We want to thank all of our followers."
"We're a good police department, we work hard, but with you on our side, we're able to be more effective," Calzada said. "You guys were a huge asset to helping Salem be found safe."
"It's taken a few hours, but it's taken a whole city to get behind us and make this happen."
The girl was transported to a local hospital where she is receiving care.
"Our officers saw that she was in good condition but we do want to make sure that medical professionals will look over her, which is where her family is right now to meet up with her."
The Kidnapping
Sabatka was snatched off the street at 6:38 p.m. Saturday when she was on a walk with her mother in Fort Worth's Ryan Place neighborhood, police said.
The little girl's mother tried to fight the abductor, but according to police she was shoved out of the car before the kidnapper sped off.
A neighbor's doorbell camera recorded the moment the girl's mother was thrown from the vehicle.
A voice can be heard shouting "Help me! Help me please!" and the figure of the frantic mother is seen in the footage.
Thanks to the actions of concerned citizens, the suspect's vehicle was found at the Woodspring Suites hotel in Forest Hill.
Calzada said, "we had citizens that went out of their way and helped not just the police department but a family to put some great closure to what we have going on right now."
Missing Children
There were 424,066 missing children reported in the FBI's National Crime Information Center in 2018, according to the National Center for Missing and Exploited Children (NCMEC). Under federal law, when a child is reported missing to law enforcement they must be entered into the database. In 2017, there were 464,324 entries.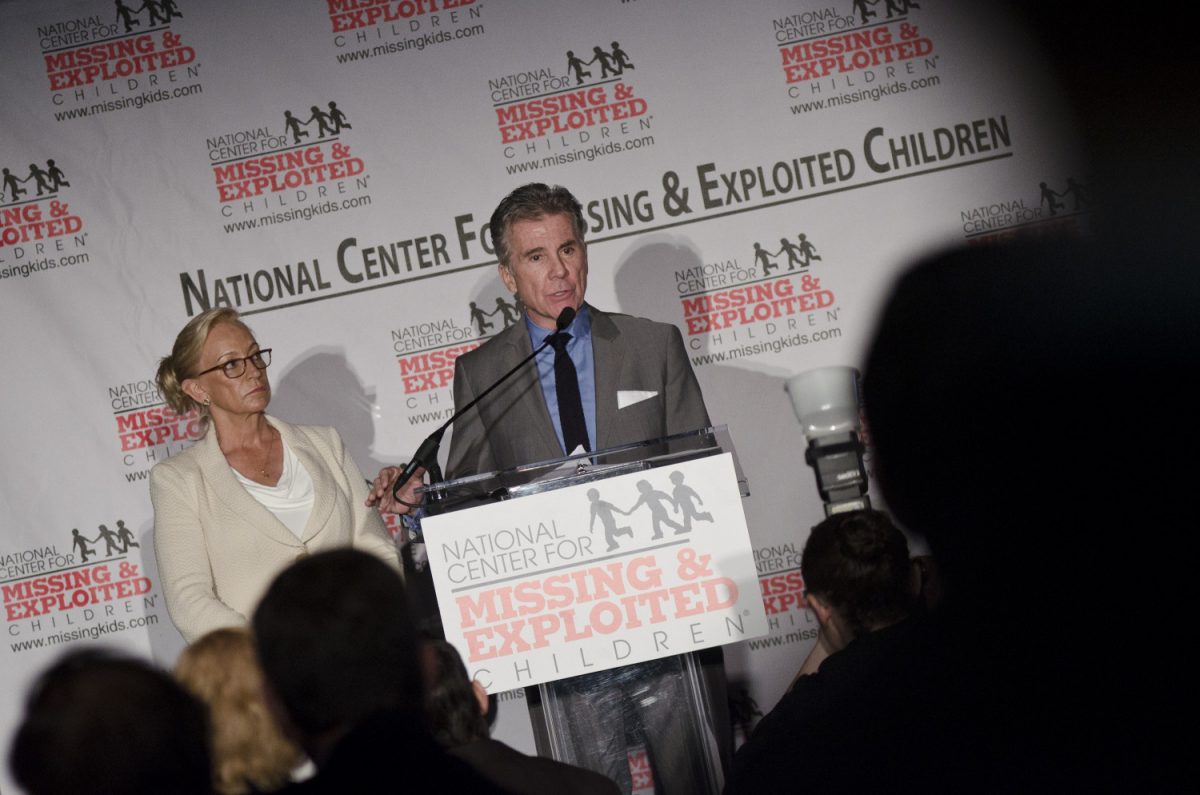 "This number represents reports of missing children. That means if a child runs away multiple times in a year, each instance would be entered into NCIC separately and counted in the yearly total. Likewise, if an entry is withdrawn and amended or updated, that would also be reflected in the total," the center notes on its website.
"Unfortunately, since many children are never reported missing, there is no reliable way to determine the total number of children who are actually missing in the U.S.," NCMEC (National Center for Missing & Exploited Children) added.
In 2018, the center said it assisted officers and families with the cases of more than 25,000 missing children. In those cases, 92 percent were endangered runaways, and 4 percent were family abductions.
The center said that it participates in the Amber Alert Program, which is a voluntary partnership between numerous entities including broadcasters, transportation agencies, and law enforcement agencies. The Amber Alert Program issues urgent bulletins in the most serious child abduction cases.
According to the NCMEC, to date, 941 children have been successfully recovered as a result of the Amber Alert Program.
The center notes that of the more than 23,500 runaways reported in 2018, about one in seven were likely victims of child sex trafficking.