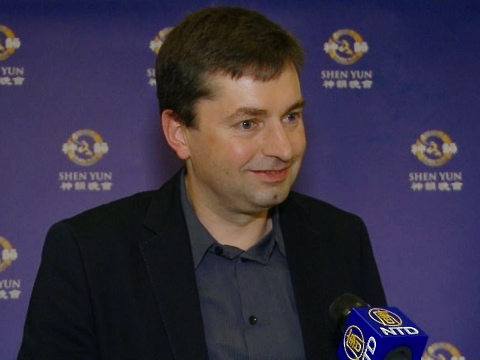 FRANKFURT, Germany—The audience honored Shen Yun Performing Arts International Company's opening performance in the Jahrhunderthalle in Frankfurt am Main on March 30 with resounding applause and standing ovations.
In the audience was Mr. Michael Kirf, vice president at Siemens, and his wife. Mr. Kirf had seen Shen Yun at the Lincoln Center in New York in 2011 and immediately bought tickets for the 2012 Shen Yun performance when he saw it was coming to Frankfurt. He had spoken so much about Shen Yun that his wife was excited about seeing the show.
"It is truly impressive. My husband did not exaggerate," Ms. Kirf said.
New York-based Shen Yun, the world's leading classical Chinese dance and music company, has as its mission the revival of China's authentic, divinely inspired culture, "which the Chinese Communist Party has for decades tried to destroy: a tradition of spiritual self-discipline and veneration for the divine," says the company website.
"The exceptional beauty of the colors, the harmony of the music made me come back to see Shen Yun again," Mr. Kirf said.
Shen Yun's one-of-a kind orchestra, with its all-original compositions, blends East and West like no other. The distinctly Chinese sound of ancient instruments like the erhu and the pipa are bathed in a rich sea of Western strings, percussion, woodwinds, and brass, states the company's website.
"We were so surprised concerning the harmony between the different musical instruments, both the Eastern and traditional European music instruments. They fit well together," Ms. Kirf said.
"Using the Jahrhunderthalle as the venue was well thought out, given the large stage," she added. "I'm thinking of the hours of work to produce this show, the many rehearsals needed that everything from the drums to the trumpets elicit a harmonic tone. Everything harmonized."
Reporting by Alexander M. Hamrle and Peter Sanftmann.
New York-based Shen Yun Performing Arts has three touring companies that perform simultaneously around the world. Shen Yun Performing Arts International Company will next perform in Stockholm, Sweden, April 4-6.
For more information, please visit ShenYunPerformingArts.org.