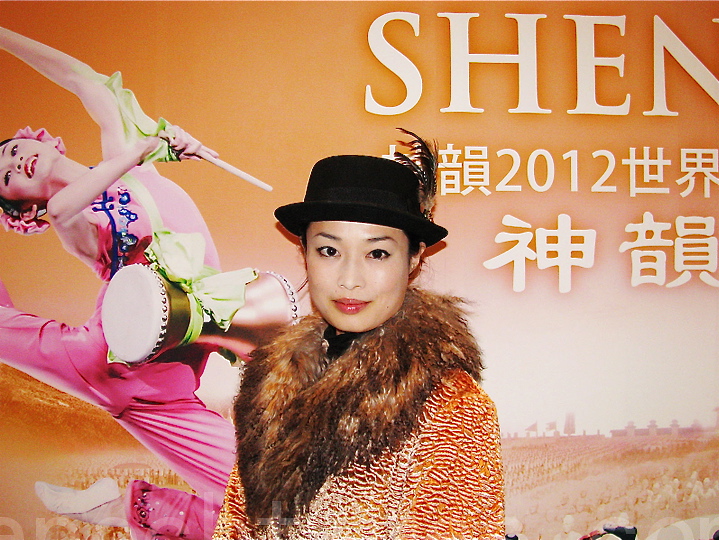 TOKYO, Japan—Shen Yun Performing Arts New York Company started its 2012 Asia tour on Feb. 14 in grand style with a performance at the Tokyo International Forum. Ms. Urakawa Mai, President of the Meister Co. Ltd., was among the audience. After the performance she spoke of being in awe of the classical Chinese dance performed by the Shen Yun dancers, describing it as spectacular and unforgettable.
She said excitedly, "This is my first time to see Shen Yun, and it turned out that the overall performance was a classic performance, which has left an indelible impression on my mind."
Having appreciated ballet for over 20 years, Ms. Mai said she loved the classical Chinese dance Shen Yun performs. The executive said that she was impressed by the elegant dances and the magnificent scenes depicting heavenly worlds, as if she had received a message from the divine.
She also said the performance had showed her something new about Chinese civilization and Chinese people. She said she had learned more about how diverse Chinese people are. Ms. Mai said: "To many Japanese, they tend to regard all those who speak Chinese languages as Chinese people. After watching Shen Yun, I felt that Chinese people in mainland China, Hong Kong, Taiwan and other places have different cultural backgrounds. As there are a number of national cultures and traditions in China, understanding the essence of these cultures is of much help to the cultural interaction with Chinese. …"
Shen Yun's 2012 show features dances from the Taiwanese Amei people (In the Mountains), from Tibetans, (Khata for the Gods) and from the Erma, or Qiang, ethnic minority (Dance of the Qiang People).
Reporting by Niu Bin
New York-based Shen Yun Performing Arts has three touring companies that perform simultaneously around the world. Following performances in Japan, Shen Yun Performing Arts New York Company will continue on to top venues in Korea and Taiwan, followed by Australia and New Zealand.
For more information, visit ShenYunPerformingArts.org