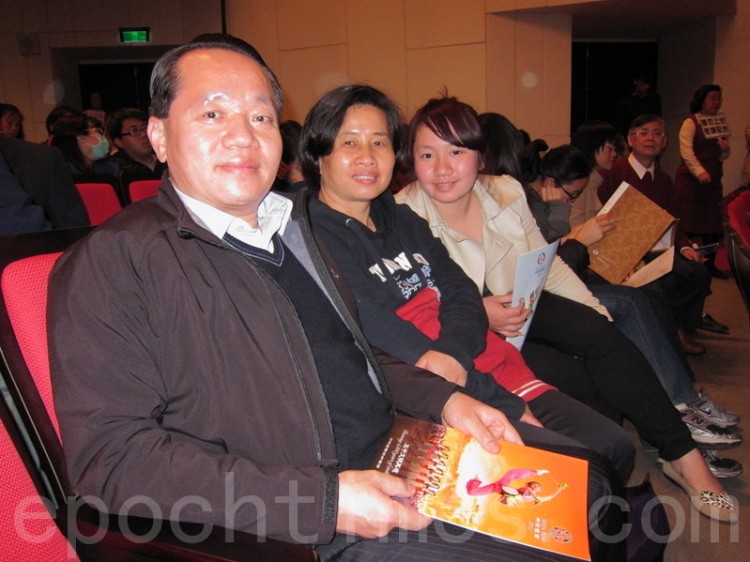 TAINAN, Taiwan—Shen Yun Performing Arts New York Company's fifth performance in Tainan City, which is the first stop of its 2012 Taiwan tour, was held on March 10 at the Tainan Municipal Cultural Center. Among the audience was Mr. Lee Wen-Ko, President of the Affinity Food Co. Ltd., who watched Shen Yun perform for the second time. Praising Shen Yun's artistic level, he said, "The performance was perfect, and it was indeed impeccable."
Mr. Lee used the word "great" to praise the Shen Yun performance time and again. He said, "The entire performance was the presentation of arts. The synchronization of the dynamic backdrops, actors and music was great. … The songs sung by the tenor was great. And the lyrics were also great."
He highly praised the performance, and said that what impressed him were the programs Dance of the Qiang People, The Dafa Practitioner's Magical Encounter and How the Monkey King Came to Be.
When it came to the vocalist's performance, he noted that he totally agreed with the lyrics of the song "The Meaning of Life", saying, "That's what life is like. The course of people's life is like that … The connotation of the lyrics is great." Referring to the words displayed on the backdrops, he said, "We can really gain some enlightenment from the lyrics."
As he purchased many tickets for others, he said, "Many members of our Association [Taiwan Confectionery, Biscuit & Floury Food Industry Association] have come here. At least 10 people came to the performance today, and more are coming tomorrow. Some members already came here for the premiere show the other day."
According to Shen Yun Performing Arts' website, Shen Yun presents the profound essence of the divinely inspired Chinese culture with a unique artistic form, which has ushered in bright future and hope to the whole world.
President of Construction Company Enthralled
The president of Nagano Construction Company in Japan, Mr. Ono, and his wife, saw the final Shen Yun performance in Tainan, on March 11, while they were visiting relatives in Taiwan.
Mr. and Mrs. Ono praised Shen Yun after seeing the performance. "We've never seen such dances!" said Mr. Ono.
The company president appreciated the Shen Yun Orchestra which combines traditional Chinese and classical Western instruments to create a unique sound. He also loved the classical Chinese and ethnic dances. "The music and the dances were both amazing." He said. "It's rare to see such dances."
Mrs. Ono said that their son had recommended that they see a Shen Yun performance. "He sees Shen Yun every year," she said. "He always recommends Shen Yun to our relatives and friends, and his friends as well."
She said that while the dance performers were completely focused on giving the audience a sublime experience, she felt "fascinated."
"It's rarely seen," she said. "It's really a worthwhile trip." In conclusion, she also praised the effect of the high-tech dynamic backdrop. "It's really great! I am very happy to see the performance!"
Reporting by Deman Dai & Billy Shyu and Sunny Chao.
Shen Yun Performing Arts, based in New York, tours the world on a mission to revive traditional Chinese culture. Shen Yun Performing Arts New York Company will perform in seven cities in Taiwan until April 8 and then continue to top venues in Australia and New Zealand.
Read the original Chinese article
Read the original Chinese article