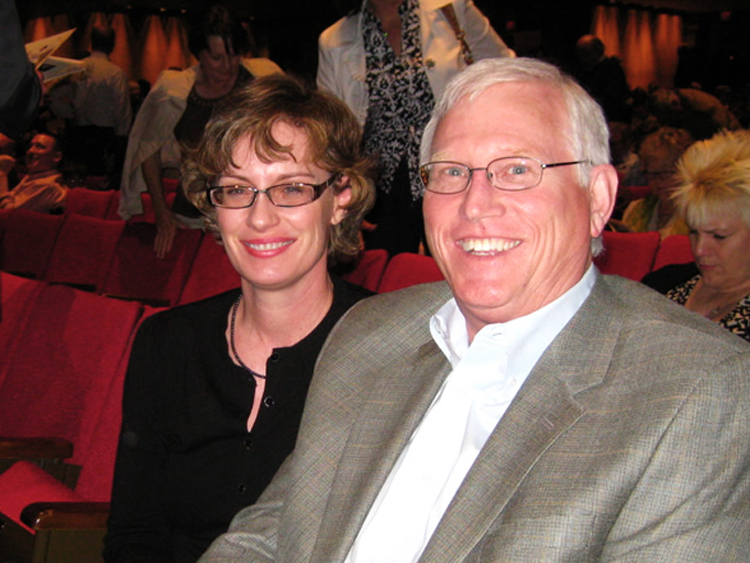 INDIANPOLIS—"The show is just beautiful," enthused Ms. Deborah Beck. To celebrate their fifteenth wedding anniversary, she and husband Michael Beck decided to treat themselves by attending Shen Yun Performing Arts on Wednesday evening, March 14.
Attorney Michael Beck said, "It's our anniversary and we decided to do something special."
New York-based Shen Yun continues to be enthusiastically welcomed back to Indiana by audience members as it graced the stage of Clowes Memorial Hall of Butler University.
Ms. Beck, President of US Biopsy, Indiana, praised the various aspects of the show. "The show is just beautiful and it's amazing! Some of the special effects have been really amazing, and I think the story is very moving."
She was moved by the depth of the performance, and noted one, The Choice. As a group of Falun Dafa followers is assaulted by police, a young woman rushes in to defend them. She said, "The story about Tiananmen Square was very moving—really, the whole thing. To get a glimpse of Chinese culture and how beautiful and spiritual it is. I really enjoyed that."
"It's outstanding," Mr. Beck said in agreement.
He added, "All of it is very impressive but I especially like the Monkey King, I kind of identify with the Monkey King."
For thousands of years in China, dance has been passed down through imperial court performances. Since ancient times, Chinese people believed their traditional culture was a gift from the divine, and that classical Chinese dance is a part of that heritage.
The couple said this was the first time they'd seen classical Chinese dance. Ms. Beck added that as soon as she saw the advertisement for Shen Yun, she knew they had to see it. "I saw it in the paper and the reason I wanted to see it is because of the spiritual components of the story. … Actually, we don't usually go to shows, however, we wanted to go to this show."
Shen Yun deeply resonated with Ms. Beck. "I came for entertainment and also because I thought I might learn something. I've definitely evolved an appreciation for the Chinese culture because it seems very complex and deep, and it's been around so long."
After learning that this cultural treasure has been persecuted by the Chinese Communist Party and that only outside of China can Shen Yun's artists freely express their ancient culture and share it with the world, Ms. Beck said, "I am grateful that classical Chinese dance was rescued from communist oppression. This show brought my awareness to the sad fact that some governments still fear their people such that they must suppress information, art, and spirituality. It's especially heartbreaking that the people of China cannot experience this beautiful celebration of their own history and culture."
Reporting by Ying Wan and Jeanmarie Lunsford
Shen Yun Performing Arts has three touring companies that perform simultaneously around the world. Shen Yun Performing Arts Touring Company will be at the Stranahan Theater in Toledo for two performances on March 17 and 18.
For more information, please visit ShenYunPerformingArts.org.