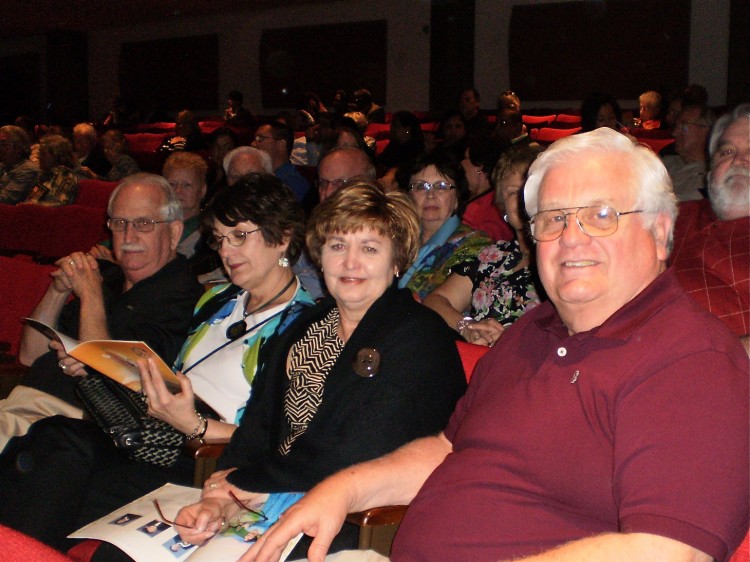 INDIANAPOLIS—Shen Yun Performing Arts took to the stage at Clowes Memorial Hall of Butler University on Wednesday evening, March 14, pleasing the audience with classical Chinese dance and music drawn from ancient history.
"It's beautiful," said Sondra McPhee. "Beautiful dancing; beautiful costumes."
Ms. McPhee was one of nine friends that Herb Haggard, who owns his own company which maintains a multi-million inventory and supplies a range of companies, treated to the performance.
"Herb wanted to do something nice for his friends," explained Ms. McPhee, adding that they originally saw Shen Yun advertised in Florida. "We were so glad because I'd been wanting to see it and didn't think I was going to get to come."
New York-based Shen Yun was formed with the mission of reviving 5,000 years of divinely-inspired Chinese culture, according to its website.
"Unfortunately, over the past 60 years, this cultural treasure has been persecuted and co-opted by the Chinese Communist Party," states the site. "It is outside of China that Shen Yun's artistic creators have the ability to freely express themselves and their ancient culture. Their courage to speak up is an integral part of Shen Yun's spirit."
Mr. Haggard highlighted The Choice, a dance that displays the oppressive situation in modern China.
In it, a man joins the police after helping catch a thief. Later, he and other police converge on a group of Falun Dafa practitioners on Tiananmen Square—they are there protesting the outlawing of the peaceful meditation practice, which, according to Shen Yun's website, "is guided by the principles of Truthfulness, Compassion, and Tolerance."
Among the group of practitioners, is an old friend; the policeman faces a difficult choice—to beat an old friend, or turn against the communist police.
"I was very impressed," said Mr. Haggard. "I was surprised it was displayed … I'm glad they did. But I doubt you could put this program on in China."
Mr. Haggard was right, despite Shen Yun gracing top venues around the world, the company cannot currently travel to China, as the Chinese regime does not encourage the traditional arts and values Shen Yun presents.
For Mr. Haggard, the cultural content of the program also stood out. "I'm really trying to learn more about the culture, the history," he said. "I really like them showing the culture—that's what I'm looking for."
Mr. Haggard also echoed Ms. McPhee in praising the costumes and dancing.
Shen Yun literally translates as "the beauty of divine beings dancing," states its website. Classical Chinese dance is one of the most comprehensive systems in the world and requires systematic training in movements, postures, and difficult jumping and tumbling techniques. It is also "rich with expressive power."
The handcrafted, vividly-colored costumes are often said by audience members, including famed fashion designers such as Donna Karan, to inspire, and delight the eyes.
"I'd recommend it," said Mr. Haggard. "I really hope that more people would come out and see it."
Reporting by Su Yue and Zachary Stieber.
Shen Yun Performing Arts has three touring companies that perform simultaneously around the world. Shen Yun Performing Arts Touring Company will be at the Stranahan Theater in Toledo for two performances on March 17 and 18.
For more information, please visit ShenYunPerformingArts.org.