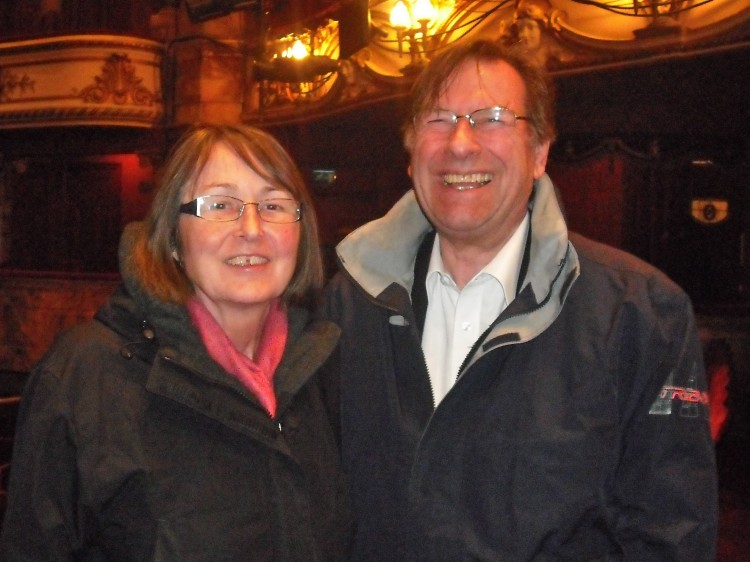 LONDON—Shen Yun Performing Arts showcased ancient China's 5,000-year-old culture through a grand display of classical Chinese dance and music at the London Coliseum, on Friday, Apr. 13.
Francis Budge, director of civil engineering company Halcrow Group Ltd, and his wife Rosemary were both enthused by the show. "It was splendid, it was so exciting, so much energy. We really loved it. It was really brilliant." said Mr. Budge. "It makes you feel happy to be alive."
The dance Flower Fairies particularly moved him. "It really, to me, came all the way to the heart. It was about creation, it was about the spring, it was about beauty." He added that "every dance was so expertly executed".
Mr. Budge has travelled all over China for work and the couple spent time in Shanghai.
"I think it's sad that it can't be put on in China," said Mrs. Budge, referring to New York-based Shen Yun not being able to be seen in China.
According to the Shen Yun website, "Shen Yun's mission is to revive the 5,000-year-old, divinely inspired culture of China. Unfortunately, over the past 60 years, this cultural treasure has been persecuted by the Chinese Communist Party. It is outside of China that Shen Yun's artistic creators have the ability to freely express themselves and their ancient culture. Their courage to speak up is an integral part of Shen Yun's spirit."
As part of the Shen Yun performance, two contemporary dances show the bravery and courage of practitioners of Falun Dafa, a peaceful, spiritual mind-body discipline, who are being persecuted in China today. The Communist Party has also attempted to interfere with performances around the world by pressuring governments and venues. In 2010, planned performances in Hong Kong had to be cancelled because of interference from the mainland Chinese regime.
"China, I hope, will relax and allow ideas such as freedom," said Mr. Budge.
Reporting by Chin Liang and Louis Makiello.
Shen Yun Performing Arts, based in New York, has three touring companies that perform simultaneously around the world, with a mission to revive traditional Chinese culture. Shen Yun Performing Arts International Company will perform at The London Coliseum until April 15.
For more information visit ShenYunPerformingArts.org
The Epoch Times is a proud sponsor of Shen Yun Performing Arts