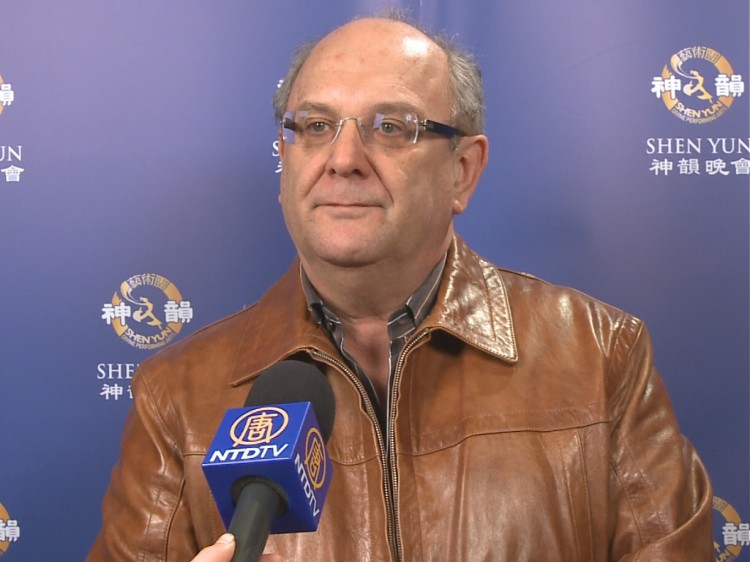 LONDON—Shen Yun Performing Arts International Company played to a sold-out auditorium at the London Coliseum on the last day of its successful London run on Sunday, April 15.
One appreciative audience member, Mr. Lewis, has travelled to China several times on business. He is a director of two companies: one a mining company and the other a ceramics company. He was fascinated to learn more about China, past and present.
New York-based Shen Yun Performing Arts present ethnic, folk, and story-based dances portraying 5,000 years of traditional Chinese culture up to modern times. "Originating from Confucianism, Buddhism, and Taoism, these ideals are the essence of traditional Chinese culture," states Shen Yun's website. However, that spiritual essence has been under threat since the Communist Party seized power more than 60 years ago.
Dances set in modern-day China bring these traditional values right up to date, illustrating the classic tale of good versus evil through the story of the persecution of the spiritual discipline of Falun Dafa.
Mr. Lewis said that it is important that the Falun Dafa story is told. "Not many people in the West know about it. It's not widely published and it's very interesting to understand what's still happening in China in that regard and how it's being handled," he said.
For Mr. Lewis, Shen Yun helped him to understand more deeply China's traditions, which he felt is an important aspect for modern-day Chinese. "China shouldn't forget its roots. Any country or people that forget their roots has a problem, so they've got to combine the tradition with the modern in order to improve the total culture," he said.
Mr. Lewis noted that the quality of the dancing was very high. He particularly enjoyed the dance Lotus Leaves. In this piece, the dancers use unique full-circle fans, which "sway like lily pads in the wind, evoking scenes of a flowering lotus garden in the summertime", according to the programme book.
"I find the ladies with the fans quite fascinating, how they open and close," said Mr. Lewis.
Another aspect in the performance where the traditional is combined with the modern is the use of the animated backdrop.
"Shen Yun's digital-backdrop team creates vividly animated settings, extending the stage and transporting the audience to a world where heaven and earth are one," states the company's website.
Mr. Lewis was impressed with the effect. "I've never seen it before. These people sort of fly away. I thought it was great!" he said.
Mr. Lewis said he would absolutely recommend Shen Yun to others.
Reporting by NTD Television and Rosemary Byfield
Shen Yun Performing Arts, based in New York, has three touring companies that perform simultaneously around the world, with a mission to revive traditional Chinese culture. Shen Yun Performing Arts International Company will next perform in Chicago April 19-22..
For more information visit ShenYunPerformingArts.org