Each year, under the cloak of darkness, Deborah Sheldrake-Stetson places a Christmas tree just outside San Clemente's Calafia Beach. But this year, under a cloak of mystery, the tree was taken.
"I've been crying all day," a tearful Sheldrake-Stetson told The Epoch Times on Dec. 8, hours after discovering the tree missing. "Nothing really upsets me, but this left me heartbroken. I feel I've disappointed so many people, and it's not even my fault."
The Calafia tree tradition dates back several years; Sheldrake-Stetson began it as a way to give back to the community, and bring it a little extra cheer. It is placed off the beach, just south of the Calafia rail crossing, after sunset each Nov. 30.
"When people wake up on Dec. 1, it's there," she said. "It's always so fun doing that in the dark, and then seeing people's face light up the next morning."
This year's 9-foot fir started off bare, as it always does, but was gradually decorated as passersby and residents added ornaments. 
"It was beautiful," Stetson said. "My heart is saddened by it missing."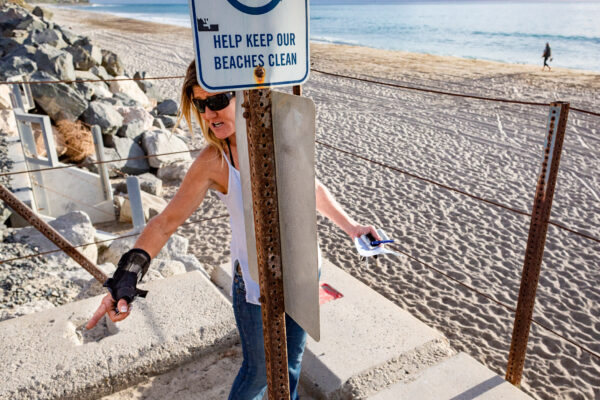 This isn't the first time the tree has gone missing. It's happened three times in the past. On one occasion, when it was locked to a rock on the beach, state park rangers trashed the fully-decorated tree for violating park rules. Stetson was able to retrieve the tree, and since erected it off beach land.
She locks it every year with a chain and padlock, but that didn't stop the tree from being removed. Other members of the community have offered to replace the tree, but she worries the replacement, too, might be taken.
She said whoever took it claimed more than a plant—they stole a tradition.
"They've destroyed a lot of people's Christmas," she said. "Some people, I'm sure their Christmas will be good, but it's just not the same. This is for everybody to come and put an ornament on the tree. It means something different to everybody. A lot of people have lost loved ones, so the tree is a way of honoring them.
"I never realized how important this tree would become to people."
Orange County residents said they've enjoyed seeing the tree in recent years.
"I would see the tree at the halfway point of my run the last few years," Ladera Ranch resident Dave Christensen told The Epoch Times. "It brought the holiday joy, and it was just something nice to have down on the beach that represented Christmas. I would love to see it back."
A San Clemente local said the tree's absence will be noted.
"It's such a great season tribute to the people," said David, who didn't give his last name. "It was quite nice. People would come to the beach and take photos next to it over the holiday season. It will be sorely missed this year."
Sheldrake-Stetson believes the tree may have been removed by Metrolink employees, even though she had the company's permission to put it up.
"Whoever took it may not have known that I had permission to do that," she said.
The Epoch Times reached out to a Metrolink spokesman, who said he was not familiar with the incident. He confirmed on the night of Dec. 8 that Metrolink was not responsible, though it had received many calls asking if it was responsible for removing the tree. 
If it was a Grinch who took the tree, she said there are no words to describe her disappointment.
"Did they even think about the consequences of taking this tree?" she said. "I'm speechless. How cruel of them. How inconsiderate."
The Epoch Times reporter John Fredricks contributed to this report.