Communist Party Branch Opens in Wal-Mart China
September 7, 2006 12:00 am Last Updated: September 7, 2006 12:00 am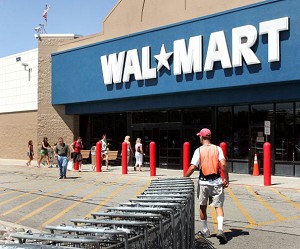 American retail giant Wal-Mart has recently allowed branch offices of the Chinese Communist Party (CCP) and the Communist Youth League (CYL) to open in one of its stores in northeast China.
This is another surprise move after Wal-Mart allowed its Chinese employees to form unions, contrary to its non-union policy in the United States. Wal-Mart China has said that as long as employees follow Chinese laws and procedures, the company is not opposed to workers' unions.
The CCP's mouthpiece, Worker's Daily, reported that the first Wal-Mart CCP branch was formed on August 12 in Shenyang, under the supervision of Dadong District Jinqiao Street Office CCP Committee in Shenyang. The Wal-Mart CCP branch consists of three members, and the CYL branch consists of 16 members. All branch members are Wal-Mart employees.
Wal-Mart has 22 stores in China with unions and other Wal-Mart stores are reportedly considering opening CCP and CYL branches.
Wal-Mart has been frequently criticized by the media for its violation of workers' rights. Labor rights activists say that Wal-Mart's competitive edge comes from its low prices, which are a result of low labor costs.
The U.S.-based National Labor Committee has accused Wal-Mart's suppliers in China of violating workers' rights, saying that the work environment in China is far below standard; workers are not even paid the minimum wage and are forced to work overtime.
The Washington Post described a visit by one of its reporters to a Wal-Mart factory in China and said that Wal-Mart's profit is largely a result of the low wages paid at "sweatshop" factories.
Chinese social economist Ms. He Qinglian explained that the All China Federation of Trade Unions has established unions in all state-owned companies, including public institutes, but these unions have never become tools for everyday people or non-governmental organizations to bargain with the government.
"When unions are established in foreign investment companies in China, it is not for welfare, but a way to strengthen the Party's control… to extend the Party's ruling nerve to every corner of the country," Ms. He said.
Voice of America quoted one scholar from the School of Public Policy & Management in Liaoning University, who wants to remain anonymous, saying there are many foreign investment companies in Liaoning province, but the establishment of Party branches is not very popular. The scholar believes the Wal-Mart branch openings show the regime's determination to bring foreign investment companies into its political management system.
Wal-Mart currently has 32,000 employees in China, with 60 branches in 30 cities. It plans to open another 18 to 20 branches in China by the end of 2006.