Communist Incest Scandal Revealed in Eastern China
January 2, 2013 12:06 pm Last Updated: October 1, 2015 11:31 am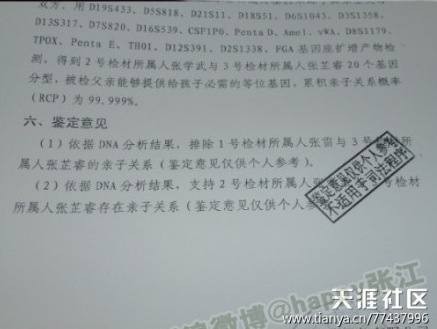 A Chinese police officer was recently reported as the victim of a scandal involving incest between his wife and his father, both local government officials.
Zhang Lei of Benxi City, Liaoning Province, had his world turned upside down after receiving a DNA report confirming that who he thought was his own daughter is actually the daughter of his father—who, he also just discovered, is not actually his real father. 
He posted the news on Tianya, a popular Chinese Internet forum, on Dec. 18, saying, "My daughter, who has always been the apple of my eye, suddenly became my father's daughter, and I also discovered I am not related to my father. I suddenly feel completely alone in this world." 
Zhang's story began with his marriage in 1996, when his parents urged him to marry Liu Yingjie soon after his father became director of the local Chemical Bureau. They told him she was a student at Benxi Professional School of Education, and a member of the student union committee in charge of recreational activities. He accepted his parents' arrangement.
Zhang and his wife had been on bad terms since their marriage began, finally leading to divorce. During the settlement, his father Zhang Xuewu demanded Zhang Lei not to give Liu Yingjie a hard time over asset-related issues by forfeiting two-thirds of their marital assets to her. This made Zhang Lei feel helpless and confused. 
A series of other incidents eventually led Zhang Lei to become suspicious of his father. On one occasion, he suspected that his father may have left gas from the stove running in an attempt to kill him; another time his father went to the Benxi Police Department and falsely accused Zhang Lei of threatening him with a knife and demanding money. 

These signs led Zhang Lei to doubt his relationships with his father and wife, and motivated him to start an investigation.
He thus learned that his parents could not have children and so he was adopted. But his adoptive father Zhang Xuewu had always wanted a child of his own.
Given the prominent social status Zhang Xuewu held back then, he would often visit entertainment venues, where he met Liu Yingjie, while she was a hostess at a karaoke bar. He subsequently made her his mistress in 1994. 
Zhang Xuewu used his connections and forged a series of diplomas for Liu to get her hired through special recruitment by the Benxi People's Procuratorate. She was later transferred to work in the Benxi People's Court, and has been the office manager there ever since. 
This traumatic discovery left Zhang Lei overwhelmed, but he still wanted to obtain support from the Communist Party in dealing with the matter.

He therefore submitted the DNA results to the Benxi City Public Security Bureau, but was left disappointed. He said: "Not only did I not get any support, I was completely ignored. This has driven me to despair!"
On Dec. 24, he posted more information online, this time including all the details of his family's scandal along with his police ID, the DNA report, and a photo of his ex-wife Liu Yingjie as evidence of his credibility. 
It turns out his adoptive father Zhang Xuewu is the legal representative for one of the most well-known pharmaceutical enterprises in Benxi, which is also one of the top 50 companies in the Chinese pharmaceutical industry, according to Xizhi.com, an index website for Chinese enterprises. 
Zhang's story was published without naming him in the Shengyang Evening News, a local Liaoning paper. 
China News, a state-run media, defended the local city bureau by denying the validity of Zhang's post, saying it is fictional because the Shuidong Police Department does not exist on Benxi City's official website. 
But a local netizen Li Tai quickly responded with a screenshot showing an official report by the Shuidong branch, and commented: "Please stop creating such rumors. The Shuidong branch does exist within the Benxi Police Department, and the director there is Zhang Lei as of two months ago. These are absolute facts." 
A post about this story by a film producer, Juxiande Zhilin, had been forwarded more than 48,000 times, when checked at 7 p.m. U.S. Eastern Time on Dec. 31.  
A number of netizens mocked the story as exemplifying "such a good family of government officials." 
The Epoch Times publishes in 35 countries and in 20 languages. Subscribe to our e-newsletter.