Commentary
For about three years, China has been using stratospheric balloons to harass our allies and now to violate United States territory, sparking shock among Americans and tragicomic indecision by the Biden administration.
But the larger issue is that these balloons signal a new phase in the Chinese Communist Party's (CCP's) ambition to achieve political-military hegemony.
Americans reacted with justified outrage on Feb. 1, when the residents of Billings, Montana, witnessed the U.S. Air Force intercepting a massive 120-foot balloon with a visible large solar-powered payload, soon identified as Chinese.
Although China's foreign ministry on Feb. 3 claimed it was a "civilian" balloon for "meteorological" or weather missions "with limited self-steering" capability that had blown off course, it had the ability to deliberately maneuver to near Montana's Malmstrom Air Force Base (AFB), host of 150 intercontinental ballistic missiles (ICBMs), and Wyoming's Francis E. Warren AFB, host to another 150 ICBMs.
But even if it was a mere Chinese "weather" balloon, it had a deadly serious mission: to transmit detailed weather information such as temperatures and atmospheric density vital for the highly accurate targeting of People's Liberation Army Rocket Force ICBMs to take out U.S. ICBM silos—in the event of a nuclear war.
With such nuclear implications, why on Feb. 3 did Chinese foreign ministry spokesperson Mao Ning feel confident enough to downplay the incident and urge the United States to handle the balloon matter in a "cool-headed" way?
Perhaps China's confidence stems from its years of conducting similar balloon surveillance against U.S. allies, with Washington failing to issue protests until this most recent incident.
On Feb. 4, an unnamed "senior defense official" briefing reporters claimed that Chinese balloons "transited the continental United States briefly at least three times" during the Trump administration, which was immediately denied by former President Donald Trump and many of his senior officials.
However, the record does show that over the past three years, Chinese surveillance balloons have harassed U.S. allies, friends, and a U.S. military base in Hawaii.
On July 17, 2020, a similar balloon and payload structure was observed over Sendai, Japan. Another balloon appeared over Taipei, Taiwan, in September 2021, and then in March 2022, flying over the strategic Songshan Airport, a likely target for Chinese airborne troops.
Then, on Jan. 6, 2022, the same balloon was observed over India's Port Blair, a very strategic Indian military port in the Andaman Islands close to the Straits of Malacca.
On Feb. 16, 2022, the U.S. Indo-Pacific Command reported that "tactical aircraft" were launched to investigate a "high altitude object floating in the air" near Hawaii, specifically the island of Kauai, which hosts the Pacific Missile Range sophisticated air, naval, and undersea testing facility.
On Dec. 18, 2022, a different, larger airship-style stratospheric balloon was observed about 62 miles from Subic Bay in the Philippines, where the Philippines is to allow U.S. Navy assets to be based once more.
The CCP's balloon harassment campaign has two more implications.
First, it signals that China's People's Liberation Army (PLA) is actively contesting "near space," a region just below low Earth orbit or an altitude of about 100 miles, where high-altitude airships, unmanned aerial vehicles, and hypersonic aircraft are able to carry out surveillance and strike missions, rapidly replacing satellites that may be targeted and struck down.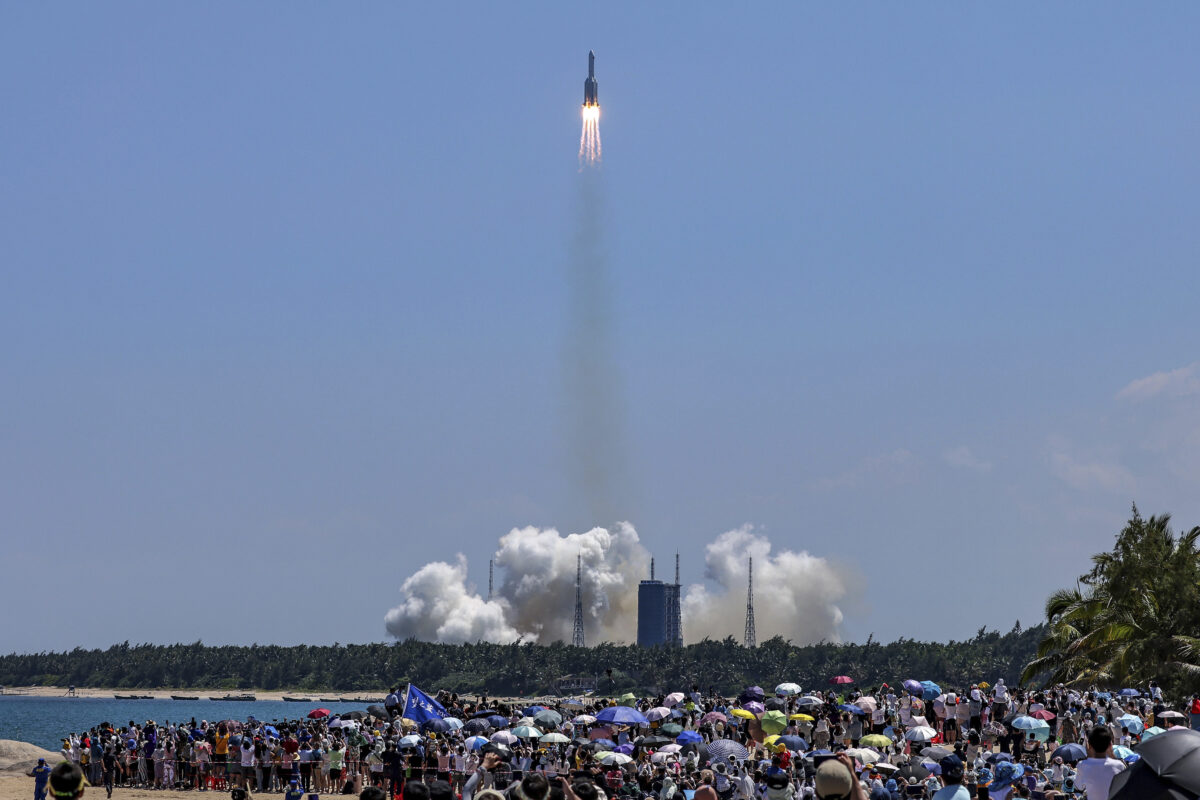 In addition to the helium-filled stratospheric balloon, such as the one that just crossed the United States, in 2015, the Beijing University of Aeronautics and Astronautics displayed its research into the building of a large solar-powered stratospheric blimp-shaped airship.
Chinese military technical universities and state-owned corporations, such as the China Aerospace Science and Industry Corporation, flaunt programs such as "Tengyun," which includes very high-altitude, solar-powered unmanned aircraft and a combined-cycle turbofan/rocket-powered hypersonic vehicle for launching payloads into space or conducting long-range surveillance and strike missions.
A second implication of China's balloon surveillance campaign is that the CCP and the PLA are beginning to project their campaigns of military coercion from adjacent regions to far regions in the Western Hemisphere.
PLA Navy ships regularly conduct patrols around and between the Japanese islands, while Taiwan is subjected to daily PLA Air Force and PLA Navy harassment.
PLA Navy and Maritime Militia forces harass Vietnamese and Philippine-controlled islands in the South China Sea, while Chinese Coast Guard ships harass Indonesia. PLA Navy ships parade off the coast of Australia, and the PLA Navy builds a regular presence in the Indian Ocean.
In September 2021, the largest PLA Navy warship—the 12,000-ton Type 055—conducted a "freedom of navigation" patrol between some of the U.S. Aleutian islands, which received little attention from the U.S. media.
But China's brazen deployment of a surveillance balloon to cross the continental United States signals that as the PLA gathers new capabilities, they will be sent on increasing missions to intimidate Americans.
The United States can look forward to PLA Navy aircraft carrier battle groups sailing off the U.S. Pacific and Atlantic coasts, and PLA Air Force bombers conducting patrols far east of Hawaii, as the PLA seeks military access and ports in Central and South America, complimenting access and bases on Africa's west coast.
The CCP's goal is to isolate the United States and other democracies in order to achieve its ambition of global hegemony.
It isn't acceptable that CCP leaders were able to watch for seven days, from their balloon's Jan. 28 crossing into U.S. territory to its destruction on Feb. 4, as the Biden administration struggled to decide whether to defend the United States.
One lesson for the CCP may be that it could take seven days for the United States to make up its mind to defend against a Chinese attempt to invade democratic Taiwan.
To deter China's use of unmanned balloons and aircraft to harass U.S. allies and violate U.S. territory, the United States requires the means to capture these platforms, perhaps an unmanned Lockheed Martin C-130 aircraft adapted for capture operations.
To prepare now for PLA military future coercion in the Western Hemisphere, the United States will require a large fleet of smaller frigate-size ships more heavily armed than the new USS Constellation class.
The U.S. Air Force will require a large fleet of 4-plus generation capable combat aircraft and more large tanker and transport aircraft to respond to CCP and PLA power projection in the Western Hemisphere and to defend U.S. allies.
In addition, the United States must develop platforms and weapons to match Chinese capabilities in near space, as it struggles to defend space-borne military assets and defend U.S. and allied access to the moon.
Views expressed in this article are the opinions of the author and do not necessarily reflect the views of The Epoch Times.