There's a lot of jokes about Common Core.
The often byzantine learning process in the educational method is highlighted through some bizarre examples. There's the one kid, for instance, who tried telling his teacher that "you cannot make 10 with 8 + 5." 

There was another problem that showed the "old fashion" way versus the "new way"–and the old way sure looked better.

Related Coverage
There was one parent, an electronic engineer, who told her child that "simplification is valued over complication" and that using Common Core methods on the job would result in getting fired.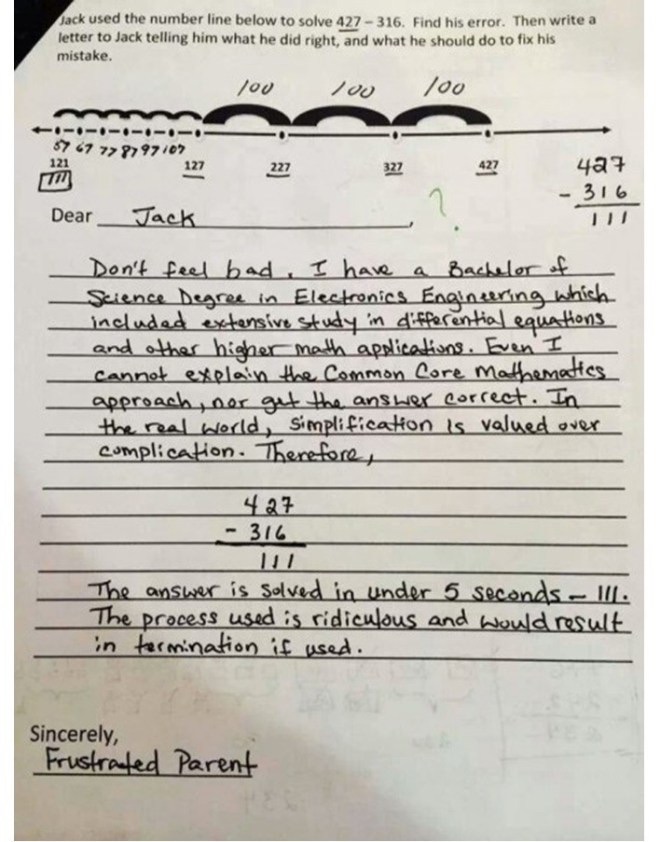 Now there's a jab at Common Core from an Ohio man who decided to "put his money where his mouth is."

Douglas H. wrote a check to his kid's elementary school, but it's made out using "Common Core math." So if the school wants to cash it, it's going to have to explain to the bank cashier how the math works. 
Common Core is affecting kids across the country, but it got particularly bad in Ohio recently when the standards were lowered so it appeared more kids were "proficient" in math and English language arts. 
You're asked "How many states use #CommonCore?" and you're tongue-tied. Here's your answer! http://t.co/dLdwHaXGd5 pic.twitter.com/Ob7gWi1hIg

— StateEdWatch (@StateEdWatch) June 29, 2015
Over 40 states and the District of Columbia have adopted Common Core standards as of 2015-16, reported Education Week. On the other side, several states–Indiana, Oklahoma, and South Carolina–have pulled out of the state testing standards while a few others, including Texas, have refused to adopt the standards.