The U.S. military is commemorating the 74th anniversary of the WWII D-Day landings in France on June 6, 1944. In the ensuing days of the battle for Normandy, there were an estimated 425,000 Allied and German casualties—those killed, wounded, or missing.
To commemorate the battle, U.S. service members from 20 units in Europe and the United States are participating in the "Joint Task Force Normandy 74" ceremonies from May 30 to June 7 in close to 40 locations throughout the Normandy region of France.
On June 3, the Red Devils of the 107th Fighter Squadron flew over northern France for the first time in 74 years. Ahead of the battle in 1944, the squadron flew several hundred reconnaissance missions over the beaches of Normandy, France, which allowed the Allies to plan their invasion path.
In the recent ceremonies, two 107th pilots escorted a group of nine C-130 Hercules planes, along with aircraft of other nations, according to a Pentagon report, and dropped close to 500 paratroopers near Sainte-Mere-Eglise, where paratroopers landed on D-Day.
"We talk about our heritage, but to actually see it and to talk with the veterans who are here and the people who lived through it, that is a game changer," said Brig. Gen. John D. Slocum, the 127th Wing commander, of which the 107th Fighter Squadron is the oldest component, in the Pentagon report.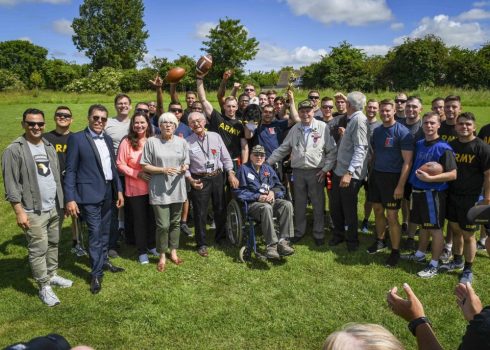 In additional ceremonies the following day, on June 4, U.S. troops from the 101st Airborne Division played an American football game with their French allies.
Among those present was Helen Patton, the granddaughter of the late Gen. George S. Patton. In another Pentagon report she said, "I felt that we should play the game that never happened for them. It's a new way to commemorate. It's a way to turn the page of history."