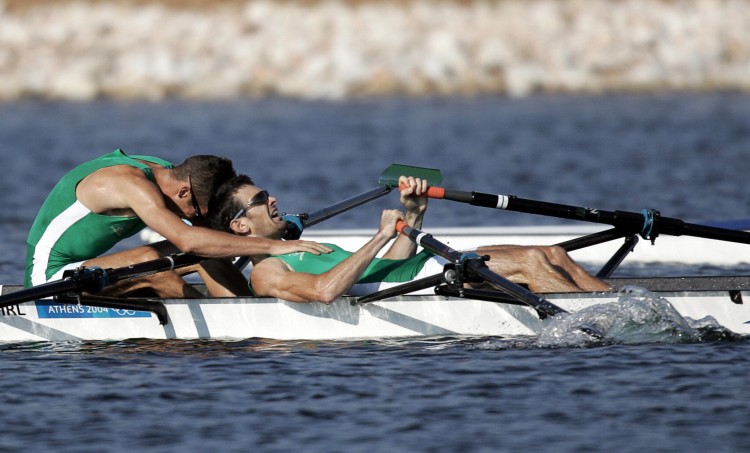 DUBLIN—With the glow of the Olympics now fading, athletes who have returned home are now facing the question of their post-games futures. Many, having reached and possibly passed their peak level, will be considering retirement. That transition, however, may not be as simple as it sounds.
When faced with his own retirement six years ago, Irish Olympic rower and World Championship gold medalist Gearoid Towey, found there was not support network to help make the change.
Towey had sought information on what other sports people had been through, but came up empty. The lack of information on the emotional nature of the transition led him to develop a global support network called the "Crossing the Line Project," to help athletes the world over in this area.
"There is plenty of information on career support, but not so much on what the emotions of the athletes are and what you can potentially feel while going through a transition. It's almost like a death," said Towey.
"Then I noticed how many former sports stars have been lost to suicide, drug addiction, life crises, etcetera. It is all linked to a huge identity crisis, and the loss of passion and the inability to replicate it or make sense of the new world. I know this from experience. It is endemic … and nobody is exempt—great champions face the same dilemma as everyone, maybe even more so," said Towey.
While there is career support, Towey believes that what he calls "dumping them at a desk" in an office without the correct emotional support can do more harm than good.
Many athletes, he says, are taught to put their bright side forward, and are conditioned to be strong, not weak. Especially in sports where selection is at stake, no one wants to say how they are really feeling for fear of being dropped.
"There can be quite a culture of keeping your personal fears to yourself," said Towey, who added that when one transitions out of sport, it can be hard to recondition oneself to "a new way of being."
"A lot of athletes would rather go through hell than reach out for help," he said. This is one of the reasons for some athletes going off the rails, and this is one of the things the project aims to address.
Enlisting well-known names in the world of sport, such as American Olympic gold medal diver Greg Louganis, to be ambassadors for the project is one way Towey hopes to raise the profile of these issues and help in peer-to-peer support. This will consist of an online support service with emotional assistance, and there will also be a face-to-face element that Towey and others athletes around the world will fulfill.
"For me this is about highlighting the issue to the world, and then having a support in place so people can do something about it. It will also be a resource we can partner with sports teams and federations around the world," said Gearoid.
Career Advice
Institutional support for Irish athletes returning from London will be provided by the Irish Institute of Sport via their Performance Transition Support Program (PTSP).
According PTSP coordinator Deirdre Lyons, athletes are given a full psychological debriefing and a full medical checkup, in addition to access to workshops. Some whose profile has been raised because of the games get access to athlete profile management or brand management advice.
The biggest issues most athletes face, according to Lyons, is the frustration surrounding the lack of comprehension from family members as to what they have just been through.
"The Olympic Games is like no other sporting event, even though there are world championships. … The Olympics is just that bit different."
Some athletes may not have performed to the best of their abilities, and will be feeling very disappointed. They have had one shot at their dream, and they might see themselves as failures.
"A lot of the comments that you hear from athletes on TV are they feel they have let people down. That so much was expected of them and they haven't delivered," says Lyons.
"You may get people who have delivered better than expected and they may be in the media spotlight. They are asked for interviews, they may be asked to open shops. … All of a sudden their profile is raised. They come back feeling, 'Oh my, I went out there knowing who I was and now I have come back and everybody wants a piece of me, how am I going to deal with that?'"
Lyons said that there may be some who have done better than expected, and who may now want to go to the World Championships, so they need to make decisions about whether to go full-time or not, whether they will try to link their careers with sport, or whether they will go back to college. Where's the best place to train, where are they going to live? How can they improve? Where can they get access to better coaches/facilities? These are the kinds of issues athletes may be facing, she says.
The Epoch Times publishes in 35 countries and in 19 languages. Subscribe to our e-newsletter.