FBI Director James Comey defended his recommendation of no criminal charges regarding the investigation of Hillary Clinton's handling of classified emails before the House Oversight and Government Reform Committee on July 7.
Comey spent more than four hours vigorously defending his department and the recommendation to not prosecute Clinton.
The FBI director fended off Republican accusations that his agency acted with bias. He said his decision "was steeped in no kind of bias" and he would've handled the investigation the same way whether the person was "rich or poor white or black, famous or not known at all."
A number of Republicans suggested there was a double standard for charging everyday people accused of crimes as opposed to high-level people like Clinton. Lawmakers asked Comey if he had been hearing that, too.
"I've heard it a lot," he said. "It's not true, but I've heard it a lot."
"I totally get people's questions," he said, but the FBI was obliged to follow the law.
Comey reiterated that Clinton lacked criminal intent and there was no evidence that she knew that anything she did was against the law.  
Comey told the committee he saw evidence of "great carelessness" in Clinton's use of a private email server, but that he did not see "enough evidence" to establish a case based on gross negligence.
"No reasonable prosecutor would bring this case to trial," said Comey, reiterating that Clinton didn't break a law in connection to her email servers

Comey said Clinton did not lie under oath to the FBI, but he could not answer whether she lied to the American people when she said in February that she never sent or received any classified material.
He said the FBI is "resolutely apolitical" and told the committee he used to be a registered Republican, but is not registered at all anymore.
Comey said he received no bribes in the case and that nobody knew what his decision was going to be until he announced it on Tuesday, and that there was "no coordination" with outside individuals or departments.
Comey said he "predicted" his decision would spur an "intense debate."

In the testimony, Comey said Clinton kept the operational server in her basement in New York—an unauthorized location.
He also said she may not have been "sophisticated" enough to understand classified markings within an email. The policy requires an email header to contain classified markings and any paragraphs within the email also need the marking: (C).
Three emails were not properly marked as classified out of the 30,000 emails, said Comey, as they were missing the marking in the header.
He said he does not know if Clinton's server was hacked, and that hacker Guccifer had lied about gaining access to Clinton's email server.
Comey said people without security clearance had access to Clinton's server, but those included in classified emails did have clearance. 
The former secretary of state was interviewed for three-and-half hours on July 2 by five or six agents (not Comey himself), he said. Clinton's interview was not recorded and did not take place under oath.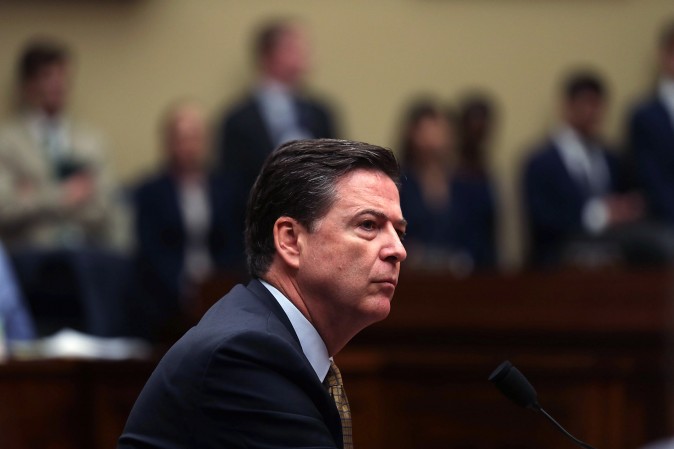 Clinton's case was compared with former CIA Director David Petraeus, in which he pleaded guilty last year for mishandling government secrets and sharing classified information with his biographer, who was also his lover.
Comey said the difference between Petraeus and Clinton is that Petraeus lied during the investigation while obstructing justice, and that his actions were "intentional misconduct," while in Clinton's case there was no "criminal intent."
Background
Officials investigated the former secretary of state's private email server and read approximately 30,000 emails that Clinton handed over to the FBI in 2014.
Among those emails, 110 emails in 52 email chains were determined by the FBI to be classified at the time of sending, Comey said in an announcement earlier this week.
Eight email chains were deemed "top secret," 36 "secret," and eight "confidential" at the time of sending, said Comey.
The agency also found several thousand work-related emails that were not given to the FBI because they were deleted over the years. Comey says those emails were not intentionally deleted, but were part of files that were periodically erased or purged.
Comey said Clinton used several different servers and used multiple devices to communicate.