Comedy Writer Michael Barrie Talks about Johnny Carson, Joan Rivers, David Letterman, Dean Martin
February 22, 2013 3:55 pm Last Updated: August 14, 2015 5:18 pm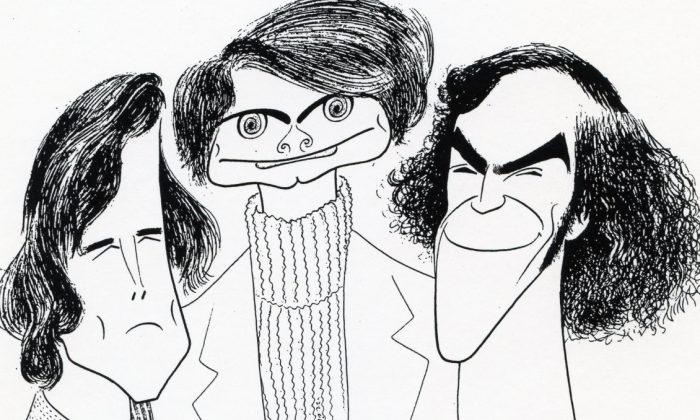 All my best stories begin and end with hair.  Including this one.
It's through hair that I met Michael Barrie.  But I'll get back to Mike.
First, permit me a flashback.  It was the early '60s in London.  I had become something of a superstar crimper in my hair salon In Hampstead, London.  At the time, I was creating hair for some of the biggest names in the cosmetics world – Revlon, Max Factor, Goya & Yardley, and was being booked as a "session hairdresser" for high fashion photo shoots with photographers like David Bailey, Bert Stern, Helmut Newton, Cecil Beaton, all working for Vogue in those days.
Upstairs, above the salon, my wife Maxine opened a small ready-to-wear boutique for women and men—just something to keep the little lady busy—in which she dressed up a few "house fraus" such as Catherine Deneuve, Julie Christie, Natalie Wood, Lynn and Vanessa Redgrave, Princess Michael of Kent, Jean Shrimpton, Penelope Tree, Twiggy.  Oh, yes, and some scruffy layabouts known as the Rolling Stones, Woody Allen, Dudley Moore and Jerry Lewis for his last film made in London.   
These lads and ladies would purchase a couple of outfits from Maxine, then trot down the stairs to have me style their hair.  London was swinging then, and we held on for the whole fabulous ride.
I'm no Steve Jobs, but as a creative person, I came up with a few clever product innovations that sprang naturally from my work and which solved problems.  One was the very first round, spiky, styling brush for blow-drying.  Hard to believe nobody had thought of it before.  Another was the Swim Wig.
At that time, Milton Barrie was one of the best-known gentlemen in the hair industry in the United States.  In a sometimes loving, sometimes not-so-loving rivalry, the three Barrie brothers—Milt, Willie, and George (CEO of Faberge)–helped build and strategically dominate the U.S. hair and cosmetics industry for the latter half of the last century.
One day, Milt dropped into my salon searching for something for the U.S. market.  He had seen a big spread about me in the Daily Express.  Milt and I hit it off from the start.  He was a great lover of life who embraced the music, restaurants, nightclubs and private gambling clubs of our London. 
In turn, the gambling clubs embraced much of his money.  He certainly showed Maxine and Harold how the other half lived.  Within three months, Milt flew me to New York on one of my first trips.
 
There, I would meet his family—his wife Marilyn, two daughters, Suzie and Nansi, and his son, Mike.
Told you I'd get back to Mike.   Apparently, his story begins with hair, too.
Michael was a quiet young man, I think a college student at the time we first met.  It was not clear to me what he wanted to do with his life, and apparently it was not exactly clear to him either.  I had come to the States to meet with his father's associates at David & David Wigs about manufacturing some of my designs.
"David Wigs was my first job," says Mike. "I was 18 that summer, and they put me in the shipping department of their Long Island City plant.  I spent eight hours a day, packing and delivering orders of synthetic wigs, falls, and switches.  There was a loud factory whistle for lunch.  It was a real job that made me realize I never wanted another real job."

He finished college and enrolled in Brooklyn Law School. "I had no real interest in becoming a lawyer, but for awhile it kept me out of the Vietnam War. When I eventually received a medical deferment, I quit."
To do what?
"Write jokes," says Mike.
Huh?  Mike's father was pissed.  He was doing well at law school, and Milt believed his son was on the way to making a real living in a real profession.  But Mike wanted to give writing a try.  So, with some pages he'd written, he walked into a Manhattan nightclub.
It was called Upstairs at the Downstairs.  The comedian in residence was Joan Rivers.  When she finished her set, Mike introduced himself and asked if she would read some material he'd written for her.  A week later, she handed Mike a check for $70 for ten jokes.  Seven dollars a joke.   Mike was in show business!  And his father Milt started talking to him again.
Mike went to work for Joan on a five-day a week morning chat show she hosted for NBC called, "That Show."  
Mike explains: "The show was a half-hour long, with one guest.  If the guest were a famous chef, Joan's opening monologue would be all food and cooking jokes; a hat maker, all hat jokes.  It was good writing practice.  Once a week, all the writers would sit around the living room of Joan's Park Avenue apartment and she'd pick the jokes for the week's shows, while feeding her baby.  She was like a hilarious, gossipy, Jewish aunt."

As much as he liked working for Joan, Mike longed to find a higher paying writing job.  Maybe nine dollars a joke.  Dick Cavett was hosting a nightly talk show then.  One night, with a few typed pages in hand, Mike waited for him outside the Little Theater on West 55th Street where his show was taped and ambushed him as he exited with an entourage.  
"Once he realized I wasn't deranged and violent, he was very nice," says Mike.  "He told me to come up to the office, sign a release, and he would read it."  
But by the time he got a response, the Cavett Show had been cancelled.  The good news was that one of Dick's writers complimented the writing and encouraged him to continue.  
That's where hair comes in again.
Milton would get his hair cut at a barbershop in the Warwick Hotel on West 54th Street near his office.  It's where the Beatles stayed on their first American tour.  As it turned out, Jeff the barber was the same man who regularly cut the hair of Ed McMahon, Johnny Carson's announcer on the Tonight Show.

So, at his father's suggestion, Mike gives his old man some pages written for Carson, and his father gives them to the barber.  Eventually, Ed is in a smock having his hair trimmed, a very captive audience, when Jeff the barber hands him the stuff.  Ed reads.  Ed laughs.  Ed brings it to Johnny.
And Michael Barrie, at 22, begins his long association with Johnny Carson.  
Mike, do you remember the first joke you wrote that Johnny used?
"Yes, though it's probably more trouble setting it up than it's worth.  Johnny's jokes about Ed McMahon all had to do with how much Ed drank.  At the time I started on the show, an often-aired beer commercial was for 'Rheingold, the beer with the 10-minute head.'  And that week there was a blood drive in NY.  So the joke was, 'Ed gave blood today.  He's got the only blood with a 10-minute head.'  Not much, but I was ecstatic.  He actually used three of my jokes that night.  I was flying high for about ten seconds, till I realized I'd have to start all over the next day with nothing, and the day after that, and the day after that…"

Mike worked with Johnny—except for a six-year break in the '70s—until Carson's very last appearance on the Tonight Show, May 22, 1992.  Early in that long run, Barrie teamed up with another Tonight Show scribe, Jim Mulholland.  The guys had first met in Joan Rivers' living room when they were both writing for her.  About a year after Mike started with Johnny, Jim came on the show.  At some point, they teamed up. 
"It was a little easier and a bit less lonely with someone else in the room," says Barrie.  "Johnny then got only one monologue instead of two from us, but didn't seem to mind."  In 1994, they went to work on the "Late Show with David Letterman," where they remain today.  They contribute digitally from Los Angeles.
I always thought Johnny's humor was the best of American humor.  Whenever I was in America for my work and wanted to have a laugh it was the Carson show I turned to.  Unlike today, however, it was the only late night talk show.   
Periodically, various competitors tried to gain footing, but it was just Johnny who survived.  And as the only game in town, Carson had enormous influence.  If you were a politician in his sights and found yourself repeatedly in his opening monologue, your days might be numbered. "We aggravated many of them," says Barrie with fond memories.  "Nancy Reagan was angry when we referred to her as "the Evita of Bel Air."  And both Reagans were upset with, "It's true, Reagan doesn't dye his hair.  He bleaches his face."  Silly to think they would be that thin-skinned!
Barrie and Mulholland were with Johnny for the five Academy Award telecasts he hosted.  Mike remembers the first Oscar show they did, seeing Johnny pacing up and down backstage. "It looked like he just wanted to get in his car and drive home.  In all the years we'd worked with Carson, we'd never seen him this nervous.  Johnny felt that four hours was too long for anything."
"I see a lot of new faces here, especially on the old faces…"
"Charlton Heston is the only actor besides Warren Beatty who all of Hollywood has known in the biblical sense…"
"But once the monologue worked on that first show, Johnny walked off into the wings and said, 'From here on, it'll be a cakewalk.'"  The toughest Oscar show would have to be the one scheduled for March 30th, 1981.  Barrie recalls, "I called Johnny at home that morning and said, 'You'd better turn on the TV.  President Reagan was shot, he's in the hospital.'   When everyone finally heard Reagan was okay, they decided to go ahead with the Oscars a day later.  It's hard to kill a president, it's even harder to kill a Hollywood awards show."
Carson did this joke anyway:
"Reagan cut $85 million from the arts and humanities. This is his biggest assault on the arts since he signed with Warner Brothers."  Then he added, "That oughta get him up and out of bed."  Big laugh.
Through the years, Michael Barrie and his partner have been nominated for 20 Emmy Awards.  "No wins," he reminds me.  They did, however, garner a prestigious Writers Guild Award for their Showtime movie, "The Ratings Game," directed by Danny DeVito and starring DeVito and his wife, Rhea Pearlman.
Their feature film writing credits include "Bad Boys," starring Will Smith and Martin Lawrence; "Oscar," the only French farce to star Sylvester Stallone; and "Amazon Women on the Moon," a "cult-classic," which according to Mike means "no box office."

There were other TV shows along the way, not all, apparently, fun.  "A season on the sitcom 'Welcome Back, Kotter,' with John Travolta was like a jail sentence.  And a season on the 'Dean Martin Show' was hell.  It was the year of Dean's celebrity roasts that live on today in DVD's sold on middle-of-the-night infomercials.  Having to turn out 'comedy material,' morning till night, for people like Barry Goldwater and Leo Durocher was as much fun as being waterboarded."
There's lots of talent in the Barrie clan.  Mike has two children—Max Barrie and Emma Barrie, both aspiring writers.  And he's got three stepchildren—actors Augie Duke and Barnaby Duke, and San Francisco artist Oliver Kupper—with his second wife, the lovely actress Fredrica Duke.
How did you and Fredrica get together?
"Well, we were both going through divorces and started chatting one day in a Beverly Hills deli.  But years before, I had a bit of a crush on Fredde when I spotted her in a TV commercial."
A TV commercial?  For what product?
"Clairol."
See, I told you this story would end with hair.
Harold Leighton is a hairdresser and adviser to the hairdressing industry. He can be reached at: [email protected], www.hleighton.com
The Epoch Times publishes in 35 countries and in 21 languages. Subscribe to our e-newsletter.