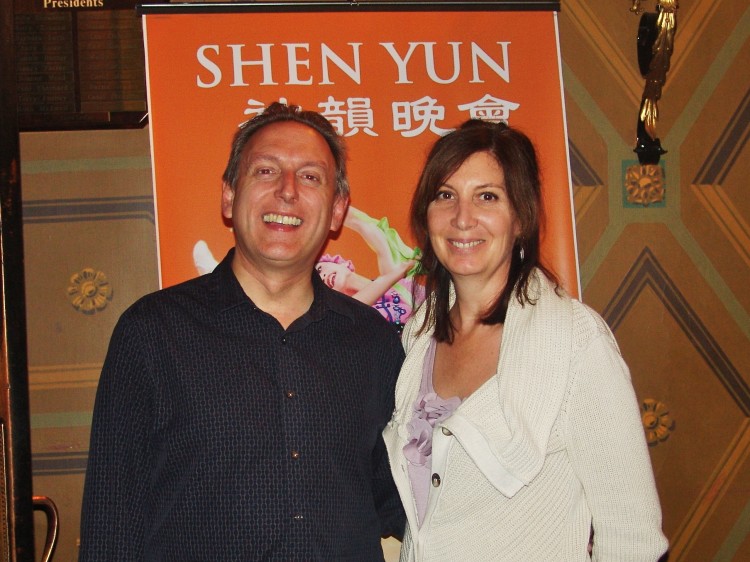 COLUMBUS, Ohio—Shen Yun Performing Arts took the stage at the Ohio Theatre on Friday, April 27, giving the second of two performances in Columbus this season.
"It's overwhelming!" exclaimed Duffy Jamieson. The Assistant Chief and Attorney of Employment Discrimination Cases at the Ohio Attorney General's Office was joined by Ms. Geri Jamieson, an ESL junior and high school teacher.
Mr. Jamieson highly lauded the New York-based show and said, "The colors are beautiful, everybody is so … beautiful and the orchestra! We were sitting in the front row, so the orchestra is fantastic and it's just, the combination of the colors and sounds, it's overwhelming!"
In Shen Yun Performing Arts' display of classical Chinese culture, digital backdrops bring scenes from 5,000 years of history to the modern stage. State-of-the-art technology is used to depict the natural world as well as ancient Chinese art, including classical Chinese gardens and heavenly scenes.
Amazed by the backdrops, Ms. Jamieson said, "We were just talking about the animation and how much we enjoyed it and how interesting it was. The colors are very beautiful."
Mr. Jamieson agreed and added, "It's so great to see how the people will be flying in the background and then appear on stage. I love that!"
Referring to the performance, An Era Begins, in which, as classical China's magnificent culture is flourishing, a demon horde abruptly descends to earth, assuming human form. Ms. Jamieson said, "I thought that was really powerful. It was like, it makes sense, you know. I understood the message … I thought that was great!"
The couple was moved by the performances that touch upon the persecution of Falun Dafa practitioners in China. Ms. Jamieson explained, "We were thinking, like 'Wow' this is very interesting. How do you practice this in Beijing, or how do you practice this in Shanghai. We didn't know that the company was based in New York, so that helped explain it. In light of that, I think it's a very nice addition, very surprising and thoughtful actually, to let people know that."
Mr. Jamieson added, "It was interesting, it was eye opening. It caught our attention and made us sit up straight. China is a very big country and has a lot of people and a lot of problems."
Ms. Jamieson said she would share with her students what she experienced through Shen Yun. "To always to experience other cultures, to see other people's points of view, appreciate their culture, their music, their language, what they have to offer."
Mr. Jamieson summed up his experience by saying, "There's a lot to learn."
Reporting by Charlie Lu and Jeanmarie Lunsford.
New York-based Shen Yun Performing Arts has three touring companies that perform simultaneously around the world. Shen Yun will next perform in Dayton, Ohio on May 1. For more information, visit ShenYunPerformingArts.org