A highway in Colorado was closed "indefinitely" after two giant boulders rolled down a hill and left the roadway decimated.
The City of Ouray wrote that the house-sized boulder rolled off a mountainside before hitting the Colorado highway 145, destroying the road.
The rock, which is still sitting where the highway used to be, will have to be blasted apart, said officials on May 25.
The "significant rock fall" was located about 12 miles north of Dolores.
"The slide consisting of dirt, rock and two huge boulders which have destroyed the full width of the highway pavement, leaving a trench approximately eight feet deep across both lanes. The road is impassable at this time," city officials said.
A team is now being mobilized to deal with the boulder.
"A boulder, the size of a building, which remains embedded on the highway needs to be blasted into smaller pieces in order to move it off the roadway," the city explained.
A photo of the boulder was posted on Facebook by the city, showing how it dwarfed a road worker standing in front of it.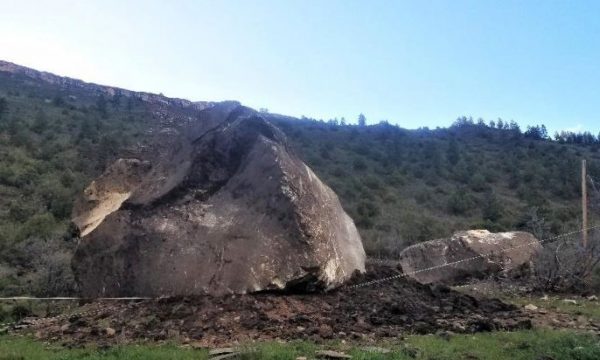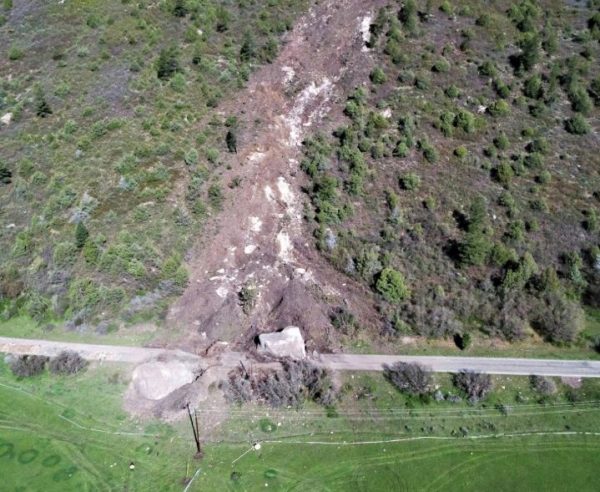 The Colorado Department of Transportation said the boulder that slammed the highway was estimated to weigh about 8.5 million pounds, or about 4,250 tons. Meanwhile, the boulder that is blocking the highway is believed to be about 2.3 million pounds, or about 1,150 tons.
The Department of Transportation's "maintenance division is developing plan to restore traffic flow. Once the safety of the highway work area can be cleared of any potential danger, crews will likely build a shoulder to run a temporary single lane alternating traffic operation," said the San Miguel Sheriff's Office.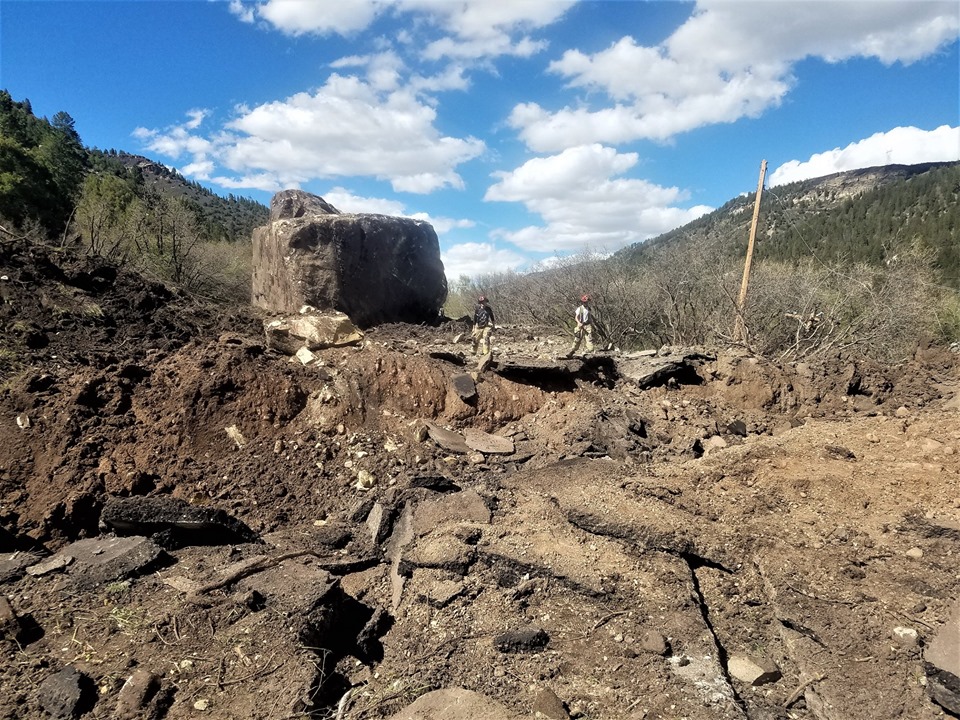 According to Fox31, the rock slide is unusual because it started about 1,000 feet above the highway in a cliff band at the top of a slope that leads down to the highway.
Typically, boulders and rocks can fall on mountain highways in the state, namely after the spring snow and ice thaws.
Rockfall Causes
Colorado state officials (PDF) said that "rockfall is the fastest type of landslide and is common in mountainous areas near cliffs of broken, faulted, or jointed bedrock, on steep slopes of rocky soils, or where cliffy bedrock ledges are undercut by erosion or human activity."
They add, "The loss of support from underneath, or detachment from a larger rock mass destabilizes the rocks and gravity does the rest. The criteria for rockfall is simply an exposure of broken rock, gravity, and a slope steep enough that when a rock detaches or dislodges from the ground surface, it will move down the slope rapidly. Complex interactions between physical parameters of both the rock and the slope cause the falling rocks to move down the slope in a high-velocity, seemingly random and erratic manner."
Rockfall events can instantly destroy buildings and kill people, the researchers said.