Authorities in Boulder County, Colorado, haven't ruled out arson as a possible cause of a wildfire that destroyed hundreds of homes in the area last week.
"We have a number of tips we're working on," Boulder County Sheriff Joe Pelle said. "We've executed a search warrant at one particular location we're investigating."
Earlier, Pelle and other officials said blown-down power lines may have been the cause of the Marshall fire. But on Jan. 1, Pelle said investigators found no downed power lines, and officials are now involved in "a very active investigation" that involves federal and state resources.
"If it turns out to be arson or reckless behavior with fire, we're taking appropriate actions," he said. "It was a red flag day, the day of the fire, so there shouldn't have been any burning of anything."
His office is also "actively investigating a number of tips that came in yesterday and last night from the community," he said.
"One of those tips has resulted in us executing a search warrant on a property."
So far, about 991 homes were destroyed in the fire in Boulder County, mainly impacting the cities of Louisville and Superior.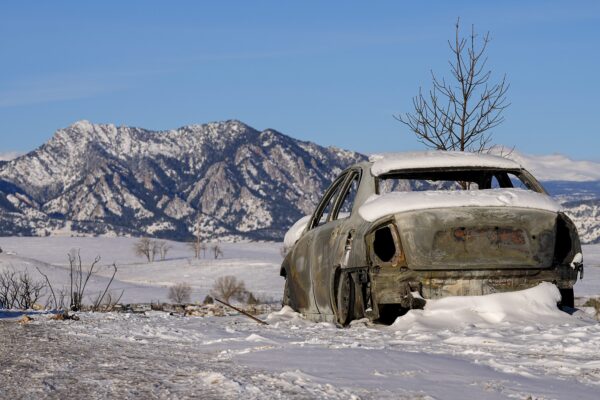 Late last week, at least six inches of snow and temperatures in the single digits cast an eerie scene amid the still-smoldering remains of homes destroyed in the wildfire that raced through the suburban area that lies between Denver and Boulder. Despite the shocking change in weather, the smell of smoke still permeated empty streets blocked off by National Guard troops in Humvees.
Because of the snow, investigating the fire is more challenging, Pelle said.
"The snow is an awesome thing for fire behavior, and it's a hard thing for crime scenes and recovery efforts and damage assessment and all of those things–so it's a mixed blessing," he said.
The blaze, which burned at least 9.4 square miles, is no longer considered an immediate threat.
"For 35 years I walked out my front door, I saw beautiful homes," area resident Eric House said. "Now when I walk out, my home's standing. I walk out my front door, and this is what I see."
Resident Cathy Glaab found that her home in Superior had been turned into a pile of charred and twisted debris. It was one of seven houses in a row that were destroyed.
"The mailbox is standing," Glaab said, trying to crack a smile through tears. "So many memories."
The Associated Press contributed to this report.