BOGOTA, Colombia—Scrambling to get on the road for the grueling 16-hour bus journey that lay ahead, Jacqueline Castillo crouches on the pavement, hastily dividing up a shopping bag full of bread, cheese, and dried meats.
"Santos promised there would be money for the victims of the conflict," she said, referring to the former-president and architect of Colombia's peace agreement. "But we can barely scrape together enough for these sandwiches. How sad."
Financial reparation for victims of the conflict was one of several promises made as part of Colombia's historic 2016 peace accord signed with leftist rebels, the Revolutionary Armed Forces of Colombia (FARC). The 20 victims taking the trip on Oct. 13 from the capital Bogotá to Ocaña, Norte de Santander, however, say those promises never materialized.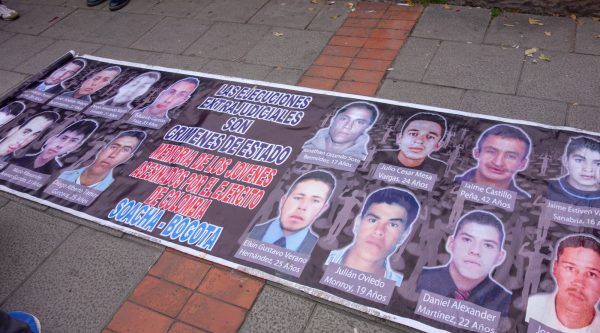 Having lost family members in the "false positives" scandal—one of the darkest episodes in Colombia's conflict where the military murdered civilians to enhance figures and claim more military aid—they are critical of the agreement's inability to bring peace, and its failure to provide justice.
But most painful for these women is that it has failed to provide them with what they need to leave behind a perpetual limbo of uncertainty and move on with their lives: the truth.
Remembering
Their journey, retracing the last steps of their loved ones, was intended to commemorate their lives with cultural performances and remembrance ceremonies, but also to "salvage their names" by "reminding the public they were not guerrillas," Castillo said, who is now the legal representative of the collective, Madres de Soacha (Mothers of Soacha).
Another member of the collective taking the trip is María Doris Tejada, whose tenacity and energy belies her 68 years of age.
"The last 10 years of fighting have aged me," she said, referring to their ongoing struggles to find out what happened to their family members—mostly young men—when they disappeared 10 years ago.
On Tejada's arm is a portrait of her son, Oscar Alexander Morales, who lived with her in the sprawling, impoverished neighborhood of Soacha on the outskirts of Bogotá. In December 2008, at the age of 26, he left to visit his brother in the border town of Cucuta.
"He really loved his family; he would often tell me to try and smile when I was sad and take me out dancing," she recalled.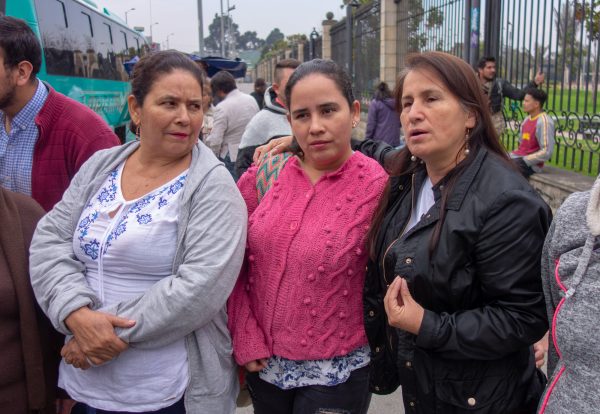 Weeks after Morales left for Cucuta, however, he "disappeared." His calls were suddenly diverted to voicemail and no one—family members, friends, local hospitals, or prisons—knew of his whereabouts.
Two years of silence later, the district attorney finally called. "I was hoping deep in my heart they would tell me something, anything," Tejada said.
That something was unexpected. The district attorney informed the family that Morales had been found in a plastic bag in a pit with two other young men. This was not in Cucuta, however, but close to the Caribbean coast, some 300 miles away.
He had been killed in a "confrontation" with the military for belonging to an "armed insurgency group." Tejada remembers her reply prior to blacking out and waking up in hospital: "That is not my son."
The body being found so far away, and the idea of her son fighting the state after having served two years in the army was strange; the lack of information surrounding his death suspicious.
Scandal Revealed
When another 60 bodies were discovered nearby, and the same phenomenon was revealed all across the country—hundreds of young men turning up in graves hundred of miles from their homes just days after going missing—Tejada was sure her son was part of the "false positives" scandal.
Lured from poor neighborhoods by fake recruiters with offers of employment, young men traveled to the other side of the country only to be kidnapped, murdered, and then disguised as communist guerrillas by the military.
In some cases, the victims were minors or had mental or physical disabilities; some were found with strange discrepancies, such as being dressed in two left boots.
It is now established that the killings were carried out by soldiers for incentives: payment, military decorations, promotions, and holidays. The goal was inflating the results of war against the guerrillas.
To date, 2,248 such cases between 1988 and 2014 have been reported, with 48 percent of them males between 18 and 30 years old.
Recent research by former-police official Omar Rojas, in conjunction with local universities, however, puts that number at closer to 10,000. Many remain "scared to speak out," he says, with some having faced threats from paramilitary groups after reporting the crimes.
Seeking Justice
For what victims now refer to as "extrajudicial killings," over 900 officials have been convicted. Those convicted are mostly of lower ranks, with some colonels, majors, and captains having been condemned, but as of yet, no generals. No politicians have accepted responsibility for the human rights scandal.
Some observers hoped the true extent of the killings would be revealed by moving the cases from the ordinary justice system to the Special Jurisdiction for Peace (JEP). The JEP was founded out of the peace agreement as a special means of investigating and trying war crimes committed during the conflict while seeking reparation for victims.
But rather than support the initiative, victims protest it. Not only does this allow perpetrators softer sentences for their crimes, they say, it is simply not appropriate.
"Our sons are not victims of the armed conflict, they are victims of the state," Castillo said.
President Iván Duque, who took office in August, is also a fierce critic of the body. Fearing it would offer ex-FARC combatants preferential treatment, he created a dedicated JEP chamber with independent judges to prosecute current or ex military members.
Victims and observers fear the appointed officials will prevent the JEP from establishing the truth. Having begun operating in March this year, there have already been corruption accusations from figures across the political spectrum.
"The state is distorting the truth and laying down obstacles," Rojas said. "The Democratic Center [political party], which is responsible, wants to shut up the soldiers, so they do not speak."
Victims attending the tribunals at the JEP claim they have seen this first hand. "We spoke from the heart; the soldiers read out lies," Tejada said. "They have total impunity."
The JEP was contacted in relation to the allegations but was unable to comment.
Like many of the victims of the "false positives" scandal, Tejada has no faith in the JEP. Her best hope, she says, is that that the "weight of their crimes" will someday force the culprits' confessions.
For now, the best she hope for is a burial.
Ten years after his disappearance, the state is yet to return the body of Morales. She does not know why, and says there have been no recent advances.
"Everyday I think of him," she said, breaking into a stream of tears. "You will never imagine the pain."