On the Ball: College Football Power Rankings—Week 3
September 15, 2014 6:15 am Last Updated: April 24, 2016 6:32 am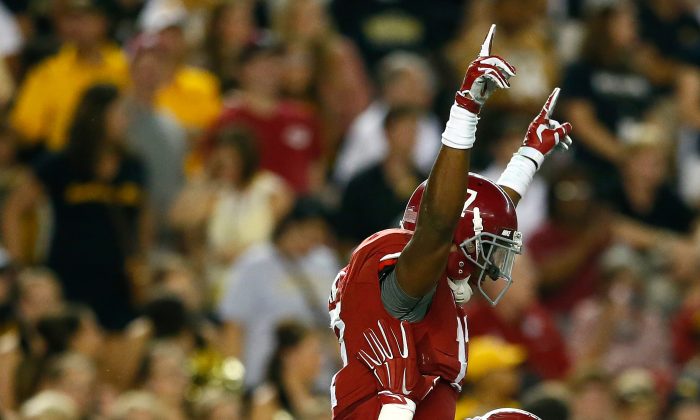 One of the more shocking performances of Week 3 was USC's defense going AWOL in the 37–31 loss to Boston College. The Trojans gave up 452 rushing yards to the Eagles—which knocked them out of the power rankings. Incredibly, three different Boston College players had runs longer than 50 yards in the upset win.
Elsewhere, South Carolina got a much-needed 38–35 win over Georgia despite a late turnover. Here is this week's power rankings:
10. UCLA (3–0): In Jim Mora's third season with the Bruins, he already has his squad deep enough to be able to replace Heisman candidate Brett Hundley at quarterback. Hundley, injured in UCLA's 20–17 win over Texas, was replaced by Jerry Neuheisel who ended up 23/30 for 178 and 2 TDs—including the game-winning 33-yard score with 3:00 left in the game.
This week: bye week. Previous Ranking: NR
9. Baylor (3–0): Though the Bears have loaded up so far on punching bags SMU, Northwestern State, and Buffalo, they've outscored them by an average of 59–9. Watch out, Big 12.
This week: bye week. Previous Ranking: NR
8. LSU (3–0): The Tigers defense pitched their second straight shutout this past weekend—a 31–0 drubbing of Louisiana-Monroe. The team has allowed just 24 points all season.
This week: versus Mississippi State. Previous Ranking: 9
7. Notre Dame (3–0): Notre Dame's 30–14 win over Purdue showed why the Irish were so glad to have Everett Golson back at quarterback this season. Golson, who missed last year to due academic issues, threw for 259 yards and 2 TDs and also led the team with 56 yards rushing.
This week: versus Syracuse. Previous Ranking: 7
6. Auburn (2–0): After rolling over Arkansas (45–21) and then San Jose State (59–13), Auburn and their vaunted rushing attack (330 yards/game), finally gets tested as they travel to Kansas State to face Bill Snyder's Wildcats.
This week: at Kansas State. Previous Ranking: 6
5. Oklahoma (3–0): Oklahoma had its way with Tennessee Saturday in the 34–10 win. Receiver Sterling Shepard went for 109 receiving yards in the win and now has 335 yards and 2 TD catches on the season.
This week: at West Virginia. Previous Ranking: 5
4. Texas A&M (3–0): A&M quarterback Kenny Hill has officially entered the Heisman race. After throwing for 300 yards and 4 TDs in the 38–10 win over Rice, Hill is now averaging 364.7 yards and 3.7 TD passes per game while completing 69 percent of his passes.
This week: at SMU. Previous Ranking: 4
3. Alabama (3–0): The Tide looked more like rival-Auburn in the 52–12 win over Southern Miss, racking up 333 yards on the ground in the blowout victory. Meanwhile junior receiver Amari Cooper continues to be Blake Sims's favorite target. One of the better NFL prospects had his third straight 100-plus receiving yard game in a row and has 454 yards through the air on the season.
This week: versus Florida. Previous Ranking: 3
2. Florida State (2–0): Although reigning Heisman winner Jameis Winston is doing well through two games this year (626 yards, 3 TDs, 2 INTs, 70 percent completion rate) it pales to his start last year. Through two games in 2013 Winston was on fire to the tune of 570 yards, 6 TDs, 1 INT, 89 percent completion rate.
This week: versus Clemson. Previous Ranking: 2
1. Oregon (3–0): Oregon's Heisman-contending quarterback Marcus Mariota threw for a pair of TDs and ran for two more in the Ducks' 48–14 win over Wyoming Saturday. The double-threat quarterback now has eight TDs through the air and three more on the ground for the season.
This week: at Washington State. Previous Ranking: 1