Rapper Kanye West and former NFL player Colin Kaepernick have been invited to White House meetings to discuss race, Cleveland-based pastor Darrell Scott told People. Scott expects President Donald Trump will attend.
"He is 100 percent for it," said Scott, who talked to Trump for some 20 minutes in the Oval Office after the National Day of Prayer outdoor ceremony at the White House on Thursday, May 3. "He was very enthusiastic about it."
Two meetings are planned, Scott said, one with musicians and another with athletes in the early summer.
"It's not going to be a black-only event," says Scott. "It will be a melting pot."
The idea has been in the works for some time, Scott said, and has gained prominence after a Twitter exchange between Trump and Kanye last week.
On April 25, Kanye posted a picture of a hat with Trump's campaign motto, "Make America Great Again," saying, "my MAGA hat is signed."
He immediately received flak from Trump opposition groups but stood his ground.
"You don't have to agree with Trump but the mob can't make me not love him," West wrote in another tweet later that day. "We are both dragon energy. He is my brother. I love everyone. I don't agree with everything anyone does. That's what makes us individuals. And we have the right to independent thought."
"Thank you Kanye, very cool!" Trump responded on Twitter.
Trump followed up two days later, saying: "Kanye West has performed a great service to the Black Community – Big things are happening and eyes are being opened for the first time in Decades – Legacy Stuff!"
Since Kanye's tweets, Trump's approval rating among black people started to increase, from 11 percent on April 25 to 25 percent on May 3, a Reuters/Ipsos poll shows.
Other invitees include Jim Brown, former fullback for the Cleveland Browns, Evander Holyfield, Herschel Walker, and Mike Tyson.
"These are guys on the president's side," Scott said.
Some invitees, however, may come with major disagreements.
"We don't want to sanitize it. I want people from the left to attend. I want it to get heated but I want it to be respectful," Scott said.
"I want them to see and know the Donald Trump I know and they will say, 'This guy isn't who I've been lead to believe he is.'"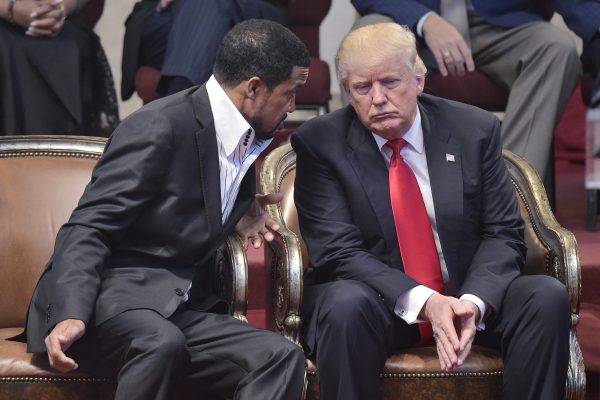 Kaepernick, for one, has previously shown disagreement with Trump.
He was catapulted into the media spotlight for sitting or kneeling in protest during the national anthem before games.
Trump criticized Kaepernick and other NFL players who followed Kaepernick's example, for picking a form of protest that's disrespectful to the country. He even suggested the players should be fired.
Now, Kaepernick may have a chance to address the President directly.
One of Kaepernick's grievances was what he perceived as lacking accountability for misconduct of police officers.
Indeed, police union contracts require an "extremely burdensome administrative process for punishing/terminating officers, or requiring arbitration before they can be fired," Adam Bates, criminal justice policy analyst with the libertarian Cato Institute, told The Epoch Times in a past email.
Private sector employees enjoy no such protections, unless they claim discrimination.
But it's hard to argue for fewer union protections for police when other public servants, like teachers, enjoy similar protections, according to right-leaning Manhattan Institute's Heather Mac Donald "Which do we want? Due process or not?" she told The Epoch Times in a past interview.
Kaepernick, however, also made a connection between police killings and what he called "systemic racialized injustice," an argument contested in research.
Scott said Trump sees the meetings on race as a way to bring people together.
"The president said that this will go a long way in bringing everybody together," he says. "He wants to bring this nation together."
Scott said he's also working with Jared Kushner, Trump's son-in-law and senior adviser, on prison reform and a White House-backed plan to revitalize poor urban neighborhoods. Scott will also meet Trump in Cleveland on Saturday, May 5 for a fundraiser and round-table on revitalization efforts.
Recommended Video:
Ivanka Trump Asked About Lessons She Learned From Her Dad, She Listed 5 Principles