The "Lonely Planet" travel guide is enthusiastic about the Republic of Georgia and its almost four million residents: "[It] is one of the most beautiful countries on earth … Equally special are its proud, high-spirited, cultured people."
Inhabiting the crossroads of western Asia and eastern Europe, Georgians have lived a complex and often painful history. From 1801, they were under the Russian czars, and after 1922 it was the Soviet empire. Full independence was restored with admirable determination in 1991.
Around the same time, the province of South Ossetia seceded from Georgia. In 1992–1993, a war was fought by Georgia with the Abkhazians, which led to their establishing Abkhazia as a separate state.
The post-Communist years in the 1990s saw much civil unrest and economic difficulty, but in 2003, Mikheil Saakashvili, the Rose Revolution president, introduced a series of democratic and economic reforms. He also fought effectively against corruption.
Unfortunately, in the summer of 2008, Saakashvili moved to occupy South Ossetia, seeing it as an integral part of Georgia and misreading what he thought was a green light coming from President George Bush to invade. Russian soldiers, no doubt at Vladimir Putin's direction, invaded South Ossetia and their bombers struck inside Georgia. Almost immediately, Georgia was defeated.
It strongly appears that the pro-Western Saakashvili was promised NATO membership, although NATO was then—and no doubt today as well—unwilling to join the fighting. Saakashvili quickly sued successfully for peace.
Abkhazia and South Ossetia are considered by many to be part of Georgia's sovereign territory and currently to be under Russian military occupation.
Most Georgians and their recently elected governments, as well as much of the international community, consider their two independent regions, Abkhazia and South Ossetia, to be part of Georgia's sovereign territory and currently to be under Russian military occupation.
In 2012, to its credit, Georgia experienced a peaceful transfer of power from one political party to a competing one: the handover of Mikheil Saakashvili's United National Movement (UNM) to the victorious Georgian Dream coalition.
The opposition launched a smear campaign against Saakashvili's government. Prison abuse videos originating from Georgian criminals were leaked. The source was allegedly Wikileaks Ukraine, but the post later turned out to be from an IP address in Russia. By then, considerable damage had occurred. The Russians threatened to invade Georgia again if civil strife occurred in the country.
With Putin's interventions in Syria starting last September, the world media attention again moved away from eastern Europe. This probably explains why the Georgian Dream government in Tbilisi suddenly found it timely to take over the main opposition TV channel Rustavi 2.
On Nov. 7, Ukrainian media activists detailed how the recently leaked transcripts fit into a continuing pattern of Kremlin disinformation, most commonly through "Ukrainian" Wikileaks. By then, the election had taken place in Odessa, Rustavi 2 had been raided, and its management removed and replaced by government loyalists.
During the Cold War until 1991, the West understood that Moscow coordinated its actions throughout its Eastern Bloc in puppet capitals such as Tbilisi, Georgia, and its other outposts of the Soviet Union. Today, President Putin manipulates the sequence, timing, and roles of geopolitical events.
This switching of events between Georgia and Ukraine astounds Westerners. The Kremlin, however, understands it well from its years of Soviet impunity. Distraction and disinformation surround every action. The next incident, the Islamic State (ISIS) bombing of the Russian tourist passenger aircraft on Oct. 31, triggered the sudden rise in renewed attacks by pro-Russian fighters in eastern Ukraine.
The similarity of events in Georgia and Ukraine astounds Westerners. The Kremlin, however, understands it well from its years of Soviet impunity. Distraction and disinformation surround every action.
How does Moscow's propaganda machine work? Having reached an impasse in Ukraine because of economic pressure from global sanctions, Putin moved onto Syria. His method is to distract and follow up swiftly by disinformation.
Saakashvili and his democratic friends should resist Moscow proxies throughout the former Soviet bloc. The Kremlin is seeking to dominate the entire region, and democratic activists must coordinate their activities effectively in response.
Putin operates ruthlessly and invades in order to mold local, national, and international public opinion. He entered Syria fully realizing the cost and dangers in taking on ISIS. It was more important to create another crisis after Ukraine in order to maintain nationalist fervor and public support in Russia. In fairness, however, although Putin is disliked by many in the West, his numerous supporters in Russia see him as a patriot who is trying to make Russia a world power again.
What is clear is that Putin's propaganda machine rises to each occasion with complete fabrications. The conflict in Ukraine was reignited to distract Russians from ISIS and from Putin's misadventures in Syria.
The journalist Melik Kaylan, in his piece, "ISIS, Ukraine, Georgia: In Putin's World, It Is All Connected," in Forbes on Nov. 10, 2015, correctly concludes, "We understood all that during the Cold War. It's time to understand it again."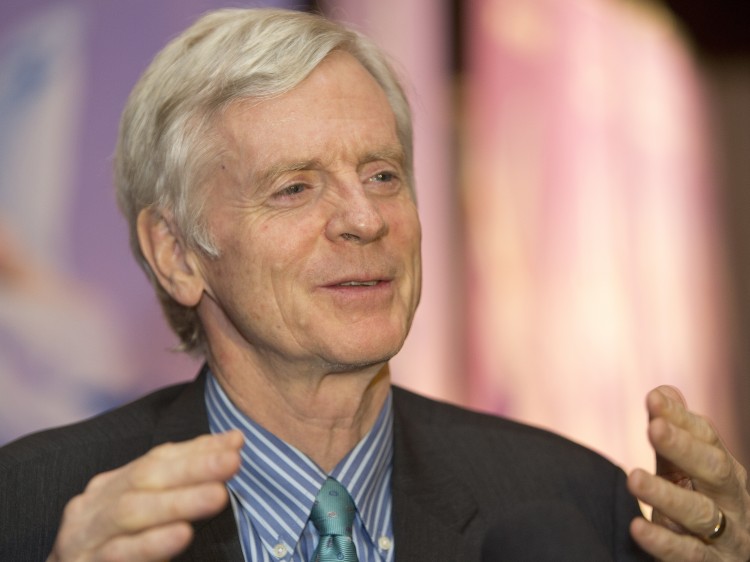 David Kilgour, a lawyer by profession, served in Canada's House of Commons for almost 27 years. In Jean Chretien's Cabinet, he was secretary of state (Africa and Latin America) and secretary of state (Asia-Pacific). He is the author of several books and co-author with David Matas of "Bloody Harvest: The Killing of Falun Gong for Their Organs."
Views expressed in this article are the opinions of the author and do not necessarily reflect the views of The Epoch Times.