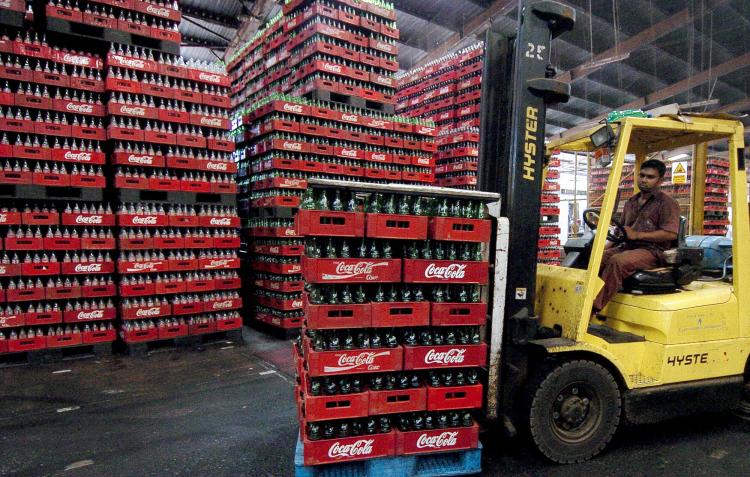 Coca-Cola Co. recently announced good first quarter 2009 results. Despite the economic downturn, the company increased its sales by 2 percent in the United States and by 3 percent worldwide.
In India, Coca-Cola's business grew by 31 percent between January and March 2009. In 2008, sales revenue increased by 7 percent in Brazil and 15 percent in Turkey.
"The various market cycles that impact our business often help balance each other," the company said in its annual review. "For example, in 2008, a challenging market in North America was offset by strong results in Latin America and Eastern Europe."
Given the world's economic quagmire, Coca-Cola's stock prices also took a hit, but less so than that of companies in more volatile industries. Earnings per share were $0.58 during the first quarter of 2009, 3 percent less than during the same period in 2008, and reflecting, among others, exchange rate fluctuations and decreases in the value of assets.
Keeping a positive outlook, Muhtar Kent, president and CEO of Coca-Cola, said in a statement that "While the global economic environment remains challenging, we are well positioned for long-term growth. Our business was built for times like these."
"Our business has historically generated significant cash flow in all economic conditions, enabling us to invest in key brands and geographies, and consistently return value to our shareowners."
Coca-Cola attributes satisfactory results to the acquisition of Denmark's Kildevaeld and Kurvand mineral water producers in 2008, signing license agreements with soft drink beverage companies worldwide, and introducing new brands, including 700 new beverage products.
Future Holds Promise
According to Coca-Cola, the nonalcoholic drinks industry is trending up. The company predicts beverage sales to grow at 6 percent annually over the next 12 years. Global population is predicted to increase by 800 million by 2020 and the company hopes that a major portion will become buyers of its products.
Emerging markets hold the key to growth. Urbanization and an ever-growing middle class in countries such as India will increase the number of consumers buying nonalcoholic ready-to-drink beverages.
"What we're seeing is the rapidly growing middle class," Muhtar Kent said at a University of Pennsylvania forum. "Think about this: A billion new people worldwide will enter the middle class by the year 2020. These new middle class consumers will strive for the same things we want out of life—better quality food and better quality beverages." A prepared speech was published on Coca-Cola's Web site.
By 2020, sales revenue in the nonalcoholic beverage industry should increase from $600 billion to $1 trillion, according to Coca-Cola's "What Do We Know About Tomorrow?" report.
To meet future demand, innovation is the rallying cry of the company. At present, the company is focusing on developing non-sparkling beverages that combine exotic fruits with existing flavors.
With the world calling for energy efficiencies and environmental protection, the company has embarked on an aggressive environmental enhancement program.
Sourcing power from energy saving sources, reducing carbon dioxide (CO2) emissions, using energy efficient coolers, and replacing gas guzzlers with more fuel-efficient hybrid electric delivery trucks are just a few of the energy conservation efforts Coca-Cola has undertaken.
The Coke Vision
With products sold in almost every country in the world, Coca-Cola management strongly believes in the diversity of its workforce. The company's management personnel is drawn from many countries including Australia, Colombia, France, Ireland, Lebanon, Liberia, Mexico, the United Kingdom, and the United States.
"This extraordinary diversity of ideas and cultures and beliefs is undeniably one of the most important competitive advantages we have as a business system … I work with senior women executives throughout our company to identify strategies to attract and develop more women into leadership positions," Kent said in his speech.
Kent was appalled as women managers are almost nonexistent in the bottling and distribution companies Coca-Cola engages.
Coca-Cola is now seeking to address a lack of gender diversity, after Kent learned that there are only two female senior executives and just two women in charge of bottling companies around the world, none of them in the United States.
Trouble in China

China's Ministry of Commerce recently denied a license to Atlantic Industries, a subsidiary of Coca-Cola, for the purchase of the Huiyuan Juice Group Limited, China's largest privately owned juice producer. In addition, as a requirement for the purchase of Huiyuan, the Ministry had demanded that Coca-Cola give up the Huiyuan brand name, a main reason for Coca-Cola's interest in the company.
The Ministry used China's antitrust laws to turn down Coke's request. According to media reports, Coca-Cola's market share in China would have been just over 15 percent even with Huiyuan in the fold—not nearly enough to corner China's juice market.