WASHINGTON–A new group seeks to expose efforts by communists to take over the Democratic Party and, in so doing, help to drive them out.
Group member Trevor Loudon, who is also a contributor to The Epoch Times, announced on his website that with the launch of Stand Against Communism, this "takeover of the Democratic Party will be publicly exposed until the party takes firm action to remove these subversives from its ranks."
At the launch event at the National Press Club on May 20, Stand Against Communism Chairman Bishop E.W. Jackson said it constituted "an ongoing effort, and we're developing a strategy for addressing this particularly over the next two years leading up to 2020."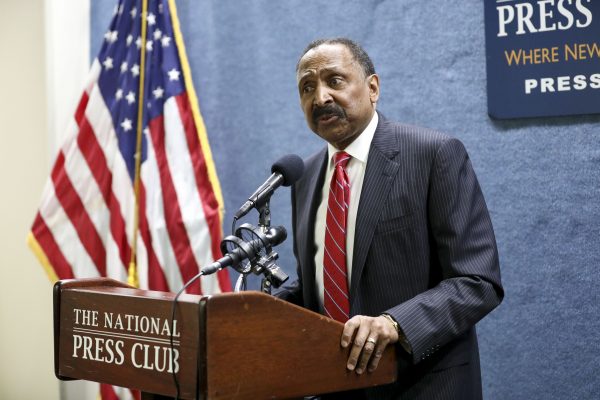 "We're going to use the spotlight of the presidential election to call attention to what these candidates stand for," he said. A "strike force" working in early presidential nomination contest states with churches and Tea Party groups will inform the electorate about candidate backgrounds, and challenge the candidates directly to put them and "the whole apparatus" on the defensive.
For instance, "why hasn't anybody challenged Bernie Sanders: What does socialism mean?" Jackson asked.
"When Bernie Sanders stands up and declares himself a 'socialist,'" Jackson said, "we ought to all hear him saying, 'I am a Communist.'" After all, Jackson argued, the CPUSA's own stated goal is "to build socialism in the United States based on the revolutionary traditions and struggles of the people of our country."
The problem is not limited to presidential candidates, Jackson said. Former FBI Director James Comey once revealed that politically he had "moved from Communist to whatever I am now." Jackson asked, "How does a former Communist end up the head of the FBI?"
Likewise, Jackson noted, former CIA Director John Brennan has acknowledged he once voted for Communist Party USA (CPUSA) General Secretary Gus Hall for president, a candidate "who was being funded by the Soviet Union."
Infiltration
"The Democratic Party has been infiltrated by socialists, Marxists, and outright communists at every level, from precinct chairman to multiple presidential candidates," according to Loudon, author of "The Enemies Within: Communists, Socialists and Progressives in the U.S. Congress."
Loudon noted that at least four major Marxist groups comprising 60,000 members—U.S. Communist Party (CPUSA), Democratic Socialists of America (DSA), Freedom Road Socialist Organization (FRSO), and the Committees of Correspondence for Democracy and Socialism—have joined forces in the Left Inside/Outside Project (LIOP). LIOP's mission, according to Loudon, is "infiltrating and taking over the Democratic Party all over the country." LIOP itself said it ultimately aims at "building a movement for fundamental social transformation—socialism."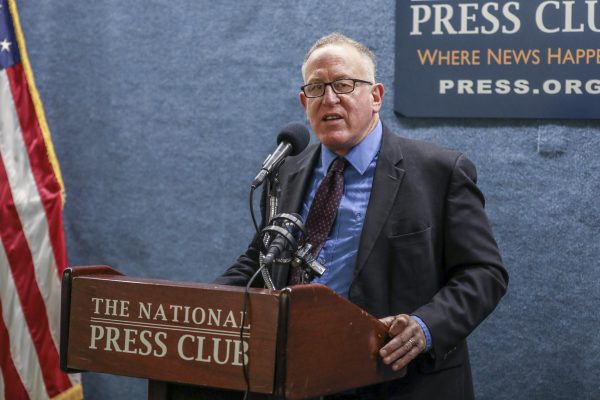 In addition, the CPUSA has revealed its members "continued their activism" in organizations including "Our Revolution, Swing Left, Indivisible, Working Families Party, New Virginia Majority" and local Democratic Party organizations.
In 2018, according to a DSA list, 46 democratic socialists won primaries, and three communists ran for office in Texas alone, in violation of state law. For instance, Loudon said that FRSO, whose members call themselves "revolutionary socialists" in spite of 18 U.S. Code Section 2385 that makes advocating the overthrow of the government a crime for which one can be fined or imprisoned for up to 20 years and barred from employment by the United States for five years, elected self-described "radical" Chokwe Antar Lumumba mayor of Jackson, Mississippi.
Now, Loudon said, FRSO is running Tami Sawyer—who called Communist Cuba "an oasis of hope bathed in the spirit of revolution" and gushed she would "honor and be grateful for" alleged terrorist Angela Davis "forever"—for major of Memphis, currently the United States' 23rd largest city, where she secured the local DSA endorsement in May.
The magazine Jacobin, which "offers socialist perspectives on politics, economics, and culture," and whose name refers to a French Revolutionary faction associated with the Reign of Terror during which 16,594 people were executed by guillotine and another 25,000 in summary executions, argued that, in 2020, "there should be no election, at any level, without a socialist candidate running."
Loudon summed up this activity as "a general takeover of the grassroots of the Democratic Party."
Congress
According to Loudon, this grassroots backing already has plenty of cover in Congress.
For example, Loudon pointed out that current House Committee on Homeland Security Chairman Bennie G. Thompson (D-Miss.) was involved in Communist Party-related activities as a young man.
Thompson served on the National Coordinating Committee of the benign-sounding National Alliance Against Racist and Political Repression, which a 2010 article for CPUSA's 29th National Convention revealed was a CPUSA "left and intermediary form." Though formally non-CPUSA, "they serve as a link between the [Communist] Party and mass democratic movements," said Loudon. Even as a member of Congress, Thompson has been heavily involved with Castro, Loudon said, including putting together a scholarship program "for young Communists to study medicine for free in Cuba."
Some might object that it can't be happening because the FBI would have stopped it, Loudon said. The FBI is overseen by the U.S. House Judiciary Committee; however, Loudon noted, it was headed by Rep. John Conyers from 2007 to 2011, who in turn had "a fifty-year history with the Communist Party USA, forty years with Democratic Socialists of America, and thirty years with the Workers World Party, which supports North Korea, and Cuba, and Iran."
Rep. Judy Chu (D-Calif.) sits on the powerful House Ways and Means Committee. Loudon charges she "has been very actively involved with the Communist Workers Party [CWP] for many, many years." In 1974, Chu contributed an article to the Maoist journal Gidra. In 1982, Chu became a senior official in the anodyne-sounding Federation for Progress (FFP), allegedly a CWP front group. According to Loudon, CWP "followed the policies of Mao Tse Tung, Joseph Stalin and … Pol Pot," who together were responsible for 42.5 million, 9 million, and nearly 2 million deaths respectively, and "originally gave some support to the Islamists of the Iranian Revolution."
In 1984, Chu was president of FFP's Los Angeles chapter. In 1985, FFP changed its name to the New Democratic Movement and changed its focus to "[infiltrating] the highest levels of the Democratic Party," Loudon said. "You should see Judy Chu go off on the FBI whenever they have the temerity to arrest one of the more than 25,000 Chinese spies currently operating in this country."
Finally, Loudon highlighted current Judiciary Chairman Jerrold Nadler (D-N.Y.) who he alleges has been a member of the Democratic Socialists of America (DSA) for more than 30 years. Nadler was a member of the Democratic Socialist Organizing Committee (DSOC) as early as 1977. Around 1983, a DSA New York City Local report claimed Nadler as a member, and a January 1983 article in a DSA publication did as well. Nadler spoke to DSA's 1995 conference and attended the Socialist Scholars Conference in New York in 1995, 1996, and 1997. In 1999, a DSA publication celebrated his briefing of its members that played down the Social Security crisis.
"So a Marxist heads the Judiciary Committee, which controls the FBI," Loudon stated.
Presidential Candidates
Likewise, among presidential candidates, Loudon alleged, "virtually every single major Democratic contender in this race has some sort of Marxist degree."
For instance, Loudon said, in spite of his "nice guy … moderate" image, South Bend, Indiana, Mayor Pete Buttigieg's father was one of the country's leading scholars of Italian Marxist Antonio Gramsci, and Buttigieg himself "has cooperated heavily with" DSA. According to CNN, Buttigieg calls himself a supporter of "democratic capitalism," ironic given that he finds "tension between capitalism and democracy."
The term democratic capitalism harkens back to Derek Shearer's claim that "[socialism] has a bad name in America and no amount of wishful thinking is going to change that. … The words, economic democracy, are an adequate and effective replacement." Buttigieg denounced President Donald Trump's denunciation of socialism, asserting the term could no longer "be used to end an argument."
Similarly, Loudon noted, the father of Sen. Kamala Harris (D-Calif.) was a "Marxist professor," a claim echoed by a 1975 article reporting Stanford had offered Don Harris a tenured professorship after student pressure to find more scholars with an "alternative approach to economics"—a stance a colleague admitted "meant Marxist."
Loudon called Harris' paramour and mentor, former San Francisco Mayor Willie Brown, "a longtime Communist Party supporter." According to one account, Brown was originally "cultivated" by a leader of the "communist W. E. B. Dubois Club at Berkeley," and in 1964, Brown was elected to the California Assembly with the club's backing.
In 1974, Brown signed a DSOC-led cablegram to the communist Portuguese Armed Forces Movement after their military coup expressing the hope that "democratic freedoms" would "continue to grow in Portugal." In 1991, Brown passed a resolution of support for South African Communist Party leader Chris Hani. And in 1999, Brown appeared as a co-sponsor on a People's Weekly World/Nuestro Mundo (PWW/NM) gala banquet invitation. CPUSA calls PWW/NM its "fraternal newspaper."
Finally, Harris has benefitted from the support of PowerPACPlus, a "social justice organization dedicated to building a multiracial political coalition," which claims to have "conducted the largest independent voter mobilization effort backing" not only Harris but Sen. Corey Booker (D-N.J.) and President Barack Obama as well.
The organization's founder, Steve Phillips, enthused about "Marxism-Leninism" and said: "I come out of the Left. I've studied Marx, Mao, and Lenin. In college, I organized solidarity efforts for freedom struggles in South Africa and Nicaragua, and I palled around with folks who considered themselves communists and revolutionaries (the non-violent type), and I did my research paper on the Black Panther Party."
Loudon called this "a massive Marxist infiltration of today's Democratic party."
'Continuing Crisis'
Bolstering Loudon's charges, author Diana West warned, "There still exists a threat to this republic from the ideology of Marx and Lenin." West noted that after the USSR's 1991 collapse, "these ideologies were supposed to be obsolete," but "the Free World never fully exposed and judged to be evil" the history leading up to that fall—"not on a par with its exposure and judgment of Nazism."
Today, West contended, Americans are learning of another such fiasco: "cells inside the U.S. government that have attempted to overturn the 2016 election and destroy the presidency of Donald Trump." Further, she argued, "The 'red thread' of Marxist influence links these two fiascoes into a continuing crisis," as laid out in her latest work, "The Red Thread: A Search for Ideological Drivers Inside the Anti-Trump Conspiracy."