Coal Mine Flood Traps 153 Miners in Shanxi Province
March 30, 2010 1:42 am Last Updated: March 30, 2010 12:30 pm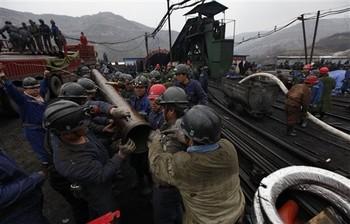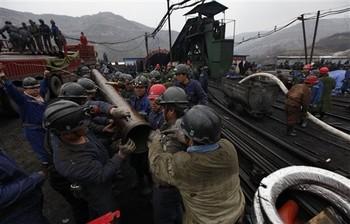 Rescue workers were in a desperate race against time Monday to save 153 miners trapped in a flooded coal mine in north China's Shanxi Province.
Chinese media have widely reported that the accident occurred on the afternoon of March 28 when 261 miners working in a pit in the Wangjialing Coal Mine accidently broke into an underground mine shaft. The Shanxi Provincial Work Safety Administration and the Shanxi Provincial Emergency Affairs Office confirmed that 108 miners have been lifted out, and 153 were still trapped in the flood.
Located in Xiangning County in Shanxi Province, Wangjialing Coal Mine is a major state-owned coal mine which is still under construction. The trapped miners are mostly migrant workers from Shanxi, Hebei, Hunan, and Guizhou provinces. They are temporary workers with the Yijiang Company affiliated with China National Coal Group Corp., one of the key state-owned enterprises under the State-owned Assets Supervision and Administration Commission of the State Council, according to China National Radio's report on March 29.
Regime leaders Hu Jintao and Wen Jiabao have ordered local authorities to make an all-out effort to free the trapped miners. Chinese Vice Premier Zhang Dejiang has flown to Shanxi to personally oversee the rescue efforts.
Rescue workers focused their efforts on pumping the water out of the pit and preventing more water from flooding in, according to Liu Dezheng, deputy director of the province's Work Safety Administration, speaking in a press conference on Monday night.
About 1,000 rescuers and 10 water pumps have been dispatched to the coal mine. Rescuers worked continuously to pump 142,000 gallons of water out of the pit each hour, Liu said. The condition of the trapped miners remains unknown.
Mining experts were also sent to the site to explore the possibility of creating new water drainage channels to more quickly evacuate the water from the pit.
Throughout the past 10 years China remains the country with the highest mining-accident fatalities. Because of its location in the coal-mining heartland of China, Shanxi Province is notorious for frequent mining accidents.
Read the original Chinese article. http://epochtimes.com/gb/10/3/29/n2859574.htm