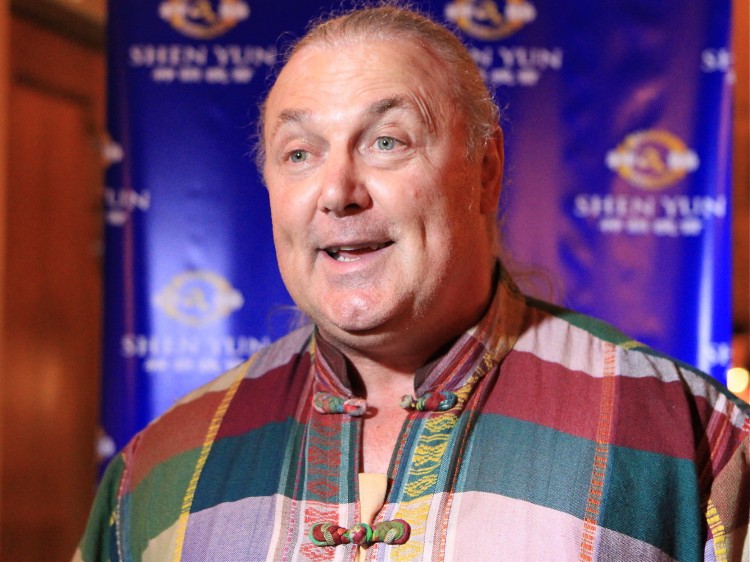 MELBOURNE, Australia—Vincent Fitzpatrick, co-founder and director of WOWTEL IPTV attended the Regent Theatre, Melbourne, with friends on April 12 to see the New York-based Shen Yun Performing Arts New York Company because he had "heard very great things about the Chinese culture and the dancing and their folklores."
He said, "We're having a great time. It's fantastic."
Shen Yun uses an animated backdrop, which fascinated him. He thought they were "terrific and cleverly incorporated into the scenes."
"I must admit the backdrop with the little animated characters coming to the fore, and then they appear in real life on the stage, it was absolutely fantastic."
"I think the costumes, the colour of the scenery, the whole lot is exciting. I think it's absolutely fantastic. I'm really enjoying myself," Mr. Fitzpatrick said.
Shen Yun showcases classical Chinese dance and includes folk and ethnic dances.
"The dancers are full of energy and strength with grace and finesse. Their costumes were stunning and alive with colour depicting [Chinese] culture and past history," Mr. Fitzpatrick said.
"The hosts did a marvellous job describing the dances and their relevance to a particular era, theme or meaning."
A live orchestra of classical Western and traditional Chinese instruments playing original scores added to the experience according to Mr. Fitzpatrick.
"The music well … I was suitably impressed! It was FANTASTIC. What a bunch of great musicians they are!
"The three solo singers were excellent."
In closing, he said, "My friends and I thoroughly enjoyed the performance and my overall impression was it was a beautifully presented show. We will be looking forward to next year's show!"
Mr. Fitzpatrick had a message for anyone who had not yet experienced Shen Yun.
"It was a marvelous show with marvelous performers and people should go to savour the Chinese culture as it is rich in culture and steeped in the mysterious folklore that one can only appreciate if you can see it for yourself.
"I recommend to anybody who's out there, come on down and come to the show, it's absolutely fantastic, you'll enjoy it."
Reporting by NTD Television and Leigh Smith.
Shen Yun Performing Arts New York Company will give one more performance at the Canberra Theatre on April 18 and then the company performs in Auckland and Wellington, New Zealand, April 20-24.
For more information, visit ShenYunPerformingArts.org.