Commentary
Governing the world's economic superpower is tough, but it's a lot easier when the media are on your side. The tale of CNBC and the Biden administration is a classic example of a television network providing cover for every economic-related pronouncement and action made by President Joe Biden's Council of Economic Advisers and others.
Let's examine the topic through a survey of recent articles posted at CNBC.com.
Background
CNBC is NBCUniversal News Group's flagship network for reporting business and financial news in the United States and around the world. The News Group is a division of NBCUniversal, both of which are wholly owned and operated by Comcast. Comcast, which is the No. 1 provider of video and residential internet service in the United States, acquired a 51 percent stake in NBCUniversal from General Electric in 2011.
Here's how CNBC advertises itself on its own website: "CNBC is the recognized world leader in business news and provides real-time financial market coverage and business content consumed by more than 355 million people per month across all platforms. The network's 14 live hours a day of business programming in North America (weekdays from 5:00 a.m. – 7:00 p.m. ET) is produced at CNBC's global headquarters in Englewood Cliffs, N.J., and includes reports from CNBC News bureaus worldwide."
The network broadcasts about a dozen live business-related shows, as well as various reality television and non-business-related programming, throughout the week.
AllSides, a media-focused company founded in 2012, which claims to provide "balanced news, diverse perspectives, and real conversation," gives CNBC a "center" rating in its coverage (i.e., neither left nor right of center). This should be no surprise, given that AllSides's founder, John Gable, previously worked for a long list of moderate Republicans: Howard Baker, Trent Lott, Mitch McConnell, George H.W. Bush, and the Republican National Committee. What is "center" to a moderate Republican is decidedly left-of-center to most "America First" or "Make America Great Again" followers, as noted in an analysis of Mitch McConnell's unpopularity in the Republican Party (which is dominated by Trump supporters these days).
And sure enough, there are plenty of other opinions that deem CNBC to be left-of-center and even far left. For example, Larry Elder noted on RealClearPolitics that former RNC Chairman Reince Priebus (no conservative, he) "sanctioned CNBC's sponsorship" of a Republican primary debate way back in October 2015 for creating a hostile environment and asking "gotcha" questions.
As reported back in February on The Factual, Media Bias/Fact Check "[assigned] CNBC a 'Left-Center' bias due to story selection that slightly favors the left." In April 2021, Bull Oak Capital confirmed that CNBC had "a strong negative media bias" and a tendency to report negative issues "despite the day-to-day market performance" during the last two years of the Donald Trump presidency.
For media watchers, it was standard fare for the legacy media—including business networks—to emphasize negative reporting during the Trump administration. For example, Investor's Business Daily reported that Trump endured 92 percent negative media coverage in 2018. But miraculously, as chronicled in April 2021 in a Media Research Center analysis, the media completely flipped when Biden took office—from 89 percent negative coverage of Trump to 59 percent positive coverage of Biden.
CNBC Gives Shade to Biden
CNBC was right in there with the rest of the legacy media's shift, starting off with rosy expectations for a Biden economy, reported in January 2021, to the shade provided to Biden by an article in November 2021, endorsing statements that "Americans will have to be patient with inflation" because it's "not going away any time soon" in the midst of rising price inflation on commodities, gasoline, energy costs, and food.

The shock of 9.1 percent inflation reported seven months later, in June, led CNBC to hedge their bets slightly by claiming in this July 13 headline that the rise was "even more than expected" (although implying that "the experts" were on top of the situation and had predicted an increase all along was itself a subtle public relations gift to Biden's crew). The article reported that "consumer pressures intensify" but was completely silent on any efforts being made by the Biden economic team to curb inflation.
Along with the rest of the legacy media, on July 27, CNBC trumpeted that the Fed hiked interest rates by 0.75 percentage points "for the second consecutive time" to "fight inflation." Raising interest rates is the Fed's principal mechanism for slowing down an overheated economy, but is that the correct definition of America's current economy, given rampant supply chain shortages, sky-high energy costs, high regulatory and tax costs, and food production issues that are just beginning to surface?
The proven way to decrease inflation is through tax cuts, a reduction of the regulatory burden on businesses, and—most importantly—a massive decrease in the money supply by cutting federal spending. The Mises Institute states it perfectly: "The cost of living is up in America because the Federal Reserve created nearly $5 trillion in the last two years while M2 increased by nearly $7 trillion in the same amount of time. There really is no mystery to inflation; there are only stories that central bankers tell." And CNBC was silent about all of that.
On July 28, CNBC reported without dissent Treasury Secretary Janet Yellen's statement that "the economy is not in a recession despite [the] slump" in gross domestic product (GDP) for the past two quarters (down 1.6 percent in January through March and an additional 0.9 percent in April through June). CNBC also noted without comment that Yellen blamed rising inflation on "the war in Ukraine, supply chain problems and the Covid pandemic," and that Democrats were working on legislation "aimed at raising tax revenue, lowering drug costs and investing in renewable energy." In short, CNBC is apparently OK with the Democrats pouring gasoline on the inflation fire by significantly boosting federal spending, which is the opposite of what should be done!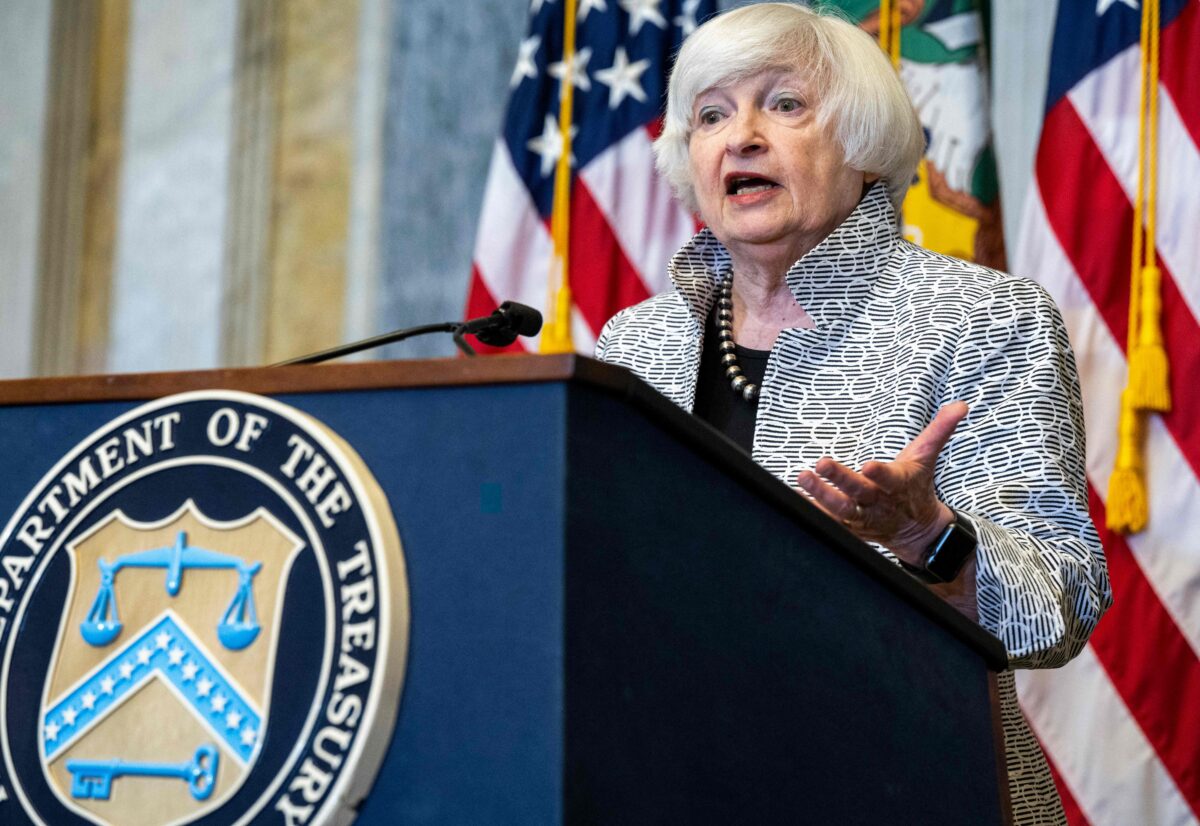 Ignoring the Definition of 'Recession'
Another article posted by CNBC on July 28 blared the headline that "the economy may look like it's in recession, but we still don't know for sure." Oh, really? That is exactly the narrative propagated by the Biden administration. The article goes further by claiming that "there are virtually no major Wall Street economists who expect the NBER [National Bureau of Economic Research] to say the U.S. economy was in recession during the first half of 2022," despite the heretofore commonly understood definition of a recession as two consecutive quarters of declining GDP.
Two consecutive quarters of declining GDP, and CNBC is asking, right along with the Biden economic team, whether or not the country is in a "real recession." Declining GDP certainly means that someone in America is enduring a recession that is very personal for them!
CNBC wasn't alone in equivocating about the definition of a recession. Wikipedia tried to jump to Biden's rescue by changing its article on recessions—in near real-time—to coincide with his talking points, as Breitbart News reported.
In 2008, even Democrat Speaker of the House Nancy Pelosi acknowledged the standard two-quarters-of-declining-GDP technical definition of recession.
What changed? The politics, of course.
The Democrats are deathly afraid that U.S. voters will hold them responsible for a recession during the midterms, and they're doing everything they can to deny reality, including changing the definition. The Babylon Bee's Jonathan Swift-worthy satire exposed them perfectly with this headline: "Democrats Quickly Redefine 'Loss' After Losing Congressional Baseball Game."
There's still more shade for Biden in the past couple of days, provided courtesy of CNBC:
On July 28, there was this headline: "Stocks rally for a third day to cap a winning week, major averages post best month since 2020." There was zero mention in the article that that "best month since 2020" was merely making up for a portion of devastating market losses over the past year that are directly attributable to Biden's and the Democrats' policies.
On July 28, a CNBC video noted without comment Yellen's claim that the Democrats' "Inflation Reduction Act" will lower the cost of prescription drugs and free up family budgets. That's the equivalent of Nero fiddling while Rome burned. The proposed legislation is another federal spending spree that will increase and accelerate inflation, and CNBC's silence to that end misinforms its readership on the act's real effects.
Regarding that last point, on July 29, Bloomberg News reported that, according to a study by the Wharton School of Business at the University of Pennsylvania, there is "low confidence that the [Inflation Reduction Act] will have any impact on inflation." And this Townhall article on the same day lambasted Democrat claims that the act is aimed at reducing inflation: "The [act] is crammed with the very same spending, corporate welfare, price fixing and tax hikes that were part of Build Back Better. … Pumping hundreds of billions into the economy will do nothing to alleviate inflation. The opposite."
Concluding Thoughts
NBCUniversal's flagship business network CNBC turned on a dime from near-universal negative coverage of the Trump administration to positive coverage of Biden's team in early 2021. Despite the economic devastation wrought by the Democrats' policies, including 9.1 percent inflation and two consecutive quarters of declining GDP growth (the technical definition of a recession!), CNBC continues to provide shade to Biden and his economic team by conveying their narratives and new policy objectives without any real pushback or contrarian analysis. Is there any difference between that and what the state-run Chinese media does daily for Xi Jinping and the Chinese communists?
Views expressed in this article are the opinions of the author and do not necessarily reflect the views of The Epoch Times.