The City and County of Denver has activated an emergency shelter after nearly 100 illegal migrants showed up on busses overnight on Monday.
Officials say they were completely unprepared for the arrival of the illegal migrants and had to set up cots in a recreation center to accommodate them.
The city has been working with non-profit organizations to help with basic needs for the illegal migrants since their surprise arrival has taken away resources typically given to the homeless or the needy in the area.
All of the nearly 100 illegal migrants arrived by bus, but it's unclear where they came from. The city reportedly also had another large group of nearly 40 illegal immigrants show up on Dec. 2.
Illegal Immigrants Sent to Democratic Strongholds
Over the past few months, Republican governors have been transporting thousands of illegal immigrants who arrive in their states to Democratic strongholds like Washington, D.C., Chicago, New York City, and even Martha's Vineyard.
Florida Governor Ron DeSantis and Texas Governor Greg Abbott have been especially fond of bussing or flying illegal immigrants to Democratic states without advanced warning as part of a campaign to focus on border security.
The Florida legislature even approved $12 million to relocate illegal immigrants from the sunshine state to blue states.
DeSantis came under fire from the Biden administration in October for transporting illegal immigrants from Texas to Martha's Vineyard on chartered flights. The U.S. Treasury Department began investigating whether DeSantis was improperly using funds to transport the immigrants.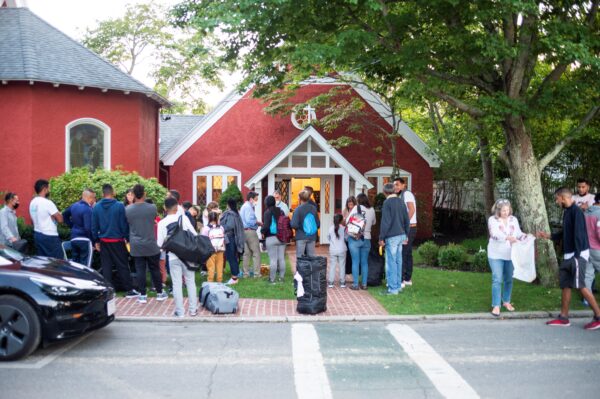 Abbott has also been very public about sending illegal immigrants out of Texas to other states and cities held by Democrats.
"Since April, Texas' busing strategy has successfully provided much-needed relief to our border communities overwhelmed by the historic influx of migrants caused by President Biden's reckless open border policies," Abbott stated in a press release in November.
"Until the Biden Administration does its job and provides Texans and the American people with sustainable border security, Texas will continue doing more than any other state in the nation's history to defend against an invasion along the border, including adding more sanctuary cities like Philadelphia as drop-off locations for our busing strategy."
Abbott reportedly wasn't responsible for this latest action of transporting illegal immigrants to Denver, but there has been no response from DeSantis so far.