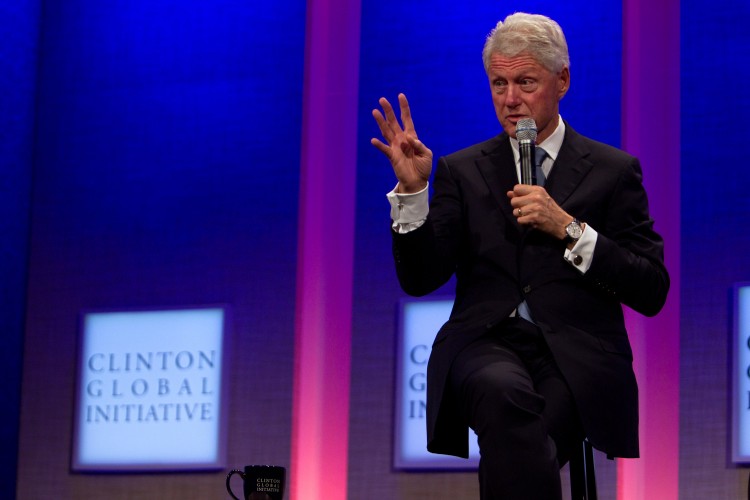 The three-day Fifth Annual Clinton Global Initiative University (CGIU) conference concluded on Sunday in Washington, D.C., with 800 students engaging in community service to the city for one day. Participants and local volunteers contributed 2,500 hours of work to community service projects in the district, working hand in hand with nonprofit Rebuilding Together repairing homes for low-income homeowners, and working with the United Service Organization (USO) to assemble care packages for military personnel overseas.
The day of community service wrapped up the three-day conference, whose participants included a thousand students representing 300 universities from all 50 states and 75 countries. During the conference, which took place at George Washington University, the students presented a host of innovative ideas and initiatives that are meant to drive environmental sustainability and social and economic change.
CGI U, which was started by former President Clinton in 2008, is an outgrowth of the Clinton Global Initiative foundation. The foundation's goal is to assemble and facilitate cooperation between world leaders to solve pressing global challenges, such as environmental degradation and sustainability, and social issues such as illiteracy and chronic poverty in the developing world.
In a similar fashion, for five years CGI U has convened hundreds of college students from across the globe who have come up with innovative ideas to solve problems facing their communities. Participants not only come up with the ideas, but also commit to implementing them by creating action plans and participating in hands-on workshops.
One such idea presented at this year's conference, included a bicycle made of bamboo. The creators hope that the bicycle will revolutionize personal transportation in sub-Saharan Africa. Other ideas covered such topics as socio-economic and political change in the Middle East, famine in East African countries, the global economic crisis and its impact on young people, and cost-effective sustainability programs on college campuses.
Also present at the conference and hosting a plenary session on Saturday with the former president was comedian Jon Stewart, host of "The Daily Show with Jon Stewart" on Comedy Central.
Making a lighthearted reference to his own college days, Stewart made it clear that it was an absolute honor for him to be in the presence of so many brilliant young minds.
"I made a bong out of an apple once, and now I know I should have used bamboo," he joked.
A subsequent question-and-answer session between Stewart and the president discussed such issues as gay rights, the war in Afghanistan, the future of American energy policy, and the role of civic engagement and social consciousness among today's youths.
Afterward, the former president heaped praise upon the students and their ideas at the conference.
"Our fifth CGI University meeting has been a real success, with 915 new commitments made, which brings us to nearly 4,000 total commitments since the first meeting in 2008," said President Clinton in a release statement. "Young people have a greater ability to enact change than ever before, and CGI U is a global network of young people seeking to use the resources at their disposal to make a difference in the world."